Manifestoes of Surrealism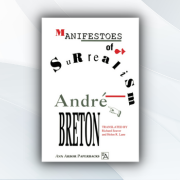 "Manifestoes of Surrealism" delves into the core of Surrealism through its manifestoes.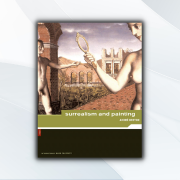 "Surrealism and Painting" offers a profound exploration of Surrealist art history.
Surrealism (Art Essentials)
"Surrealism (Art Essentials)" serves as an excellent introductory guide to Surrealism's key concepts and artists.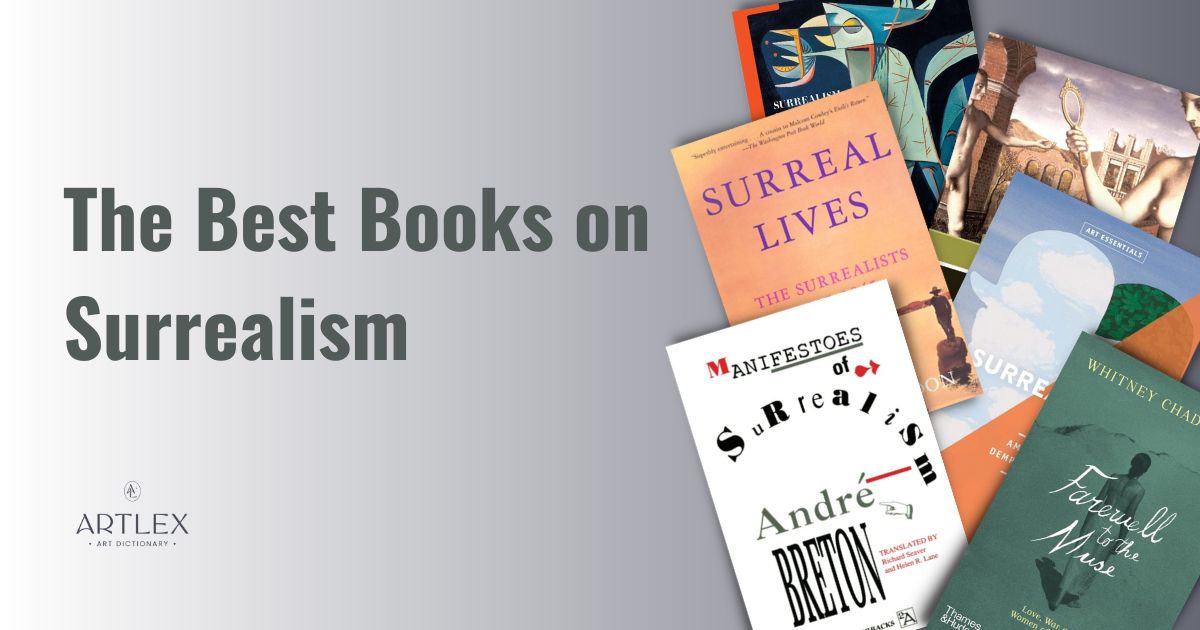 Do melting clocks conjure up images of Surrealism in your head? Salvador Dali, for many of us, is the embodiment of Surrealism. In spite of this, it would be a tragedy to stop at his haunting and ethereal images. Many countries, cultures and time periods were involved in the Surrealist movement. Indeed, Surrealism can be found in literature, film, sculpture and theater! Each of the books in our list, which go far beyond Dali's work to explore Surrealism, is well worth picking up if you want to go down this rabbit hole and learn more about this movement.
Selection Criteria for the Best Books on Surrealism

We've used the following criteria to evaluate the surrealist books:
Quality and Price of Books on Surrealism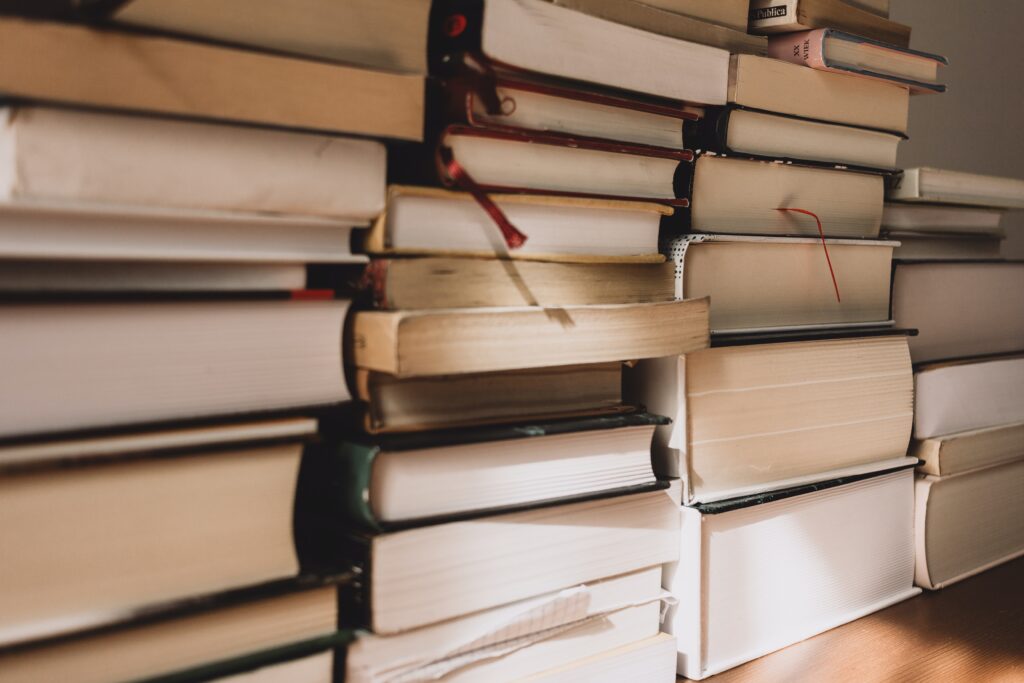 When choosing a book about surrealism and viewing our overall quality rating, please keep in mind that our major factors for determining their quality were a combination of their range of information on the topic based on their category, how well written and easy to understand they were, and the illustrations included in the book. Price grading reflects this process and all of the benefits the items provide to the art community as a whole; we react to it in comparison.
Hardcover vs Paperback Books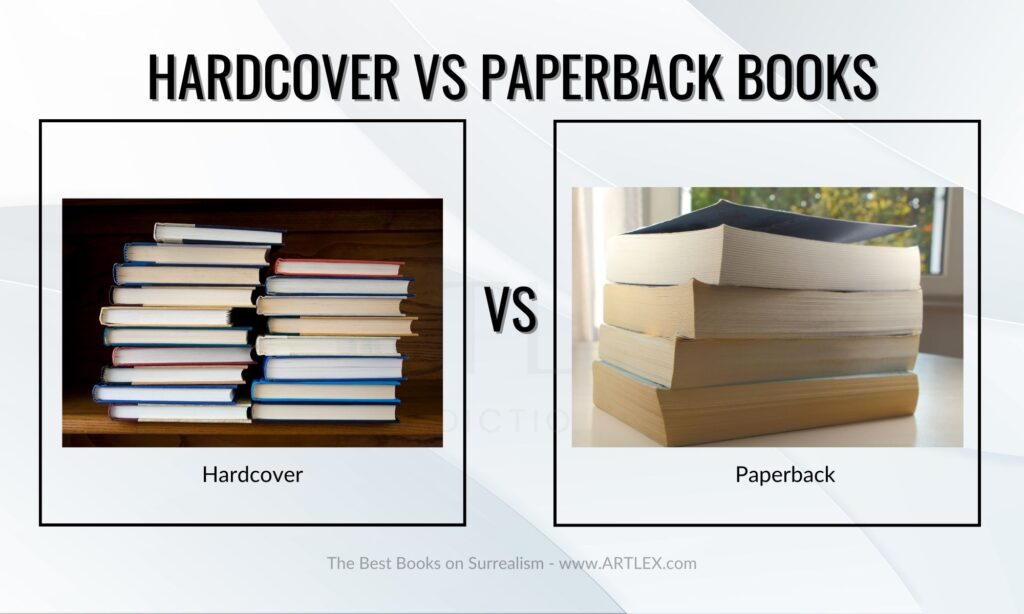 Books come in all shapes and sizes, as hardcopy in your hands or digital form ready to download off the internet. Essentially it is a matter of preference and habit. Yet, some harcore readers (such as us) tend to look deeper into this distinction.
Unlike a hardcover, a paperback may be folded up and shoved into the corner of a bag for easy transportation. However, a hardback is the more sturdy and elegant choice. They're significantly more durable than paperbacks, and because of their aesthetics and rarity, they're also worth a lot more money in the long run if you plan on starting a collection.
Overall, we feel, if you are going to invest in a book that you plan on keeping for a while and possibly hand down to your children, it is a good idea to splurge on a hardcover.
Our Recommendations for the Best Books on Surrealism

Best Overall Book on Surrealism: Manifestoes of Surrealism
Best Book on Surrealism Art History: Surrealism and Painting
Best Introductory Book on Surrealism: Surrealism (Art Essentials)
Best Biographical Book on Surrealism: Surreal Lives: The Surrealists 1917-1945
Most Current Book on Surrealist Artists Movement: Surrealism Beyond Borders
Best Gender Specific Book on Surrealism: Farewell to the Muse: Love, War, and the Women of Surrealism
1. Best Overall Book on Surrealism—Manifestoes of Surrealism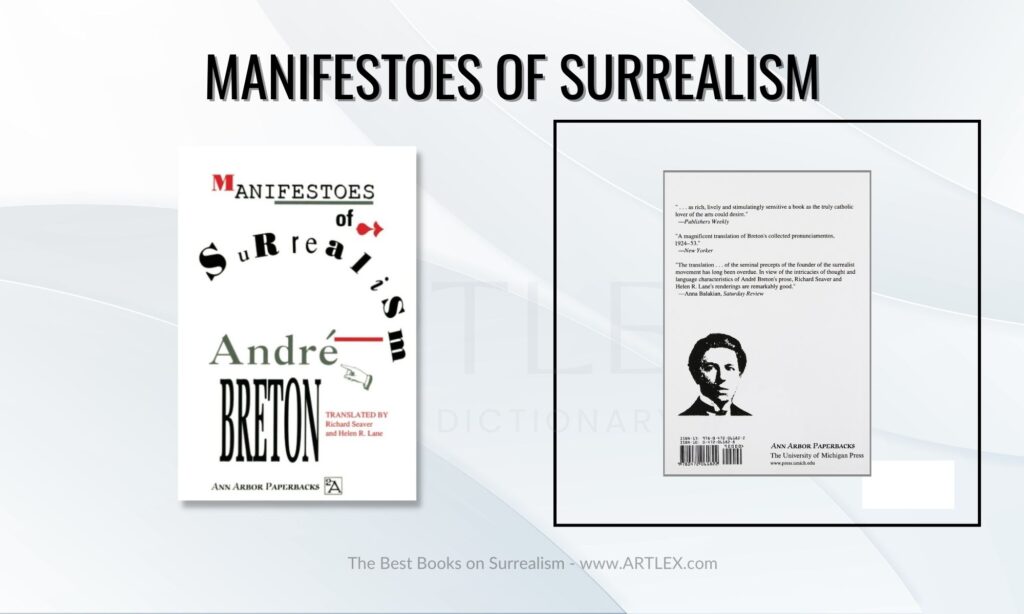 Selection Criteria
Quality – 9/10
Price – $$
Book Cover — Paperback, Hardcover
Pages — 320
Author — Andre Breton, Richard Seaver (Translator), Helen R. Lane (Translator)
About The Manifestoes of Surrealism
Reading manifestos and other writings and commentary by artists, such as André Breton and Salvador Dalí, about their goals and aspirations is a great way to get a sense of a movement's spirit. Surrealism began as a literary movement, and as a result, there is a significant amount of written work about what it is, where it might be going, and why it is worth the effort.
Surrealist manifestos are, of course, notoriously difficult to decipher. Surrealist manifestos are an interesting mix of text and poetry that may be both educational and entertaining, and amazingly current in the 20th century and beyond.
This book manages to gather all the thoughts and ideas of Andre Breton in one tome, where you can delve deep in the meaning of Surrealism; albeit it might lead one to believe that Breton alone was to thank for this art movement, when in reality this is hardly the case.
Pros
First hand writings for the surrealist past and philosophy
Different fonts make it easy to follow the writings
Cons
May lead you to falsely believe that only André Breton's work is the sole spine of Surrealism
2. Best Book on Surrealism's Art History—
Selection Criteria
Quality – 9/10
Price – $
Book Cover — Paperback, Hardcover
Pages — 448
Author — Various Authors
About Surrealism and Painting
A literary rather than an aesthetic movement, Surrealism got its start in 1924 with André Breton's manifesto. Surrealism grabbed the attention of painters and sculptors, but several members of Breton's circle argued that it couldn't be expressed aesthetically.
A response to this was published four years later, titled Surrealism and Painting. After a period of time, the treatise was reworked into a book with other Breton writings that were released between 1928 and 1962. For Breton, surrealism was not an aesthetic, but rather a way of exploring our philosophy of the world at large.
On the subject of Surrealist artists and folk art traditions, Breton's writings include essays on a wide range of subjects, including his own reflections on the movement. This was the first English translation, released in 2002.
Pros
Depicts the art history of the Surrealist Movement
Salvador Dali and André Breton's surrealist work is explained via their art
Cons
Women Artists play a lesser role in this book
3. Best Introductory Book on Surrealism—Surrealism (Art Essentials)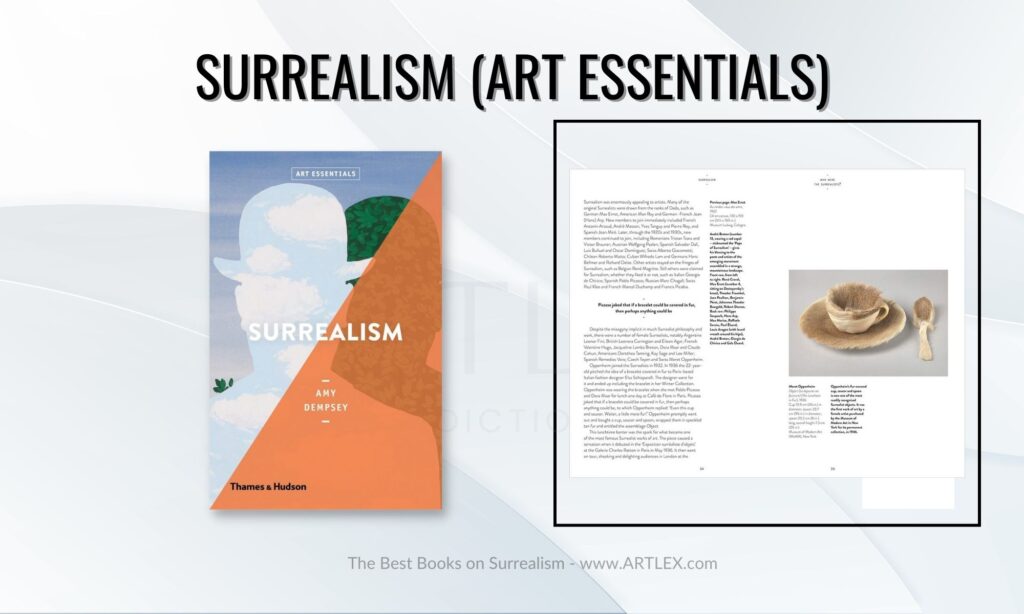 Selection Criteria
Quality – 9/10
Price – $
Book Cover — Paperback
Pages — 176
Author — Amy Dempsey
About Surrealism (Art Essentials)
As part of Thames and Hudson's Art Essentials series, Surrealism provides an accessible art history introduction to the subject for those with a serious interest in it and those who simply want to learn more about it.
As far as surrealism books go, a good place to start is with André Breton's thematic structure, which sets Surrealism apart from the written word of Dada movement. Precepts from Breton as well as other artists are explored thoroughly in this book.
An extensive lexicon and timeline detailing the exhibition art history and other events associated with Surrealism are included in this book, which is illustrated with historical photos and full-color images, many of which are two-page spreads or full-page reproductions.
Pros
Digestible information for the Surrealist enthusiast
Offers a holistic view of the Surrealist movement, not focusing only on well-known names
Cons
4. Best Biographical Book on Surrealism—Surreal Lives: The Surrealists 1917-1945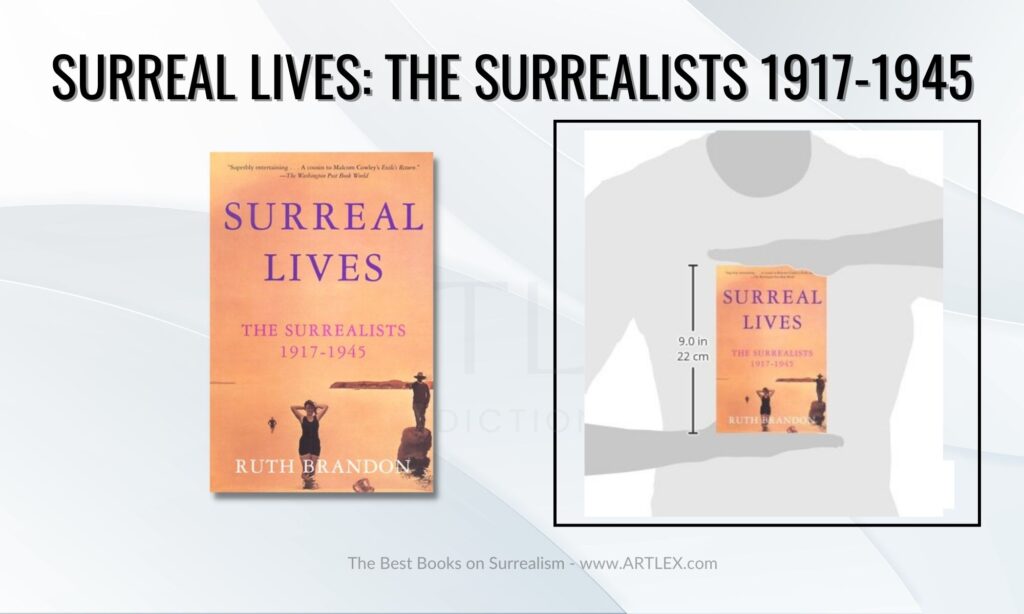 Selection Criteria
Quality – 9/10
Price – $
Book Cover — Paperback, Hardcover
Pages — 554
Author — Ruth Brandon
About Surreal Lives: The Surrealists 1917-1945
Andre Breton's problematic connections with his fellow Surrealists are the focus of Ruth Brandon's book "Surreal Lives," which is a sort of group tell-all.
The times when artists were annoyed by their leader's attitude toward his duty as gatekeeper and principal enforcer, which in turn contributed to a love-hate relationship between movement members is the focus of this book. The artists whose lives are displayed in this book are Andre Breton, Salvador Dali, as well as Marcel Duchamp, Francis Picabia, Tristan Tzara, Man Ray, Max Ernst, and filmmaker Luis Bunuel.
"The Surrealist group was a coterie of pederasts all in love with André Breton," said Salvador Dali in his trademark style. When he was in charge, "everyone loved him," and "he enjoyed using his power to control people." All of this and more is covered by Brandon, who relates the various peccadilloes, indiscretions, jealousies, and sexual encounters that kept the kettle boiling. Brandon's goal isn't to titillate, but rather to explain what it meant to be a surrealist for an eclectic group of art-historical luminaries.
If you are looking for a book that will give you a real world feel of the world of Surrealism, this one is a good option; be advised, however, that this is merely a glimpse and not the whole image.
Pros
Essential book to understand the underlying current of the surrealist movement
Rich in understanding the secret life of Salvador Dali written by the author
Cons
Little mention in artists such as Frida Kahlo, Haruki Murakami, and Leonora Carrington's work
5. Most Current Book on Surrealist Artists Movement—Surrealism Beyond Borders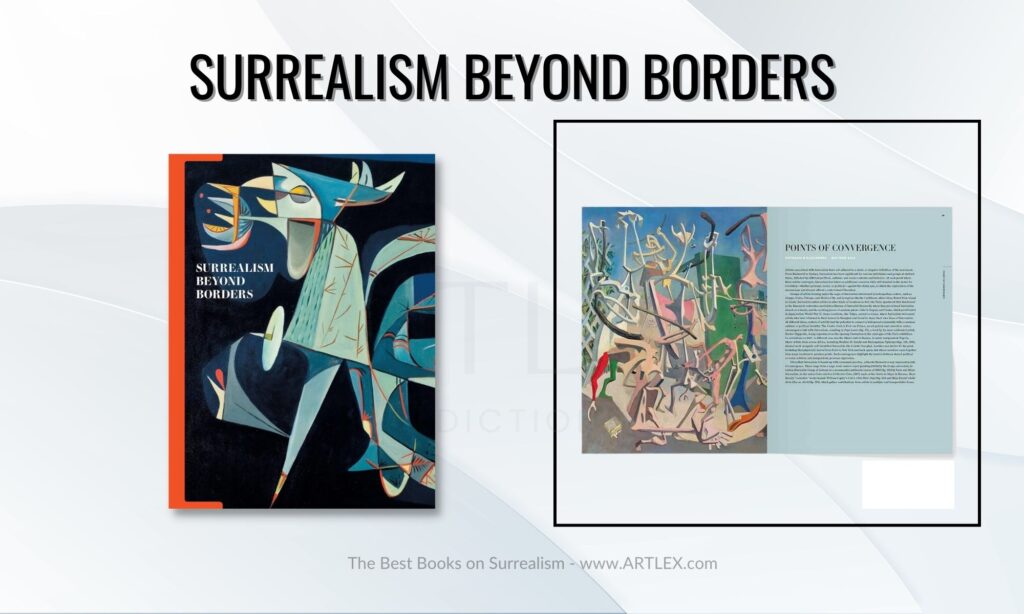 Selection Criteria
Quality – 9/10
Price – $$
Book Cover —Hardcover
Pages — 384
Author — Stephanie D'Alessandro (Author), Matthew Gale (Author)
About 'Surrealism Beyond Borders'
Surrealism, during the early twentieth-century art movement, reached most people and artists around the world. This movement is most familiar to people as it was open to a variety of styles, as long as they adhered to Surrealist principles, rather than emphasizing one over the other. To add to this, Surrealists had André Breton, a tireless leader and promoter whose writing and travels helped to spread the movement far beyond its Parisian roots.
For the first time, the Metropolitan Museum of Art's comprehensive survey of this chapter in modern art history, which runs through January 30, 2022, is reimagined in this sumptuously illustrated and thoroughly considered catalog—which, among other things, reveals fascinating artists and artworks previously known only to specialists.
From Central Europe and Latin America to Asia and the Middle East, Surrealism Beyond Borders provides an eye-opening look at the movement's global development from the 1950s to the 1970s.
Pros
Nice book if you want a broad view of Surrealism
Interesting commentary alongside the works of art
Cons
More focused on European Surrealism, fled from world war
Very little information on the mexican cultural life
6. Best Gender Specific Book on Surrealist Movement—Farewell to the Muse: Love, War, and the Women of Surrealism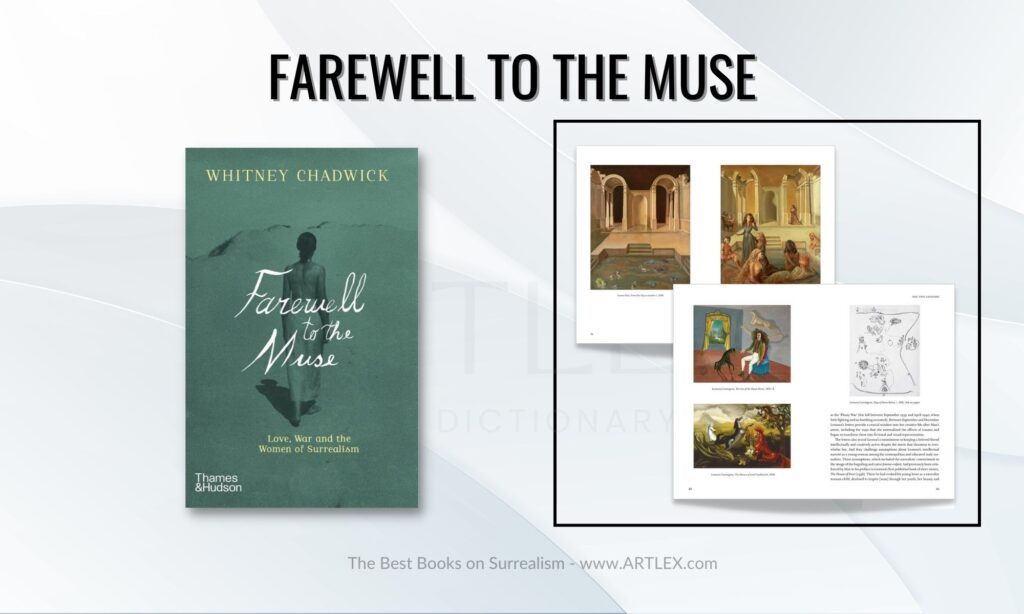 Selection Criteria
Quality – 9/10
Price – $
Book Cover — Paperback, Hardcover, Kindle
Pages — 256
Author — Whitney Chadwick
About 'Farewell to the Muse: Love, War, and the Women of Surrealism'
Whitney Chadwick's book on Surrealism's female pioneers is a good read for people interested in gender equality and Surrealism. Whilst the likes of Max Ernst, Salvador Dali, and Joan Miro get all the credit for redefining gender and sexuality, the women who worked as artists in the years leading up to and following World War II often go unnoticed. It demonstrates how friendships and battles allowed surrealism's female members to break out of the passive role of a mere muse, assigned to them by their leader, Andre Breton and other men of the movement, into artists in their own right.
Scholars are working to restore the historical status of Surrealist women artists, and this book is an excellent starting point for your own exploration. This book includes first-hand accounts of women artists, correspondences between them and other Surrealist artists, as well as essays regarding their work.
Pros
Great attempt to restore gender equality in Surrealism art
Interesting viewpoint
Cons
Not focused enough on women's art, rather than their lives
Conclusion
People make all the difference in the world when it comes to art. Keeping this in mind, you can't go wrong with "Surreal Lives: The Surrealists 1917-1945", a biographical review of the Surrealist movement. Andre Breton, the French writer and thinker who led the Surrealist movement from 1917 to 1945, is the focus of this book's history of the movement. For those of us who think of surrealism as a sort of art, it is helpful to remember that it was primarily a literary and philosophical movement until the 1930s.
If you are looking for an introductory book for Breton and other surrealists, then 'Surrealism' offers a comprehensive look at one of the most important chapters in 20th-century modernism, whose mind-bending aesthetic continues to inspire art even today.
We hope you found our analysis of the top books on surrealism of 2022 to be helpful. Consult our associated guides for further sources of comparable items for the artistic lifestyle.