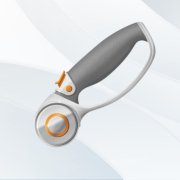 This ergonomically designed rotary cutter is ideal for both left and right-hand use, offering precision cutting through multiple layers.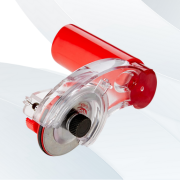 Martelli Rotary Cutters provides exceptional comfort and superior palm support, perfect for those with arthritis or carpal tunnel syndrome.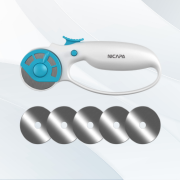 Nicapa offers an intuitive rotary cutter that's perfect for beginners, including an ergonomic handle and dual-action safety lock.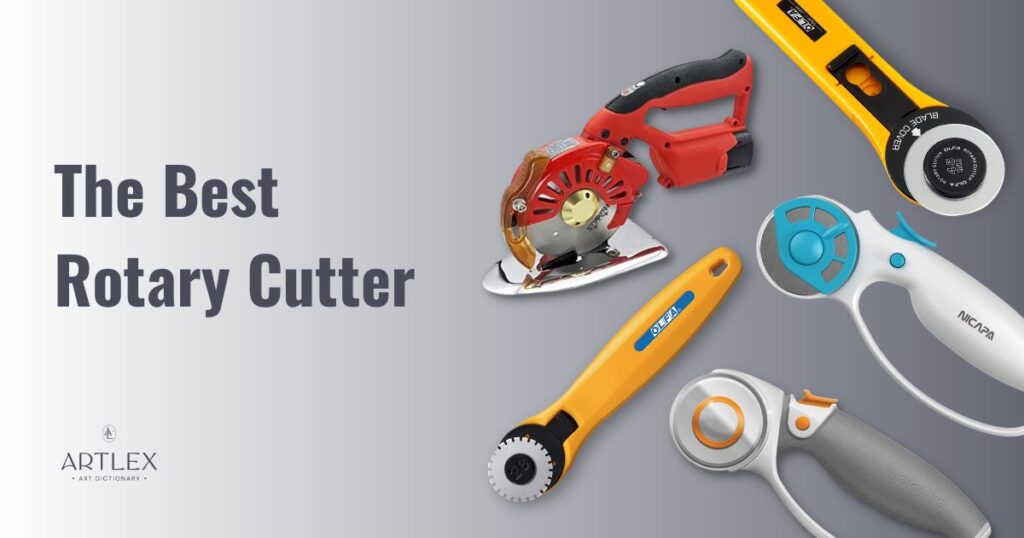 A rotary cutter consists of a handle and a guarded, revolving razor blade. In order to make a cut with the sharp blade, you simply need to run it along the fabric, which causes the blade to spin and make the cut. Unlike fabric scissors, this handy tool will make a clean cut in a straight line with little to no hand fatigue.
Rotary cutters are useful not just for cutting precise strips and shapes but also for tailoring. Having them in your sewing kit, you may quickly and easily cut through multiple layers of fabric without sacrificing precision. If you're working with slippery or thick materials like silk, velvet, or knits, a rotary cutter can help you get clean cuts without lifting the fabric off the cutting surface.
After using a rotary cutter, you will realize this is an essential tool for DIYers and professionals alike. Using a reliable rotary cutter and a cutting mat along with a metal or acrylic ruler, you may quickly and accurately cut a large number of layers of fabric to the correct dimensions in a matter of minutes. You can also use your new tool for decorative edges that will not frail as time goes by.
However, when you start going through the large variety of rotary cutters, you may realize that you aren't sure of exactly what you need. In this case, have a look at our rotary cutter buying guide below for the specifics you should look out for in your sewing projects and household cutting purposes.
Choosing the correct rotary cutter can be difficult. However, we will discuss the best cutters based on their blade diameter and extra accessories, which are all of primary importance when making a buying decision.
We will also discuss the most appropriate choices for beginners, professionals, and people who prefer to work with sensitive materials, such as paper and leather, as they all require specific choices.
Selection Criteria for the Best Rotary Cutters 2023—Buying Guide
Rotary Cutter Blades
The blade diameter of your rotary cutter is what makes most of the difference between models, as the bigger it is, the faster you can cut. However, speed is not always on your side if you are a beginner.
45 millimeters:
One of the most common and useful tools is a 45 mm cutter. It can be maneuvered with ease and can slice through multiple layers of material at once. When starting out, this is the one most experts recommend.
60 millimeters:
When cutting multiple yards of cloth or thicker materials like strong cotton or leather, a cutter with a larger blade is the best option. Because the blade's cutting edge is longer, it won't require sharpening or replacing as often as other versions, as this blade dulls very slowly.
28 millimeters:
For intricate work and curved cutting, a 28 mm rotary cutter is an excellent choice.
Top Product Recommendations for the Best Rotary Cutter 2023
1. Overall Top Rotary Cutter—Fiskars rotary cutter 01-005874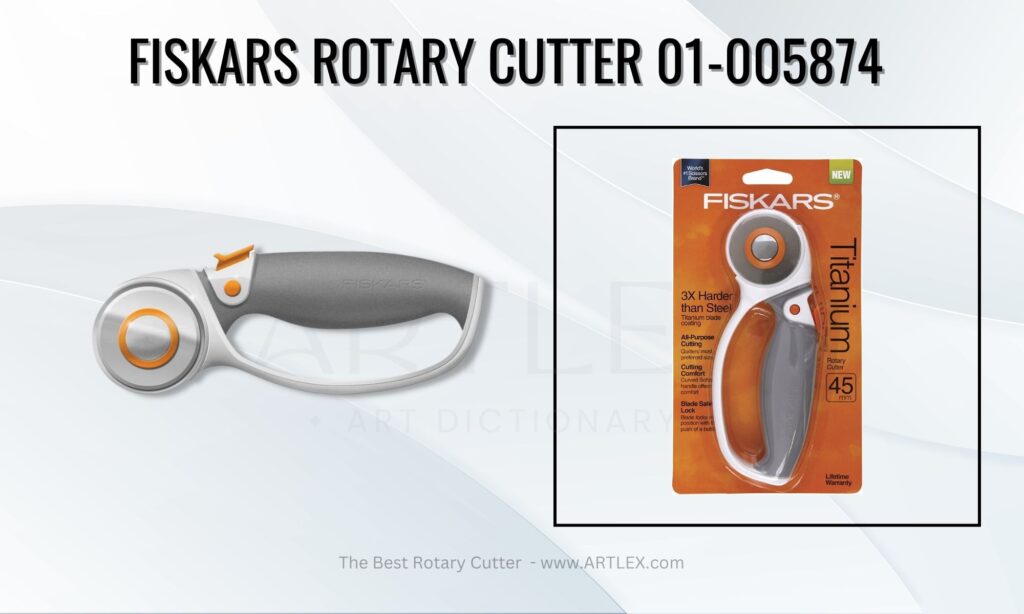 Selection Criteria
Quality – 10/10
Blade size – 45mm
About Fiskars Rotary Cutter
The titanium carbide coating on the blades of this ergonomic rotary cutter makes quick work of cutting through numerous layers, and it's proving to be rather popular. Not only is it reasonably priced, but also of very high quality. Many sewers and crafters like 45 mm diameter blades because of their convenient size and the quality of the cut they provide. Blades with a titanium coating are far tougher than their tungsten carbide counterparts, allowing them to keep their sharp edges for longer. This rotary cutter is great for both right- and left-handed people because the blade can be attached to either side of the handle.
The blade is slid out of the shield's way with the flick of a thumb. When a cut is complete, it can be secured in place or allowed to retract automatically. When working for extended lengths of time, the soft grip is a welcome relief for tired hands. The feedback loop was developed to simulate human performance, enhancing both comfort and command.
Overall, it's a high-quality gadget that more than pays for itself. Once you've gotten used to using it, it'll be a long time before you start thinking about switching to something else. If you feel that you need a sharper blade, then you can get the five replacement blades pack on Amazon.
Pros:
For right and left-handed users
Ergonomic design
Can easily cut through several layers of fabric
Comfortable loop handle
Cons:
Not too comfortable for people with large hands
2. Top Rotary Cutter for Comfort—Martelli Rotary Cutters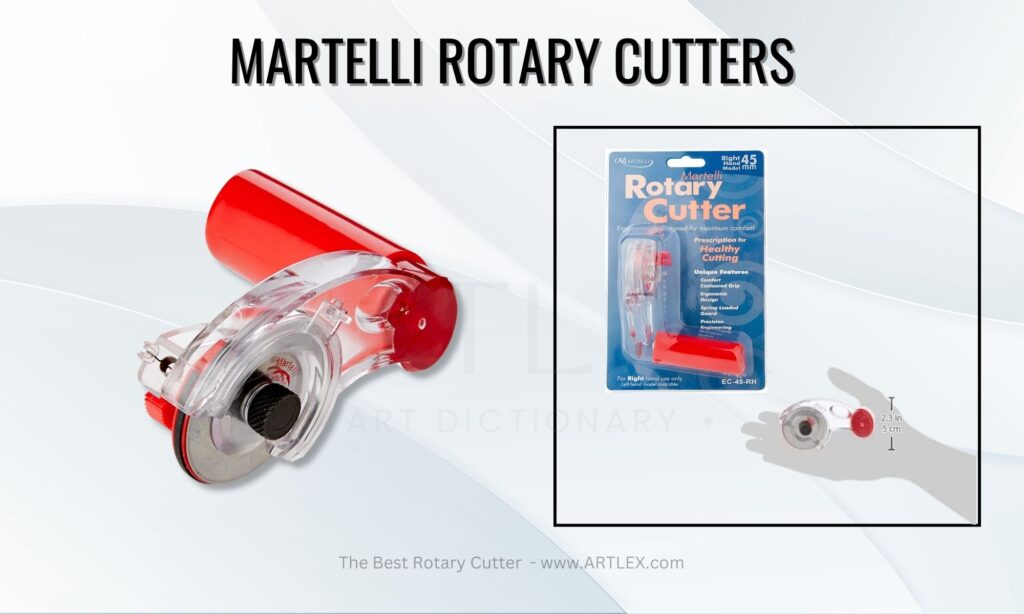 Selection Criteria
Quality – 9/10
Blade size – 28mm, 45mm, and 60mm
About Martelli Rotary Cutters
This cutting wheel may be an excellent option for persons who have difficulty using rotary cutters owing to arthritis, carpal tunnel syndrome, tendonitis, or because they work long hours and their hands are fatigued at the end of the day. Martelli's ergonomic design features a soft, ergonomic handle that provides superior palm support and improved knife holding by utilizing pressure from your entire arm and hand rather than just your wrist and fingers.
The ergonomic design of this rotary cutter makes it simple to cut through a wide range of materials, from cotton to nylon and cardboard. It may also cut through upholstery, leather, and suede, making it a good option for tailoring projects and fabric cutting.
The spring-loaded blade guard on this cutter is an added safety feature as it helps avoid unintentional nicks and cuts while working. Blade replacement, on the other hand, is a little different than it is for other manufacturers, but it is still rather simple. For both moderate and substantial cutting tasks, choose between the 45 and 60-millimeter versions of this cutter, yet opt for the 28mm when it comes to cutting intricate details.
Pros:
Ergonomic clench handle
Cutting fabric pieces of many layers and materials
Safety lock
Cons:
With too much force on the plastic handle, it will quickly break.
3. Top Rotary Cutter for Beginners—Nicapa Rotary Cutter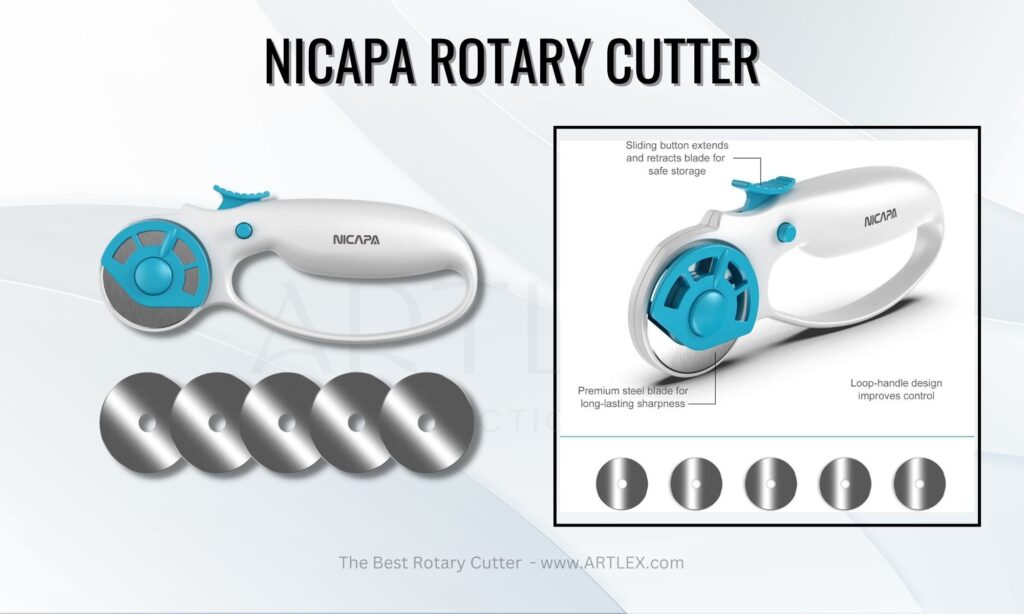 Selection Criteria
Quality – 8/10
Blade size – 45mm
About Nicapa Rotary Cutter
Nicapa is a Chinese manufacturer best known for its cutting mats, but the company also makes a wide variety of other products used in the quilting and sewing industries. This 45mm rotary cutter blade features a sleek and ergonomic handle that is rather intuitive to use.
Even though it may be used on a wide variety of fabrics, quilters especially benefit from the precision and accuracy of this particular model sewing rotary cutter. The loop handle makes it seem as if you aren't holding anything at all, and it will stay firmly in your hand, cutting-ready even as you switch between different fabrics.
The dual-action safety lock has an ON/OFF setting. This inexpensive rotary cutter for quilting is great not just because of its sharp blades and compact size but also because it comes with five more blades, so beginners can run all kinds of experiments without worrying about making a grave mistake.
Pros:
Can cut a perfectly straight line, even for beginners
Sliding button, ON/OFF
Can cut multiple fabric layers
Comes with five extra blades
Cons:
Only comes in a 45mm size
Dulls easily
4. Top Rotary Cutter for Professionals—Hercules HRK-100 Fabric Cutting Machine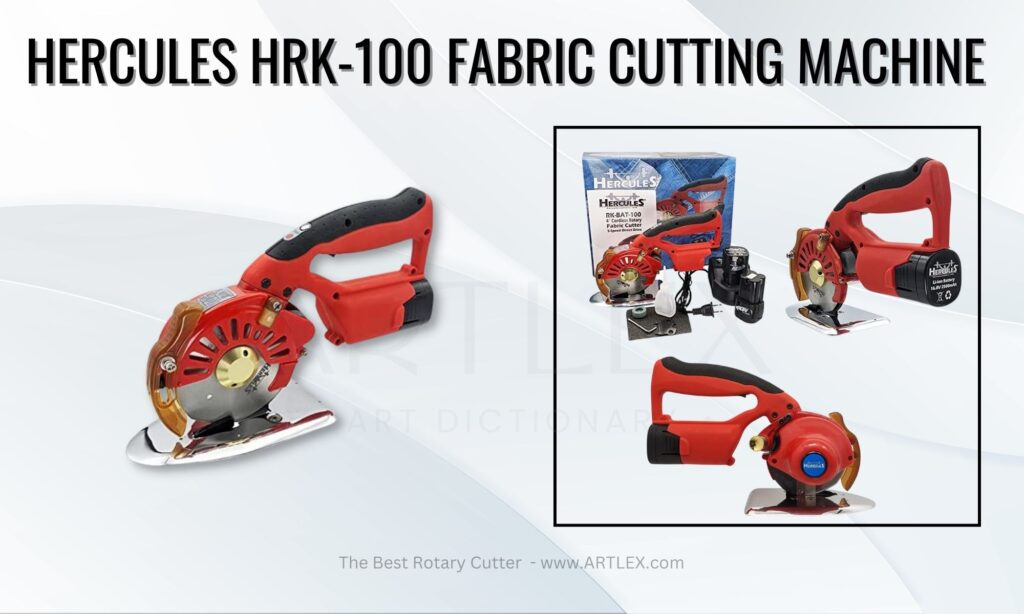 Selection Criteria
Quality – 10/10
Blade size – 4 inch
About Hercules HRK-100 Fabric Cutting Machine
Professionals and companies who deal with huge volumes of fabric require an exceptionally sharp electric rotary cutter to make the cutting process as quick and straightforward as possible. The Hercules HRK-100 is a time-saving and accurate electric rotary cutter that does exactly that. It features a four-inch octagonal blade, an integrated sharpening stone, and five adjustable speeds.
Due to its lightweight design and ergonomic grip, the machine is easy to use. The HRK-100 has an ultra-bright LED light for optimal viewing of guidelines and precision cutting.
With this cordless, rechargeable, electric rotary cloth-cutting machine, cutting leather and many layers of fabric and even plastic is a snap. Additionally, due to the octagonal-shaped blade and the bottom blade's carbide tip, as well as its spring loading mechanism, the fabric will not get jammed in the event of a mistake or an extremely heavy load of work. The machine's 17-volt lithium-ion battery ensures that it can cut through numerous layers of fabric for extended periods of time. An extra battery is included in this kit to ensure that you never run out of power while you work.
Pros:
Εlectric rotary cutter, with multiple speeds
Extremely sharp
Built-in sharpening stone
Cons:
May need a self-healing cutting mat not to damage the working area
5. Top Rotary Cutter for Leather—OLFA Rotary Cutter RTY-2/G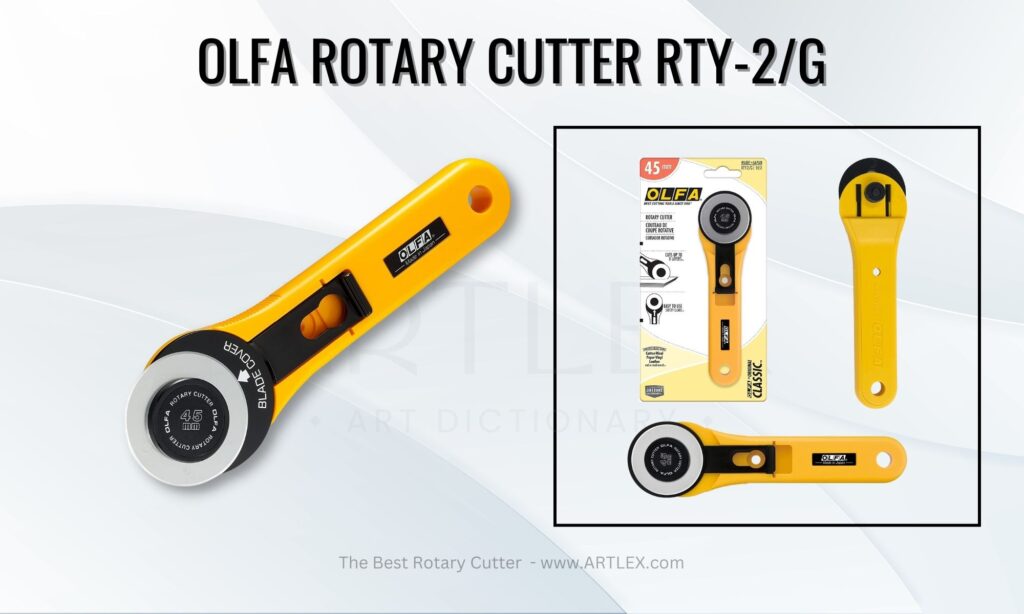 Selection Criteria
Quality – 9/10
Blade size – 45mm
About OLFA Rotary Cutter RTY-2/G
A rotary cutter is one of those items that appear to come in handy at all times. Need to make some changes to the interior of your car or tailor a new coat out of vegan leather? The OLFA 45mm rotary cutter can handle it while keeping your fingers safe, as it includes a blade cover.
You can use this rotary cutter blade to cut shapes, strips, and holes for sewing, quilting, and crafting in no time, as the blade is made from tungsten steel, which makes it extremely sharp and long-lasting. Designed to be used with either the right or left hand, you don't need to sacrifice comfort or safety. Furthermore, owing to its ergonomic handle and safety lock, we like that this cutter is suitable for both youngsters and adults, which makes it an excellent addition to the toolkit of any home and craftsman.
Slitting leather is the ultimate test for a rotary blade's sharpness and endurance. Using a raw leather sheet to handcraft upholstery or shoes is much more difficult than using other fabrics. You can be confident that it will readily slice through the toughest materials as it is the most durable ergonomic rotary cutter on this list.
Pros:
Tungsten carbide blade
Sharpest blade
Good rotary cutter for everyone in the family
Cons:
Need extra pressure than most rotary blades
Not the best rotary blade for cutting fabric
6. Top Rotary Cutter for Paper—OLFA Perforation Cutter 28 235B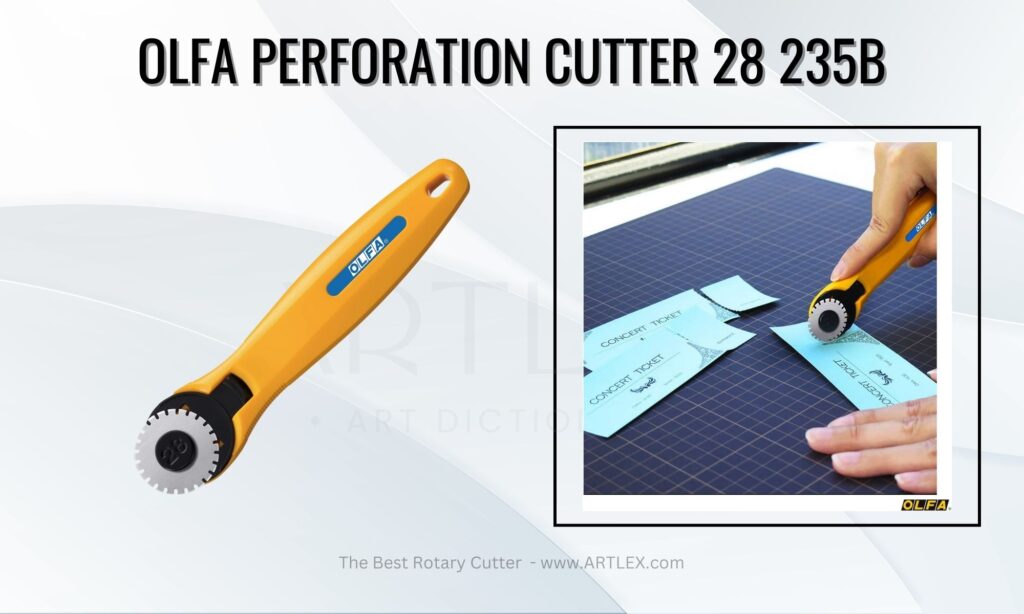 Selection Criteria
Quality – 10/10
Blade size – 28mm
About OLFA Perforation Cutter 28 235B
If you frequently work with paper, the OLFA Perforation Cutter 28 235B can be a useful addition to your toolkit. You may make coupons for your partner, assist your children with their school projects, and even cut pages from coloring books without breaking them apart.
This Olfa handheld rotary cutter has a 28mm perforation blade that can be used to perforate paper designs for your art projects. It also comes with a changeable cutting blade of the same diameter, so you don't need to buy extra fabric scissors.
This circular blade is perforated seven times per inch, and each hole is larger than the surrounding space, making it suitable for cutting through a wide variety of craft materials, including but not limited to paper, origami paper, and vinyl.
Pros:
Sharp steel blade
5.0 comfort score on Amazon.com
Dual blades for paper and for cutting fabrics
Cons:
The manual is not in English
Conclusion—The Best Rotary Cutter 2023
In our search for the best rotary cutters, we checked many models with a wide variety of specifications before we finalized our top rotary cutter list.
If you are searching for a commercial-level product that will stay true to hard work for hours on end, will not jam, and will auto-sharpen, the Hercules HRK-100 Fabric Cutting Machine is worth a look.
On the other hand, if you're looking for a comfortable, albeit manual, rotary cutter, the Martelli Rotary Cutter should not disappoint. Its sharp blade and innovative design allow you to cut fabric of several layers without discomfort or fatigue by using your entire weight rather than your fingertips.
We hope you found our analysis of the top rotary cutter of 2023 to be helpful. Consult our associated guides for further sources of comparable items for the artistic lifestyle.