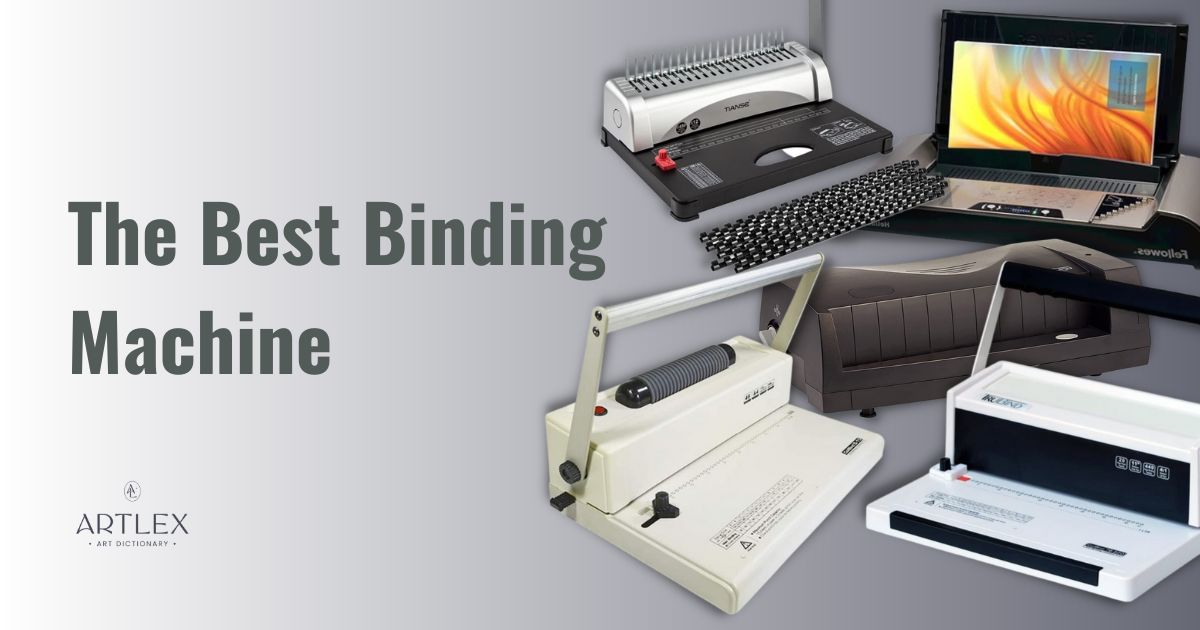 Binding machines can help busy offices, homeschoolers, or crafters bind a large number of documents quickly and effectively. The best binding machines have either manual or electric inserters, depending on the number of documents bound daily. It also serves as a hole punching machine. Some criteria to keep in mind when purchasing a quality machine are – the punching and binding capacity, type of coil, and whether it has the option of an electric coil inserter.
The best binding machines have high binding and punch capacity, are durable and are designed to last under constant use. Most come with a one or two-year warranty.
The binding process is straightforward and usually involves a few steps including adjusting for paper size using an adjustable edge guide, manually punching holes and manually or electrically inserting coils. This covers the entire binding system for each machine with the exception of thermal binders where holes aren't necessary as pages are bound using heat.
Types of Binding Machines
Several binding methods are widely used to bind documents. Using a heating plate to bind sheets of paper is one, as well as punching holes in the document and then inserting the coils. Below we have described the different types of binding and what they're best used for.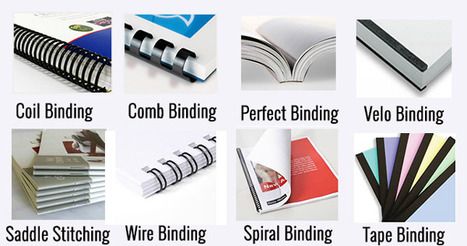 Coil Binding Machines
Coil binding machines are more common than other binding machines. They are also sometimes called spiral binding machines and are considered one of the best binding machines for flat binding – which also makes for easy note-taking.
They are also the perfect binding machine for legal documents as some offer customizable binding sizes. The spine is made of heavy plastic or PVC and usually comes with an electric coil inserter that spins the coil inside the document.
Pliers are usually included with the purchase as the edges of the coils must be bent to secure the document.
Thermal Binding Machines
Thermal binding machines don't use wire to bind documents. Instead, they use heat to secure the plastic cover and the spine. This method creates the most professional-looking bound books and offers faster binding than manual punching.
Most thermal machines come with a heat shield safety barrier to protect users against burns when binding all the pages together.
The entire process can take a few seconds and is a favorite binding machine for busy offices or professionals who need to bind manuscripts. The only caveat with these machines is that pages may not secure very well for very large documents over 450 pages.
Wire Binding Machines
A wire binding machine uses wire to bind documents and has the same punching process as other similar machines. This bookbinding machine is one of the more popular ways to bind thick to medium books. Note that, unlike a spiral wire, a wire spine doesn't allow the document to lay flat.
Comb Binding
Comb binding involves a plastic comb to bind paper that usually has either 19 or 21 rings. They are best for thinner books that don't have many pages as the plastic spines aren't the strongest binding option.
These binding machines work by opening the spines to insert pages and then closing them once all sheets are installed.
Electric Binding Machine
An electric binding machine can have any type of coil. The only difference between this machine and many binding machines is that it's powered by electricity. So rather than a manual punch, an electric punch creates holes and electrically inserts coils into the documents.
These machines are best for thick pages which would usually require manual force to punch holes in many documents. They usually have a punch capacity of an average of 20 pages.
Our Recommendation List for the Best Binding Machine
Best Binding Machine Overall: Trubind Coil Binding Machine
Best Comb Binding Machine: Tianse Comb Binding Machine
Best High Binding Capacity Machine: PrintFinish Coilbind S-15 with Electric Coil Inserter Binding Machine
Best Thermal Binding Machine: Fellowes Thermal Binding Machine
Best Spiral Binding Machine: GBC Binding Machine
#1 Best Binding Machine Overall – Trubind Coil Binding Machine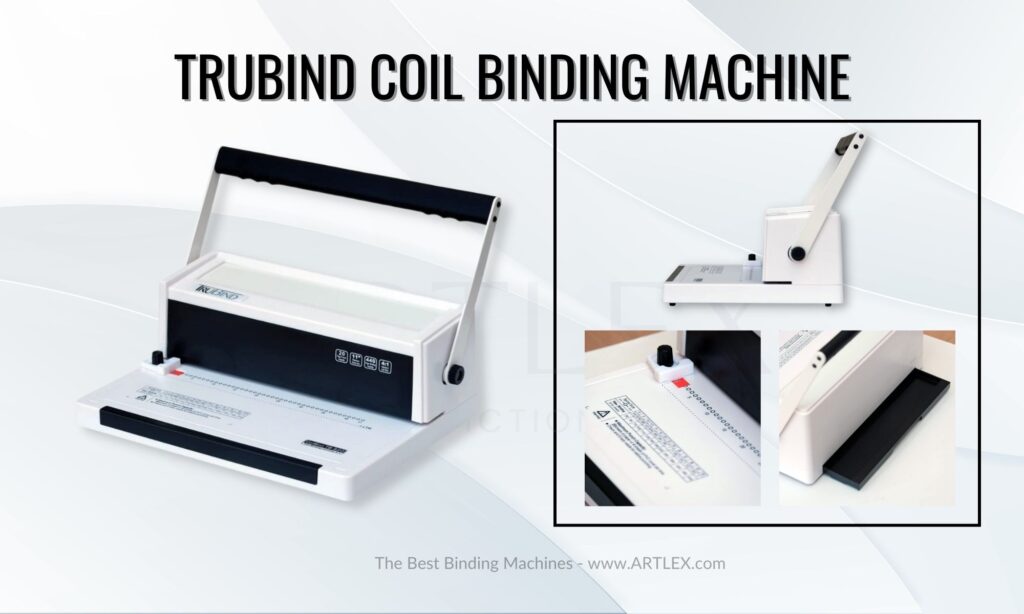 Selection Criteria
Price – ~$199.95 – Our score: 8/10
Punching capacity – 20 sheets of paper – Our score: 9/10
Binding capacity – 400 sheets – Our score: 9/10
Type of binding – 4 to 1 pitch coils – Our score: 8/10
Has electric coil inserter – No – Our score: 7/10
About Trubind Coil Binding Machine
Customers will like the results of the finished binding of this Trubind binding machine. It comes with an accurate punch alignment, a sturdy metal construction and a sturdy grip handlebar.
It also features a ¼ – 2-inch coil binding, disengaging pins for binding sheets of paper that are smaller or larger than that average paper size, and a sizing guide.
Additional features include a maximum binding length of 11 inches. It also comes with an included debris catcher and a handy ruler on the side of the machine to accurately measure different paper sizes.
Pros
Comes with coil cutting and crimping pliers
Includes adjustable depth and side margins
Each punch die can be removed for increased versatility
Heavy-duty and durable body
Cons
This model requires manually feeding the coil into the paper
2. Best Comb Binding Machine – Tianse Binding Machine
​​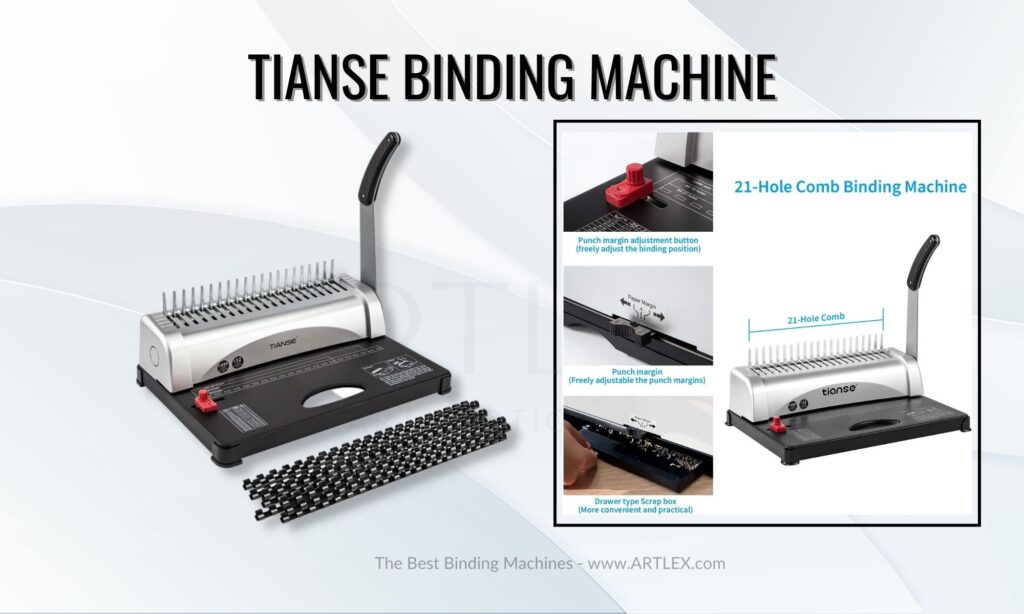 Selection Criteria
Price – ~$59.99 (Was $63.99) – Our score: 9/10
Punching capacity – 12 – Our score: 9/10
Binding capacity – 450 – Our score: 9/10
Type of binding – ⅜ inch comb binder – Our score: 7/10
Has electric coil inserter – No – Our score: 7/10
About Tianse Binding Machine
Professionals, teachers, and homeschoolers will appreciate this all-in-one machine from Tianse. This binding machine comes with a binding starter pack of 100 pieces of ⅜ inch, and 21-spines comb binding.
It can manually bind up to 450 sheets with a two-inch comb spiral and works with 15, 19, and 21-hole papers with its adjustable alignment pegs.
It can also bind laminated paper and comes with an enhanced accuracy edge guide as well as a tray to collect paper scraps for easier cleanup.
While there isn't a comb storage tray, the non-slip feet, and positioning knob for customizable pinpoint punching make it a great purchase for busy offices.
Pros
Is very lightweight at only 6.5 pounds
Is smaller than most other binding machines
Easy to insert the wire binding into the paper
Cons
The first few punches might have oil on the pages from the oiled cutting blade
Does not come with a user manual so users may have to look at a video for its first use
3. Best High Binding Capacity Binding Machine – PrintFinish Coil Binding Machine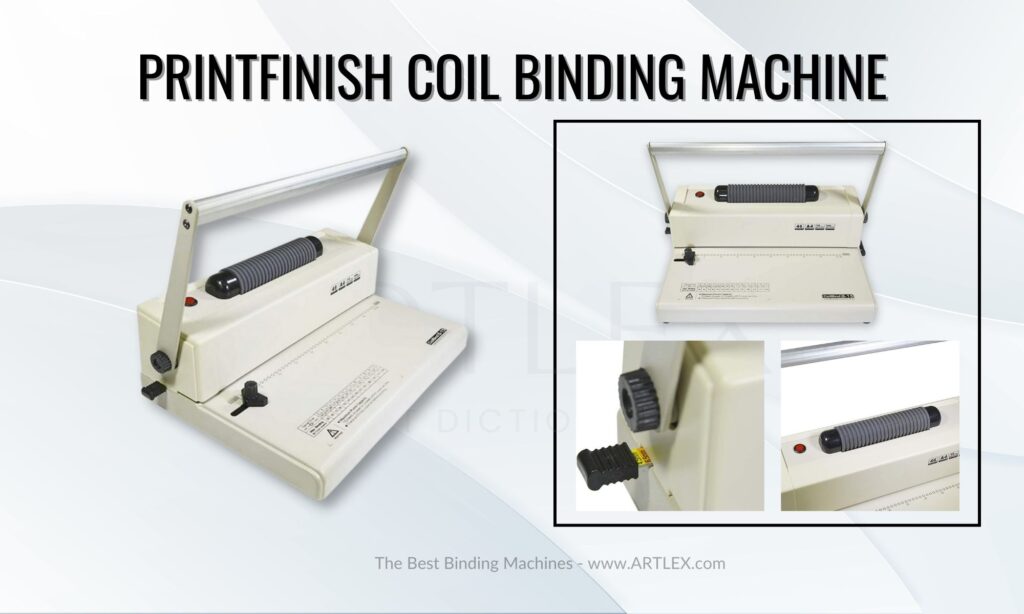 Selection Criteria
Price – ~$154.90 – Our score: 9/10
Punch Capacity – 15 – Our score: 9/10
Binding capacity – 500 sheets – Our score: 9/10
Type of binding – 4:1 coils – Our score: 7/10
Has electric coil inserter – Yes – Our score: 9/10
About PrintFinish Coil Binding Machine
For busy offices, this PrintFinish coil binding machine is a great option with its 500-page binding capacity. It also has an electric coil inserter to complete jobs faster. It can also be used manually.
The hole punch knobs can be adjusted for most size papers while the handle can be easily used by right or left-handed users. What's more, the body is made of durable metal and weighs 15.5 pounds.
This binding machine has a maximum binding width of 11.8 inches and three adjustable margins. Although it doesn't come with crimping pliers, a pair can be purchased separately.
Pros
More secure binding than comb binding
Efficient electric coil inserter
Excellent gift for homeschoolers, musicians, crafters, teachers, or busy students
One year warranty
Cons
Margin adjustments might not work for very large paper
4. Best Thermal Binding Machines – Fellowes Binding Machine
Selection Criteria
Price – ~$151.57 (Was $324.99) – Our score: 8/10
Punch Capacity – n/a – Our score: 9/10
Binding capacity – 600 sheets – Our score: 9/10
Type of binding – Thermal – Our score: 7/10
Has electric coil inserter – n/a – Our score: 9/10
About Fellowes Binding Machine
For a lightweight and compact versatile machine, nothing is smaller than this Fellowes thermal machine. It weighs only 7.94 pounds and has a heat shield safety barrier to avoid being burned by the heating plate.
The thermal binding cycle takes up to three minutes and can safely bind up to 600 pages for each document. It also has vertical document loading and lets users know when the machine is hot enough to begin binding again in-between documents.
This machine also folds almost flat when not in use to allow it to be stored in a large drawer or shelf. A user-friendly auto shut-off feature also prevents the machine from overheating if users forget to shut it off. Staples can help secure larger documents before binding. Lastly, the LED control panel is easy to use and is intuitive for most customers.
Pros
Professional-looking binding
Document pages can be removed and rebound if documents need to be updated
Works to bind hardback books – included with the purchase of a Unibind cover
Auto document thickness detector
Cons
Will not work for tape binding
Larger documents may need to be stapled before binding to ensure they stay together
5. Best Spiral Coil Binding Machine – GBC Binding Machine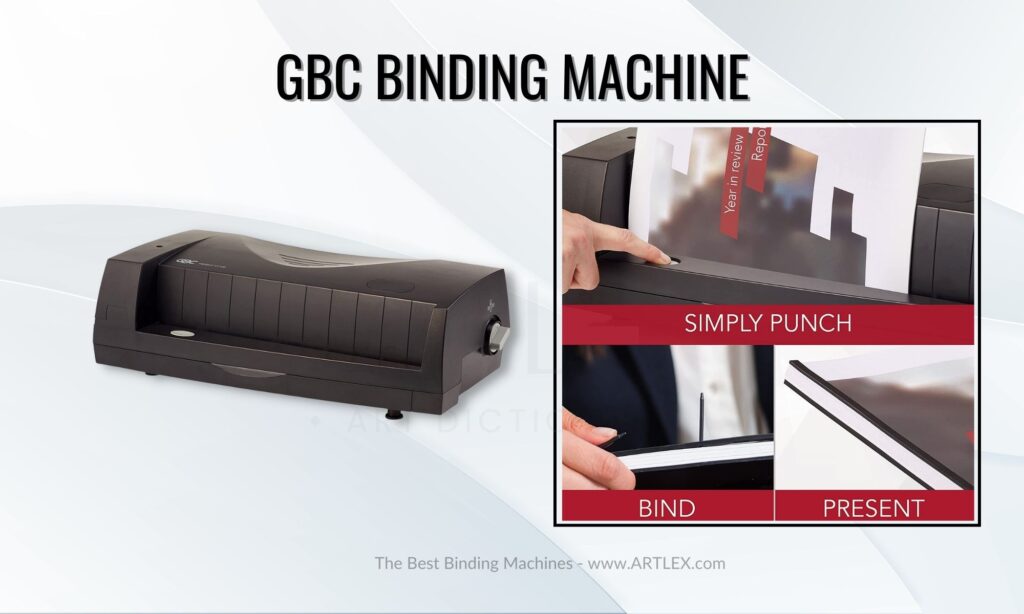 Selection Criteria
Price – ~$188.22 – Our score: 9/10
Punching capacity – 24 sheets – Our score: 9/10
Binding capacity – 200 sheets – Our score: 7/10
Type of binding – Velo Bind – Our score: 8/10
Has electric coil inserter – Yes – Our score: 9/10
About the GBC Binding Machine
Busy law offices, financial institutions, or musicians that require a fast and easy binding solution will value the features of this GBC binding machine.
It can either Velo Bind to create professional and functional reports and to bind documents that are up to 200 pages. Spiral binding can also be used with this machine to bind large documents up to 450 pages long.
This machine works for US letter sizes, not A4. The electric inserter binds spiral and Velobind spines. The hole punch is able to punch through up to 24 standard sheets of paper for one of the higher capacities available at this price point.
This compact, lightweight, and versatile machine has been invaluable for homeschooling parents, musicians, and professional offices.
Pros
Two-year warranty
Pages can be removed or added and rebound
Instructions are easy to follow
Compact design for small home offices with limited desktop space
Cons
The Velobind cannot bind more than 200 pages
Conclusion
We hope you found our guide to the best binding machines helpful. We've covered the different types of machines available along with our recommendations in various contexts.
We've discussed how you can choose the best binding machine for a busy office, homeschool, musicians, or a writing business. Lastly, we've combined our recommendations for those machines with a high binding capacity. It allows for edits such as removing or adding pages to an already bound book or documents.
Thanks for reading. We hope our suggestions help you choose the best binding machine, whether used for a busy office or for binding books for homeschooling or organizing sheet music. There is something for everyone in our top picks.