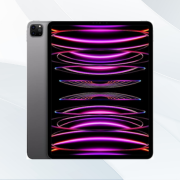 A powerhouse for Procreate, boasting an M2 chip, generous storage, and second-gen Apple Pencil support.
iPad Pro 12.9 5th Gen (Renewed)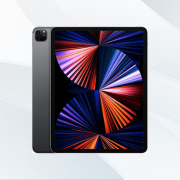 Nearly identical to the latest model, offering professional Procreate experience at a more accessible price.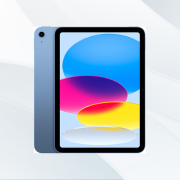 A significant upgrade from the 9th gen, offering a larger screen, improved design, and more powerful processor, ideal for artists.
Are you an artist or designer looking for the perfect iPad to use Procreate, the popular drawing and painting app? Look no further! In this article, we'll showcase the top iPad models that offer the best performance and features for Procreate users.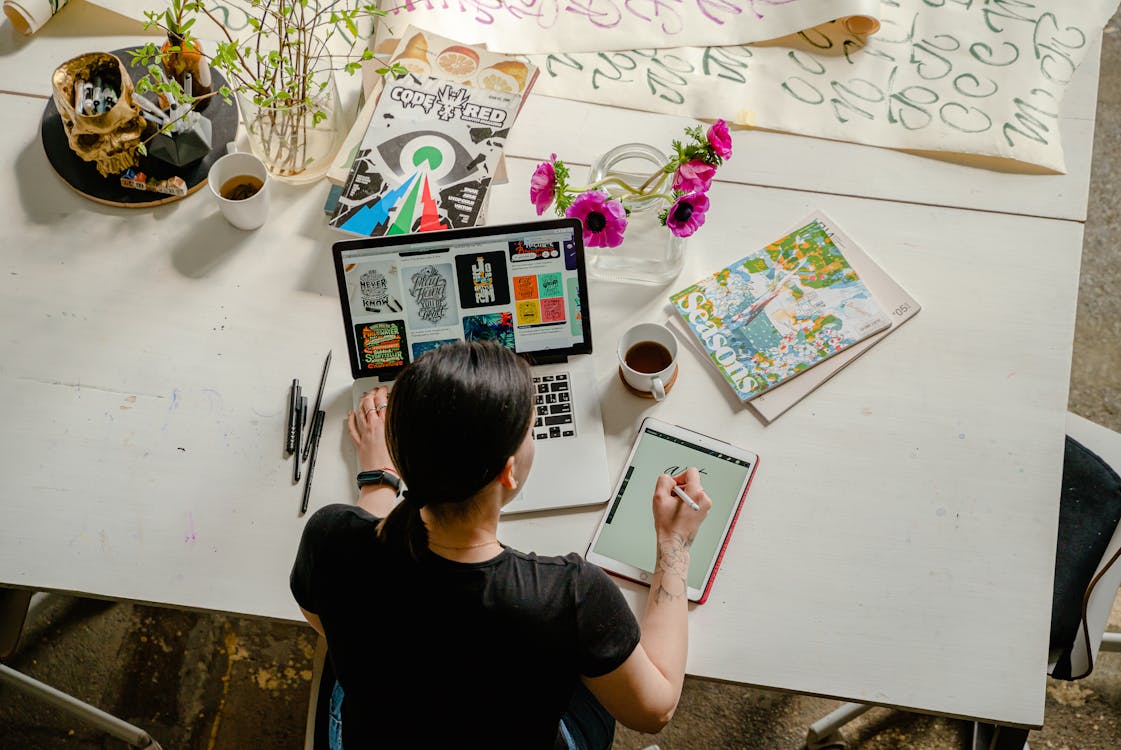 From the latest iPad Pro models with their powerful processors and large, high-resolution displays to more budget-friendly options like the iPad Air and iPad Mini, we've got you covered.
In this article, we'll be sharing some tips on what to look for in an iPad to use with the Procreate app, so you can make an informed decision and find the perfect device for your creative needs.
But first, let's learn about Procreate!
What is Procreate?
Procreate is an art and design app developed by Savage Interactive, a software company based in Tasmania, Australia, that became crazy popular and is now well-loved by many artists, designers, and creatives around the world.
The app was first released in 2011, and since then, it has gained a lot of popularity among digital artists for its wide range of features, intuitive interface, realistic brush styles, and tools, as well as layers, filters, and other common elements found in professional illustration software.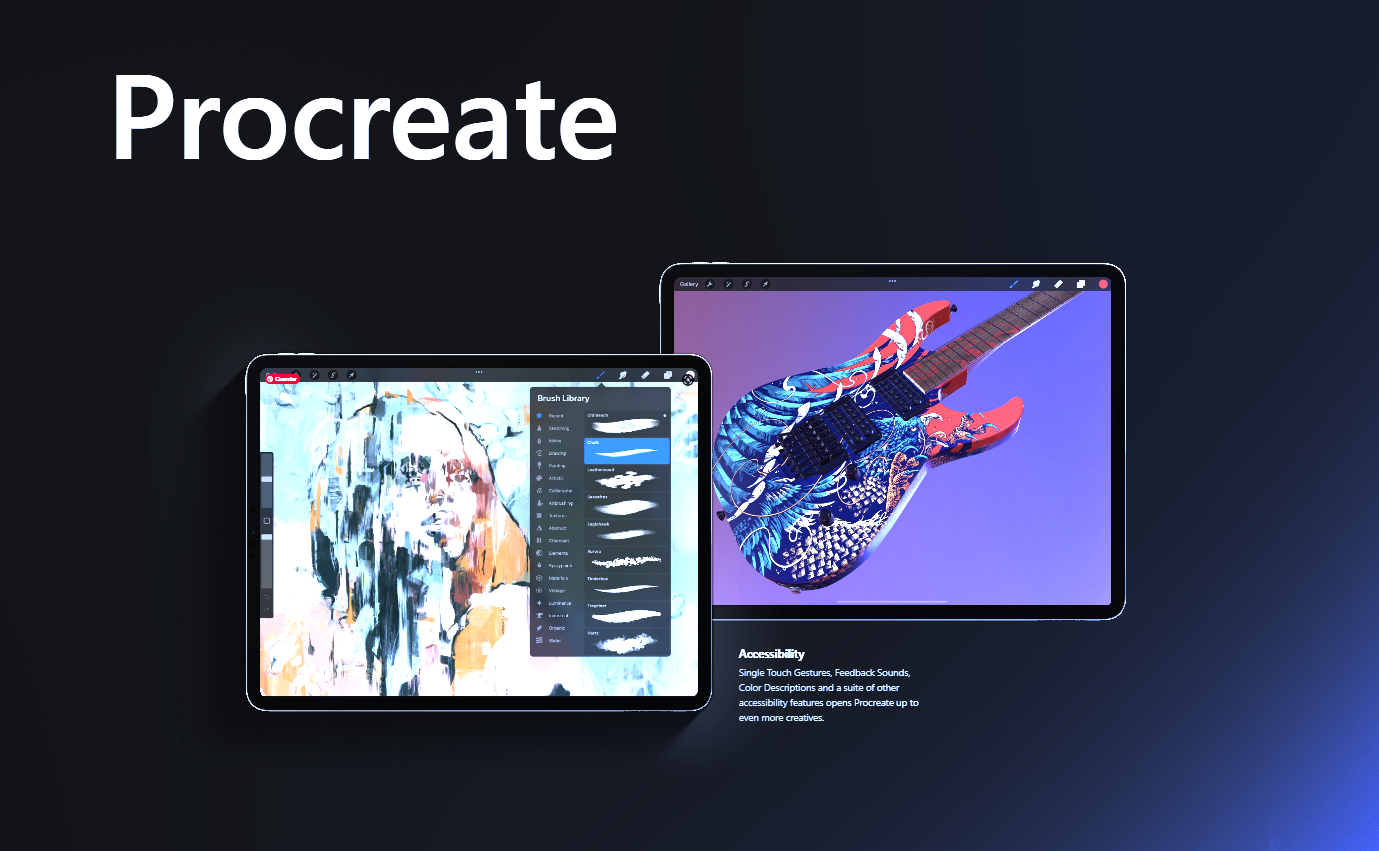 Whether you're a beginner looking to explore your artistic side, a traditional artist wanting to take the leap and join the digital art world, or a professional illustrator looking for new software to try, Procreate is an excellent tool for anyone interested in creating art.
Why do I need an iPad for Procreate?
As an illustration and digital painting app, Procreate is better when used on a device with a powerful processor, a robust graphics unit, and a high-resolution display. These essential features allow the app to run smoothly, providing a better drawing experience.
Procreate was designed to work with Apple software, and it was specially made for the Pro iPad models due to the superior hardware features and touch gestures compatibility.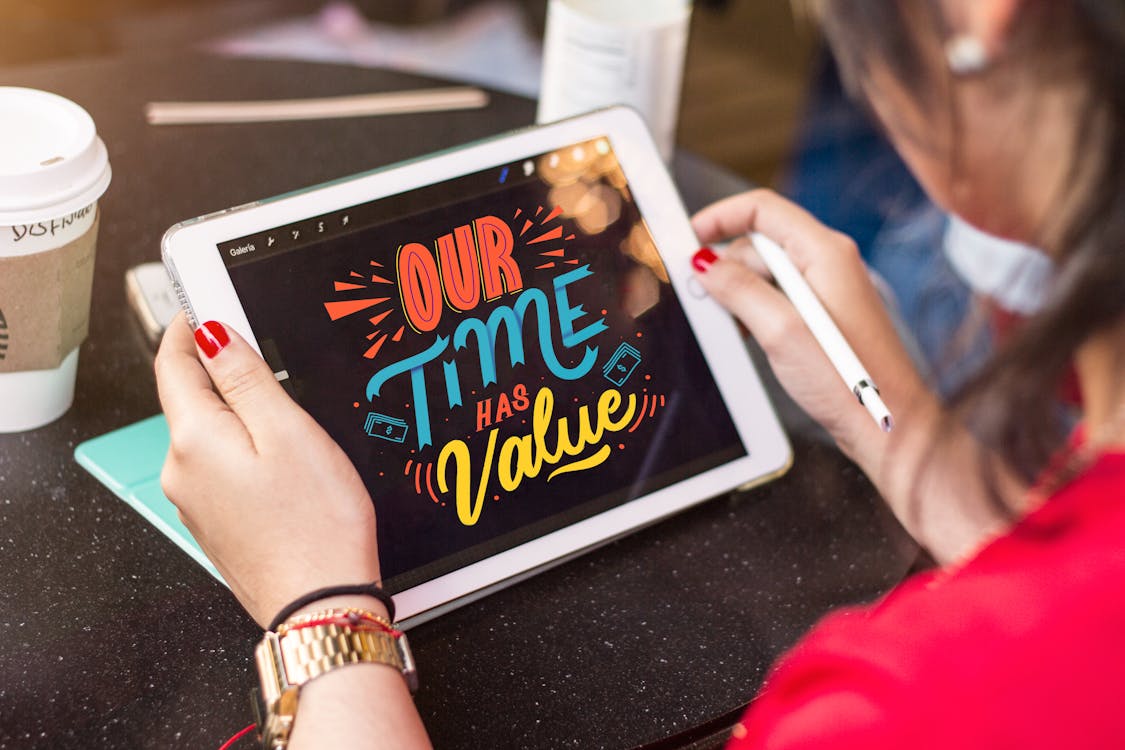 Nowadays, due to the constant updates and improvements in Apple's devices, several iPad models are well-suited for Procreate, like the very expensive iPad Pro to more budget-friendly options like the iPad Air and iPad Mini.
The latest iPad Pro models are particularly powerful and feature large, high-resolution displays that accurately portray colors and are perfect for not only creating professional work but multitasking, creating content, and sharing your art.
In the end, finding the best iPad for Procreate will depend on your specific needs and (especially) your budget. By considering the features and characteristics of different iPad models and learning the way they interact and affect Procreate's performance, you'll be able to identify the device that suits you the best.
Best Procreate Features
User-friendly interface:
Procreate has a user-friendly interface that is easy to navigate, with intuitive controls and a range of helpful tutorials and resources posted by the creative community and developers of the app. This makes it accessible to a wide range of users, including beginners and more experienced artists.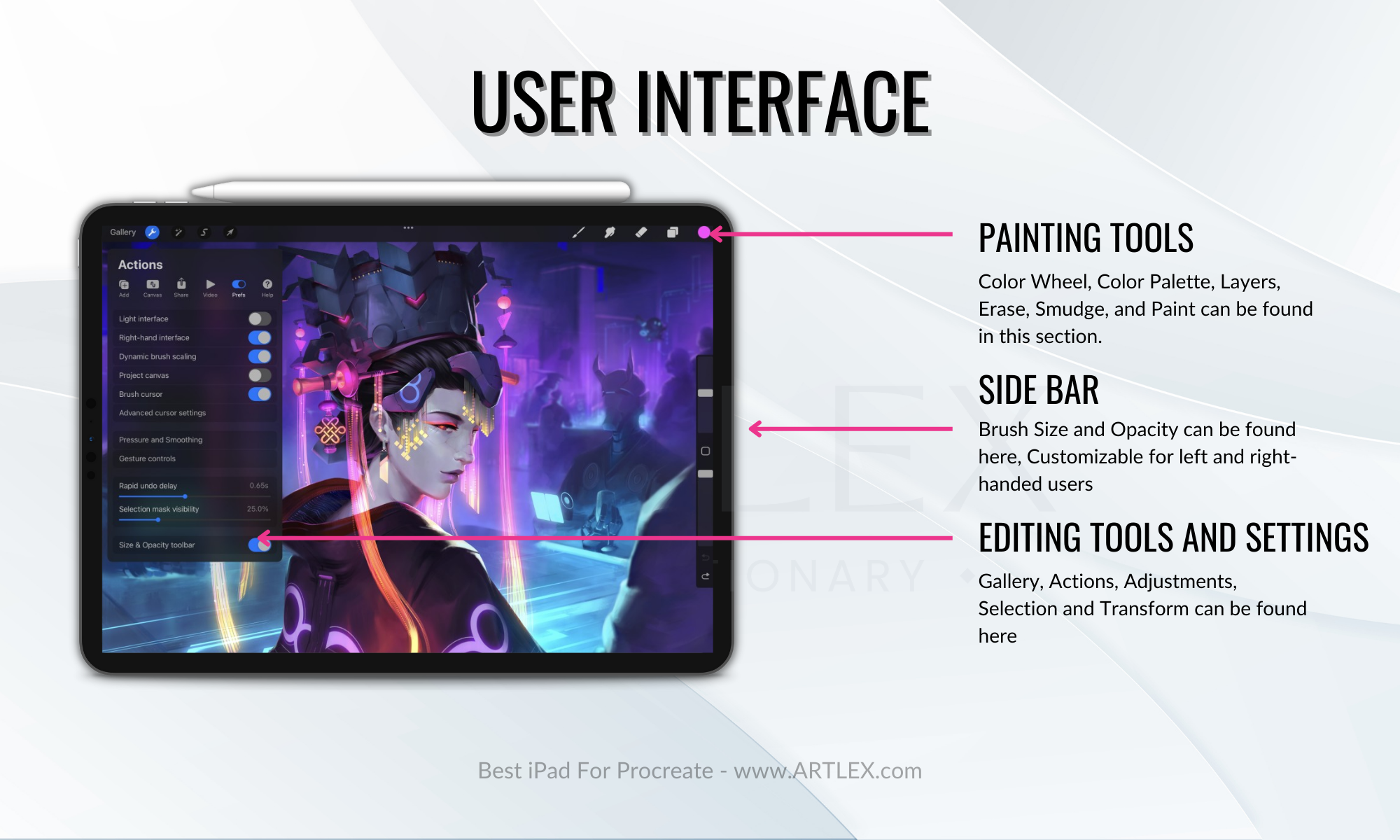 Brush library:
Procreate has a vast library of customizable brushes that allow you to create different types of strokes and artistic effects. You can also find multiple brush packs and tool sets made by other artists that can take your work to another level while improving your workflow and making digital art easier for beginners and intermediate artists.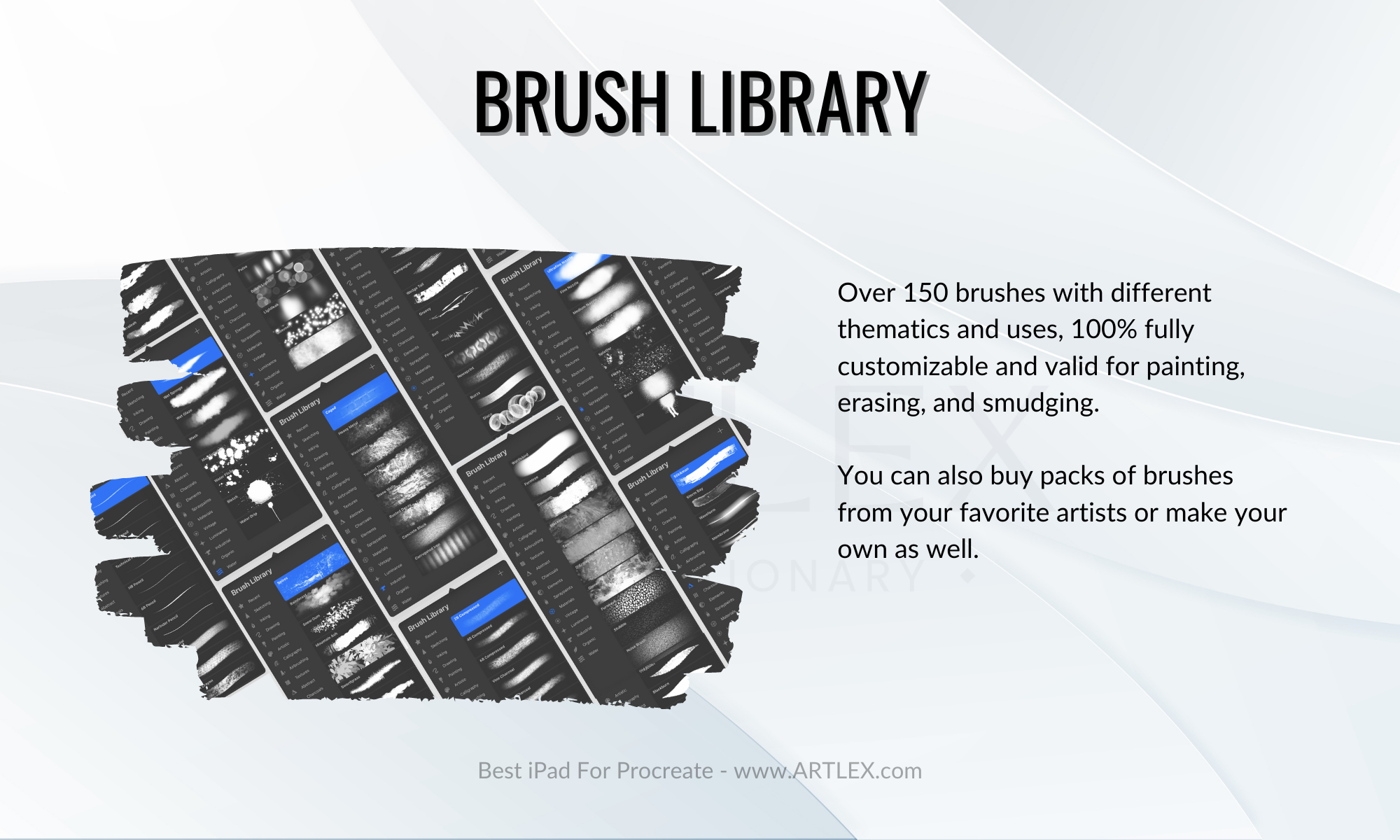 Layers:
Procreate's layer system allows you to work on different parts of your artwork separately and combine them into a final piece. The number of layers allowed is directly related to the canvas resolution and the device's RAM and can be visualized and adjusted at the beginning of your creative process.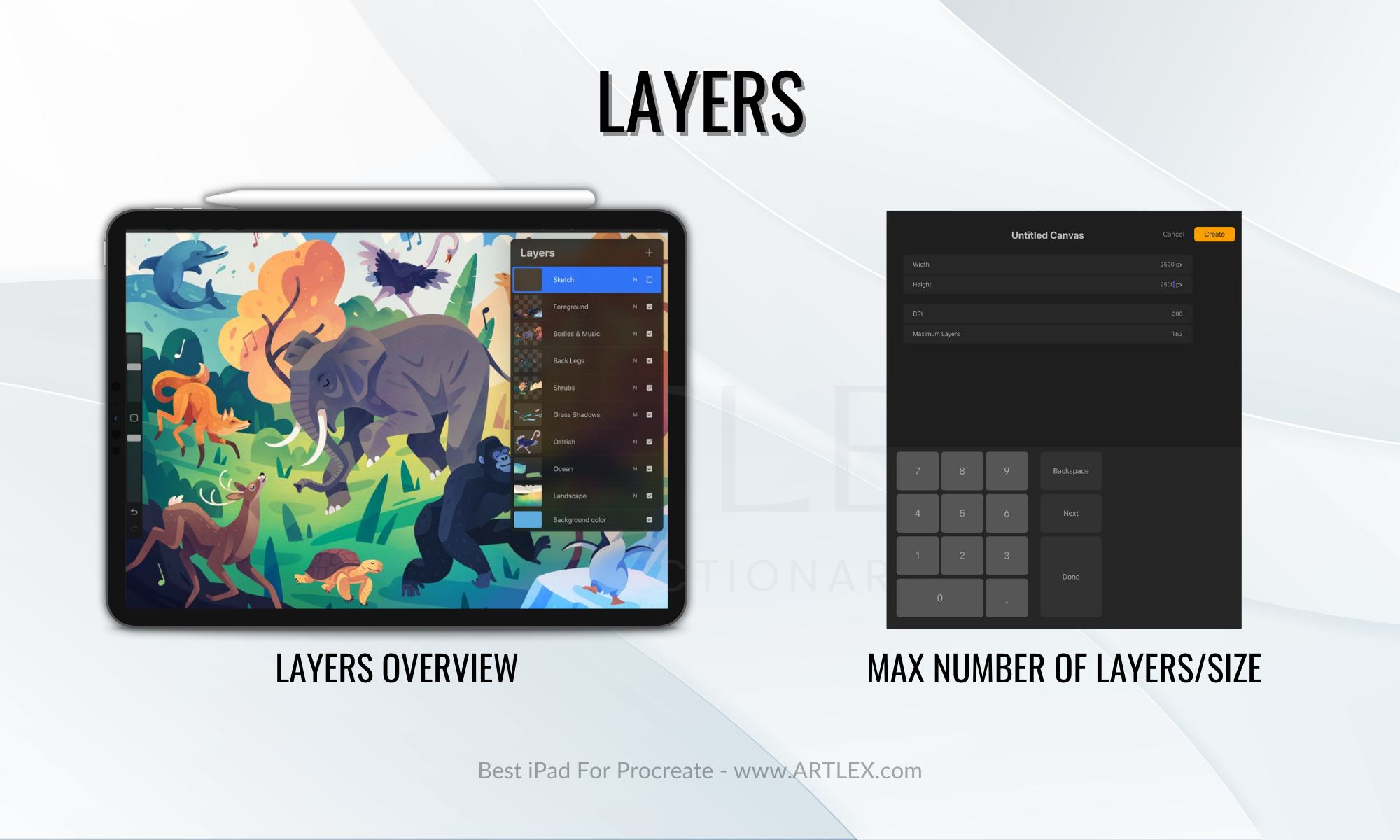 Adjustment tools:
Procreate offers a range of adjustment tools, including blur and artistic effects, color correction levels, curves, and advanced liquify tools that allow you to fine-tune your artwork.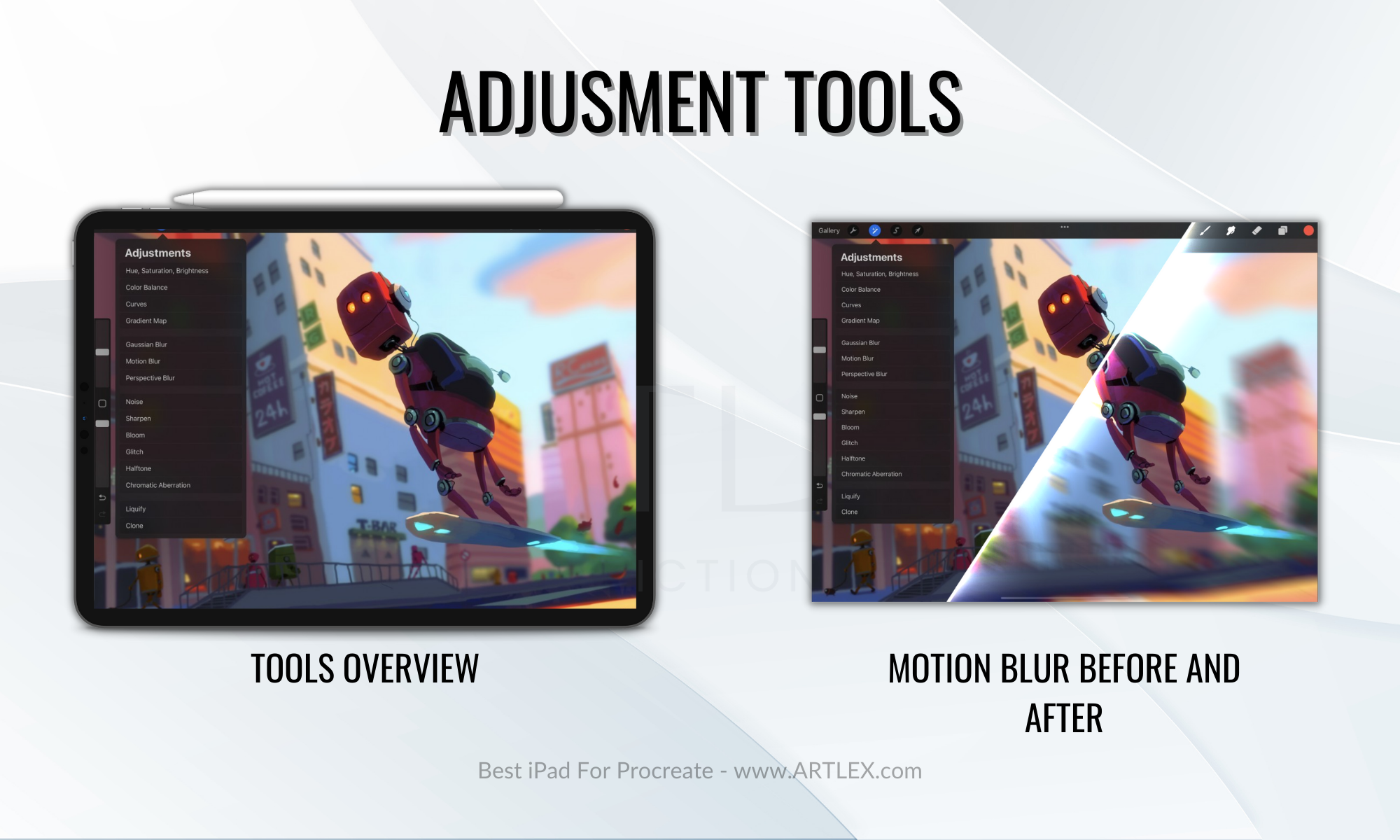 Selection and Transform tools:
Procreate's selection tools allow you to cut, move and change specific parts of your artwork and make modifications without affecting the rest of the image. In contrast, the transformation tools allow you to change, shape, and distort your artwork in a very intuitive and easy way.
Export options:
Procreate allows you to export your artwork in various formats, including PNG, JPG, and even PSD, making it easy to share your work with others or use it in other projects. Procreate also records a timelapse of your process and allows you to export it as a short 30 seconds video or a full video, making it easier to create content and share your work process on social media.
Animation:
Procreate's animation feature allows you to create frame-by-frame animations using a simple and intuitive layering method. It's not professional animation software, but it will allow you to experiment, learn and create short animations and animated art. You can also easily export them as video or GIF files which makes sharing much easier.
Community: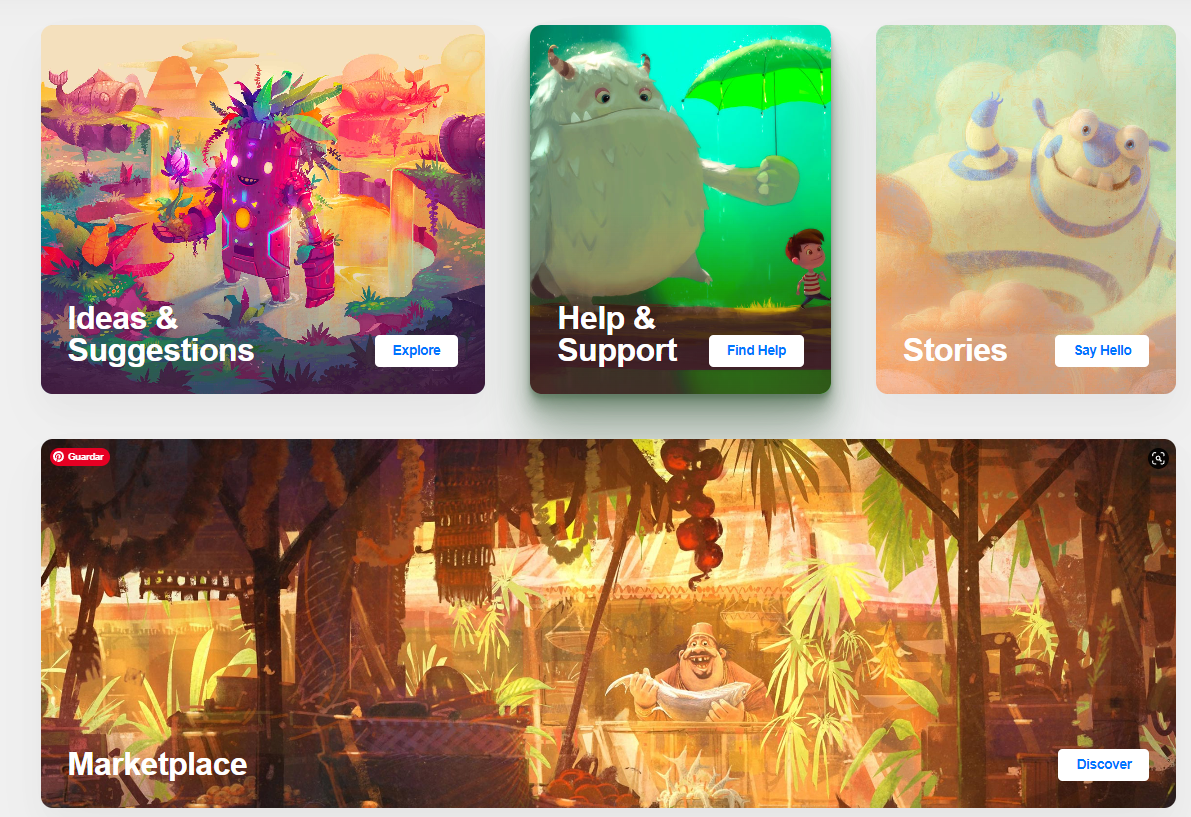 Procreate has a large and active community of users who share their work and offer tips and tricks where you can find inspiration, feedback, and support from other Procreate users. This community has contributed to the app's popularity by providing users with a sense of connection and mutual assistance.
How to choose the best iPad for Procreate?
Apple iPad models and Procreate always have something to offer, whether you're a beginner willing to explore digital art for the first time or a seasoned artist, you'd agree iPads are not the most accessible tablets in the market, so in order to get the best value for your money, there are a few key factors you need to consider:
Processor and RAM:
Procreate is a resource-intensive app that needs a powerful processor. Apple iPads have some of the best CPUs in the market; however, the iPad OS limits the resources (CPU and RAM) to only half of what's available, so it's better took for an iPad with a newer, faster processor, such as the M1 or newer if your budget allows it.
These are the latest processors apple offers in recent iPad models:
A14 and A15 Bionic: Currently present in the iPad 10th Gen, the iPad Air 4th Gen, and the iPad Mini 6. It has six cores (two performance cores and four efficiency cores) and 4 (A14), and 5 (A15) GPU cores.
It's capable of handling demanding tasks, such as 4K video editing and AR applications.
M1 Chip: Currently present in the iPad Air 5th Gen, the iPad Pro 12.9 5th Gen and the iPad Pro 11 3rd Gen It has eight cores (four high-performance cores and four energy-efficient cores) and 8 GPU Cores. It is capable of an even faster performance and improved energy efficiency compared to the A14 and A15 Bionic.
M2 Chip: It is the latest apple processor, present in the iPad Pro 12.9 6th Gen and the iPad Pro 11 3rd Gen. It has eight cores (four high-performance cores and four energy-efficient cores) and 10 GPU Cores and is designed to deliver 18% faster CPU, 35% faster GPU, and twice the memory bandwidth going from 50GB/s to 100GB/s
Regarding RAM, Apple offers from 4GB to 16 GB of RAM in the latest models; however, previous models (like the iPad 9th Gen and the iPad mini 5) can have from 3GB of RAM. More RAM means more layers, a larger canvas, and longer animations.
It also means you'll be able to run other apps in the background without worrying about crashes. As always, more means better, but it also means pricier. Apple offers additional RAM in some models, like the iPad Pro. However, the jump from 8GB to 16GB of RAM means +$800 on the price, so I wouldn't recommend going for the additional RAM unless you absolutely need it.
Display and Resolution
The display quality is important for any art software, and Procreate is no exception. Luckily, Apple has some of the best displays in the market.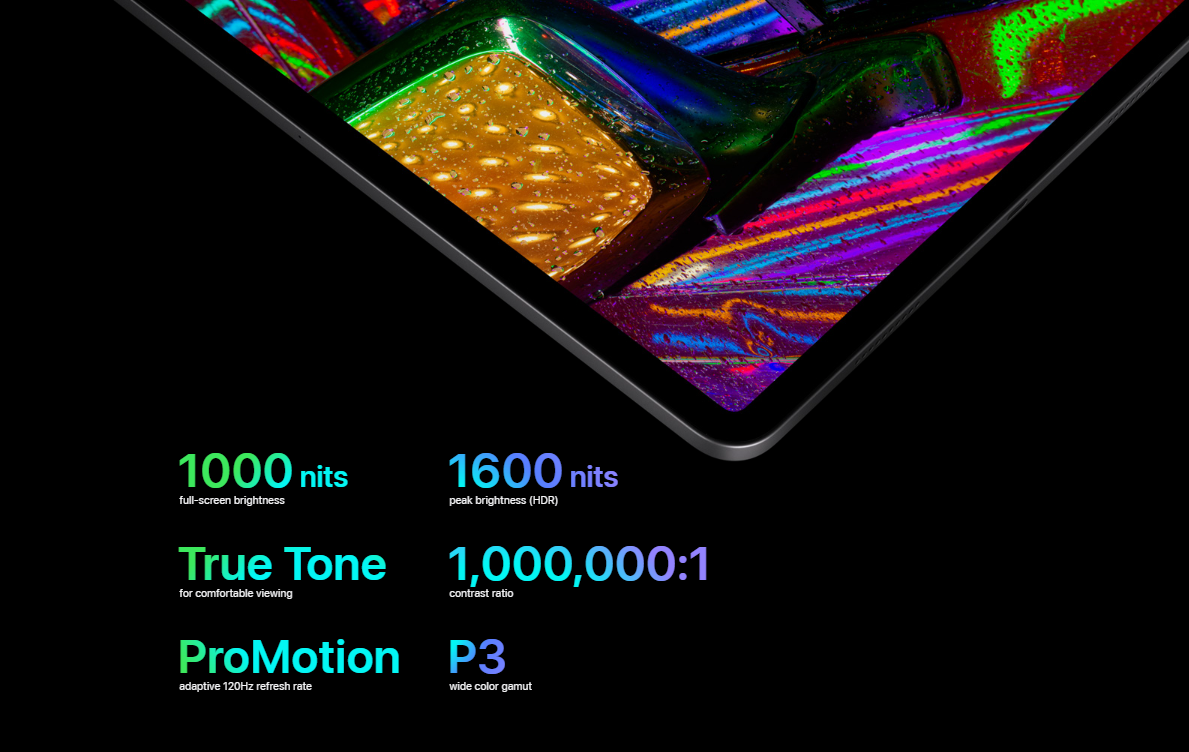 Apple iPads also have excellent screen resolution, surpassing most Android tablets, so that wouldn't be a problem on any model. The iPad Pro 12.9 inch has the highest resolution of them all; nonetheless, it also comes at a higher price.
Color Accuracy and Brightness
iPads, like most mobile devices, are built to be used indoors and outdoors, so unlike graphic pen displays, laptops, and other tablets that have low brightness, iPads have from 500 to 1600 nits, making them the brightest and, in this case, better display at the moment.
Their Liquid Retina display doesn't only look amazing but also has an extremely high color accuracy and gamut coverage, which is a crucial feature for artists, designers, and creatives in general.
The DCI-P3 color space covers more than 100% of the sRGB range and leans towards the reds and yellows, looking more realistic than the Adobe RGB color space, and is also present in most professional displays.
Storage:
Having enough space for your artwork and creations is crucial for any creative professional, and we all know that Procreate files are pretty heavy. Getting lots of storage is what we recommend, especially since the time-lapse exports only add to the problem; however, as always, more storage means more money.
Having more than 256GB of storage is what we consider ideal. That way, you'll be able to have other apps, photos, and files and use your device to all of its capacity. However, you can always have an external storage solution to save your iPad from crashes and malfunctions.
Size:
The size of the iPad can be a matter of personal preference, but larger iPads are more comfortable to draw on and use for extended periods of time. A bigger size also means more space for references and tools like the companion mode of the color wheel or a color palette. And if your hands are on the bigger size, you'll definitely feel more comfortable with a bigger iPad.
On the other side, the portability factor does affect the use of any tablet, you can't take an iPad Pro of 12.9 inches everywhere and take photos or record videos, and although the size is still on the portable side, some might be more comfortable with a smaller iPad, especially if they intend on using it for anything else than drawing.
Pen support:
Procreate is designed to work with the first and second-generation Apple Pencil, which already are the best possible styluses for any iPad; still, if you plan on using a stylus with Procreate, make sure the iPad you choose is compatible with a stylus and offers good palm rejection.
And if you get the first-generation Apple Pencil or an iPad compatible with it, also ensure you get the charger and adapter since most recent iPad models have USB-C ports, and the Apple Pencil 1 doesn't support magnetic charging.
Software Compatibility
It is also important to know that even though procreate is one of the best drawing apps. It's not the industry standard. Photoshop recently released an app for the iPad; however, it's not the full version and won't work correctly in some iPad versions due to the RAM, making it more of a painting and sketching app than a compatible professional app.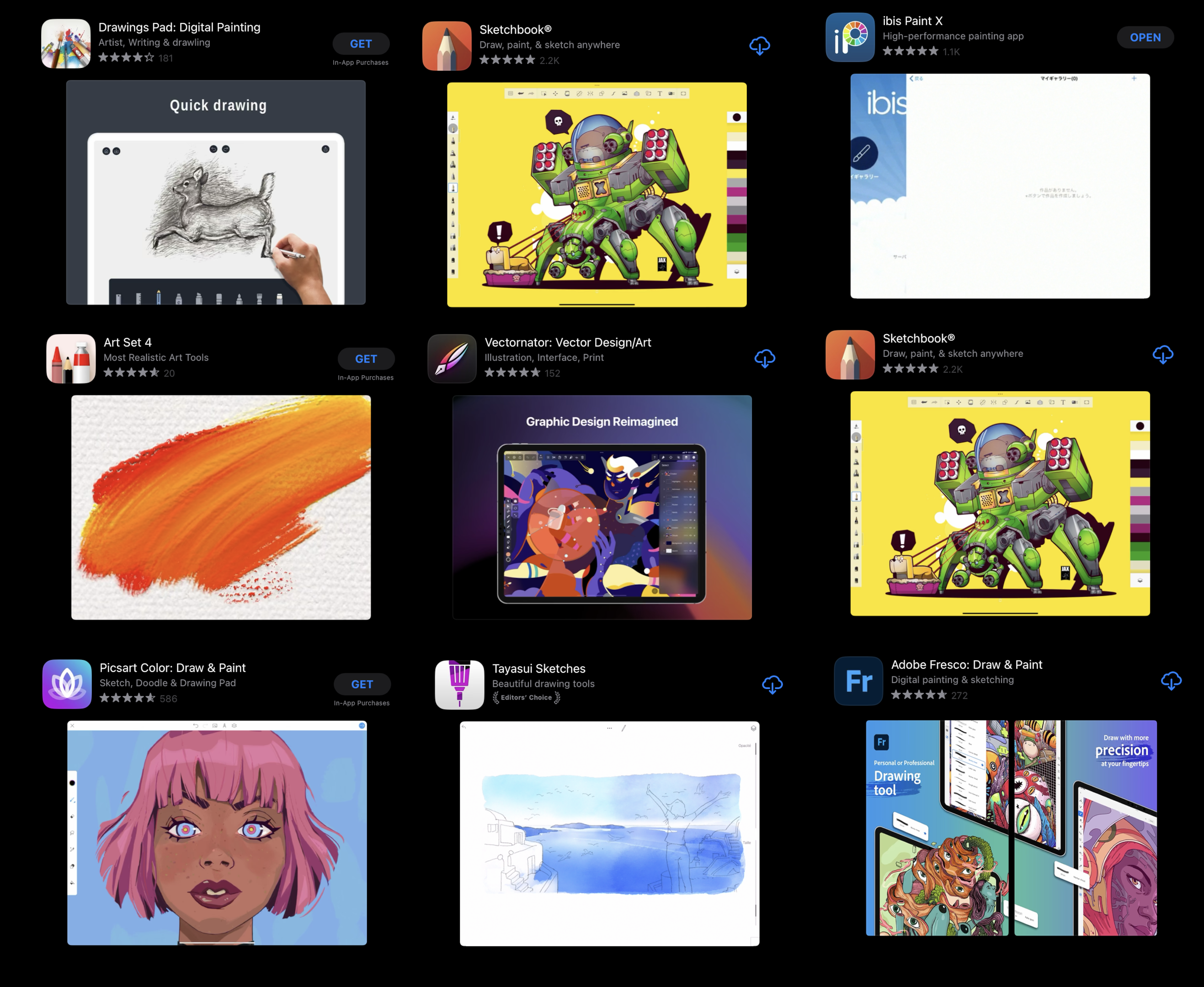 There are other pro apps like Clip Studio Paint that remain the same on all devices. On the other hand, you won't find Krita, Illustrator, Corel Paint, or any professional animation software available in the App Store.
Battery Life
The iPad is a versatile device that can be used for various tasks, like drawing on Procreate, browsing the internet, watching videos, and taking notes. Whether you're an artist looking to create digital paintings or want a convenient device for everyday use, having enough battery is very important.
Fortunately, one of the advantages of Apple devices is their long-lasting battery life, which outperforms most laptops and many Android devices.
You can use any iPad device continuously for as many as 12 hours, depending on the model, without worrying about losing performance even at 2% battery. You can also set your iPad on low power mode, which extends your battery at the cost of reducing background tasks and applications.
Price
iPads and Apple devices, in general, are not inexpensive at all. In fact, the latest models are some of the most expensive tablets on the market. However, they are so versatile and useful that I guarantee you they are totally worth the investment.
You might not have the budget for the latest and most powerful iPad Pro, yet the latest Apple iPad Air has pretty much the same features as the iPad Pro for around $500 less.
The new iPad (10th Gen) is also a great option if you're on a tight budget since it has a size comfortable enough, a great design, and a very tempting price.
How Much Does Procreate Cost?
In terms of price, Procreate is relatively one of the most affordable brewing apps compared to other professional-grade design software. On any iPad model, the app is available for purchase through the App Store for $9.99.
This is a one-time purchase, not a monthly subscription.
On the iPhone, the pocket version of the app can be purchased for $5.99. These prices may vary depending on your location and other factors, so it's always a good idea to check the App Store for the most up-to-date pricing information.
Procreate Learning Curve
The learning curve for Procreate can vary depending on the individual user's familiarity with digital art tools (like graphics tablets and styluses) and software (like Photoshop or Krita), as well as their specific goals and objectives using the app.
Some users may find Procreate relatively easy to learn and use, while others may need more time to master the app's various features and functions. Some might use procreate as a simple design and illustration tool. In contrast, others might take full advantage of it and use it professionally to work, build a portfolio, make comics and animations, etc.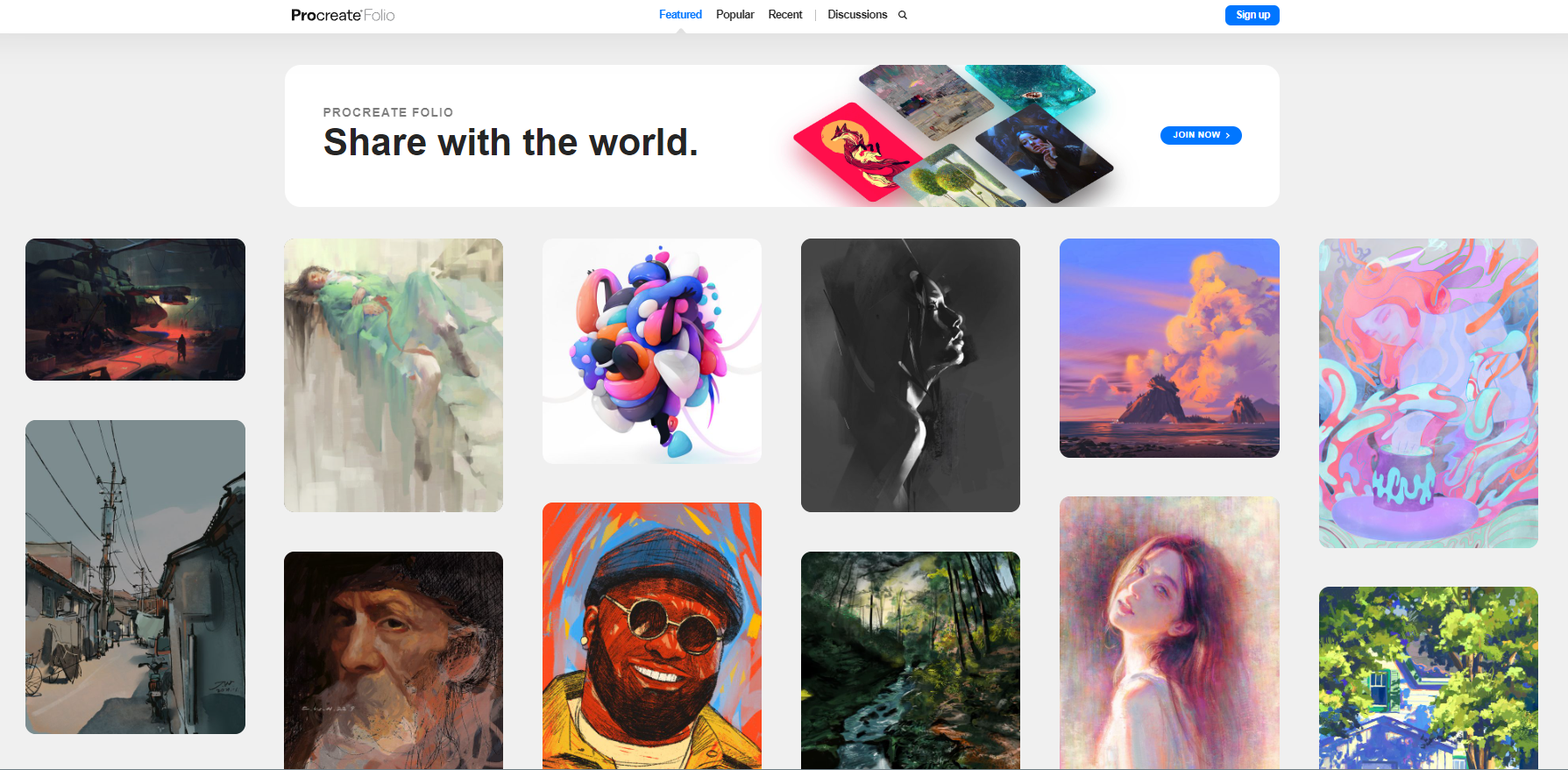 Suppose you have a background in digital art and have used other programs, apps, etc.. In that case, you'll be familiar with most of the functions, layer blending modes, adjustment tools, and general terminology.
The most challenging aspect of the learning curve would be adjusting to the user interface. However, the developers have made a handbook with all the information you need about Procreate, so with dedicated practice, it should only take a matter of days or even hours to become proficient in navigating it.
If you are new to digital art, I recommend familiarizing yourself with the tools and features of other software programs through video tutorials first. Many digital painting apps and programs have similar features, so gaining a basic understanding of them can help you feel more comfortable and confident when using Procreate or other professional art software.
We highly recommend focusing on learning about the use and creation of brushes in Procreate's Brush Studio, as well as the finger and stylus shortcuts and gestures available in the app. These features are essential for creating high-quality artwork in Procreate and can significantly enhance your workflow and productivity.
Procreate includes a range of resources to help users learn how to use the app, including video tutorials, a user manual, and a help center with articles and FAQs.
Additionally, there are many online resources available, such as tutorials, forums, and social media groups, where users can learn from and connect with other Procreate users and experts.
iPad Accessories for Digital Artists
Magic Keyboard/Keyboard Folio
If you're planning on using your iPad for work, note-taking, browsing, etc., getting a Keyboard Folio or the magic keyboard is a completely worthy investment. Apple supports Bluetooth keyboards, and there are many cases available in the market; however, speaking from experience, getting one of these two accessories can boost your productivity and improve your user experience tremendously.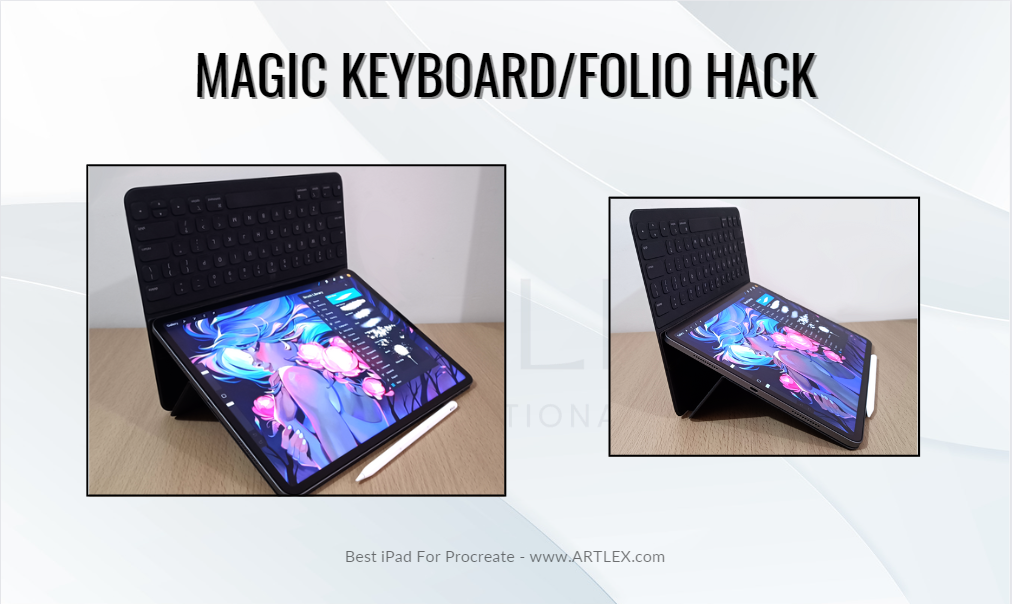 Sketchbard Pro/iPad Stand
Buying an iPad stand or a tablet/laptop stand can be a great way of organizing your space. It can have some cool features like being able to adjust the position for a more comfortable drawing experience, improve your posture and reduce eyes and neck strain, provide a wide range of viewing angles, etc.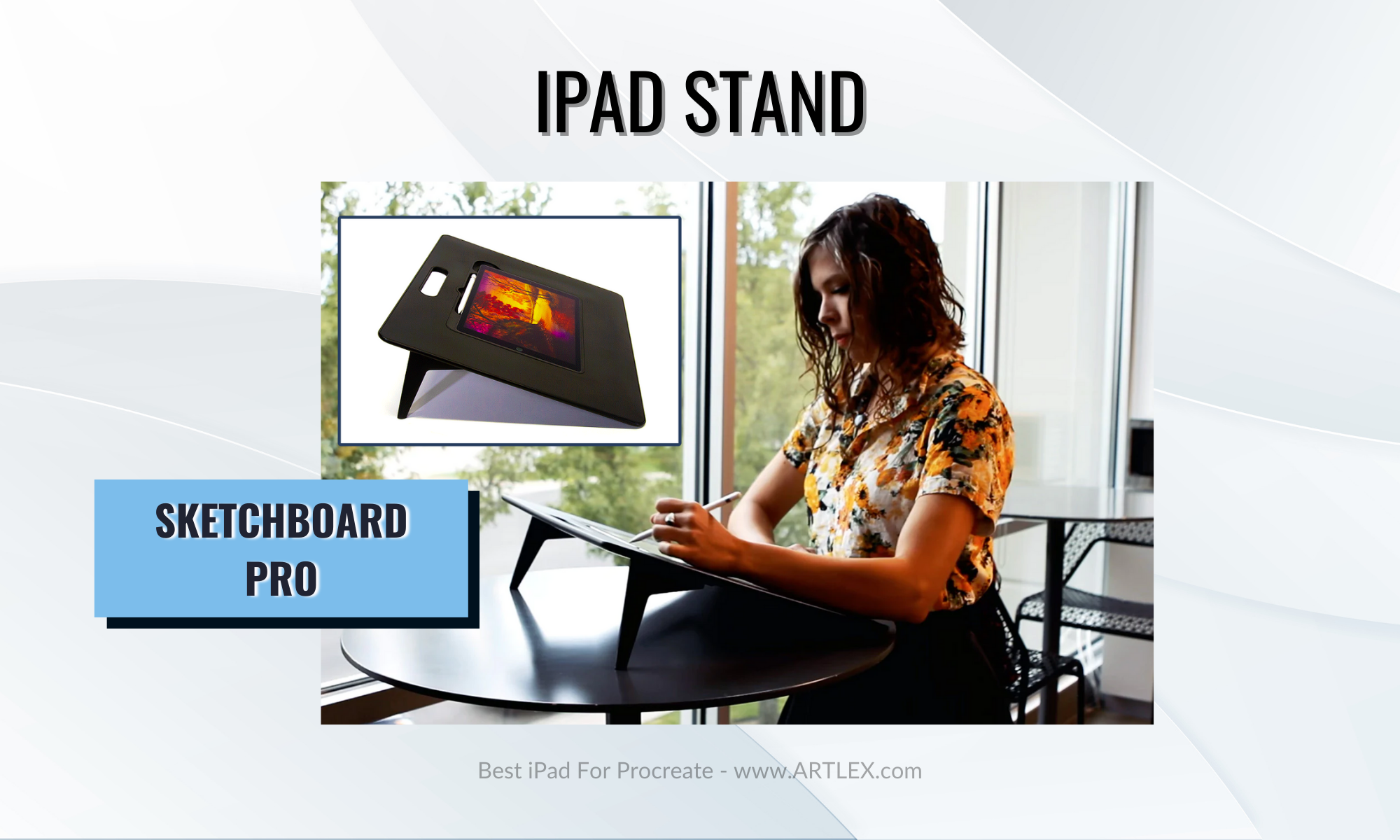 However, it's hard to find a stand solely for drawing purposes. A few years ago, the Sketchboard Pro was released; it's a special iPad stand that will drastically improve your drawing experience, will help you reduce wrist pain, and give you a wider surface for gestural drawing.
Screen Protector
The iPad screen is fantastic to look at; however, drawing on a glossy surface can feel… weird.
Most graphics tablets and pen displays have a textured surface that provides the stylus additional friction, helping you make smoother lines and providing more control to the user. Since the Ipad screen doesn't have any texture, drawing on it feels a bit unnatural.
There are several screen protectors in the market, but most of them are so thick that they can negatively affect the Apple Pencil's performance. The perfect textured screen protector is a thin film designed to mimic the feel of drawing on paper without affecting the Apple Pencil's sensitivity.
Paperlike is one of the most popular brands but is also quite expensive, and according to some users, it destroys the Apple Pencil tip due to being overly textured and wearing off quickly. You can always go for less expensive options but remember to get a thin film instead of a glass or ceramic protector
What is Apple Pencil Hover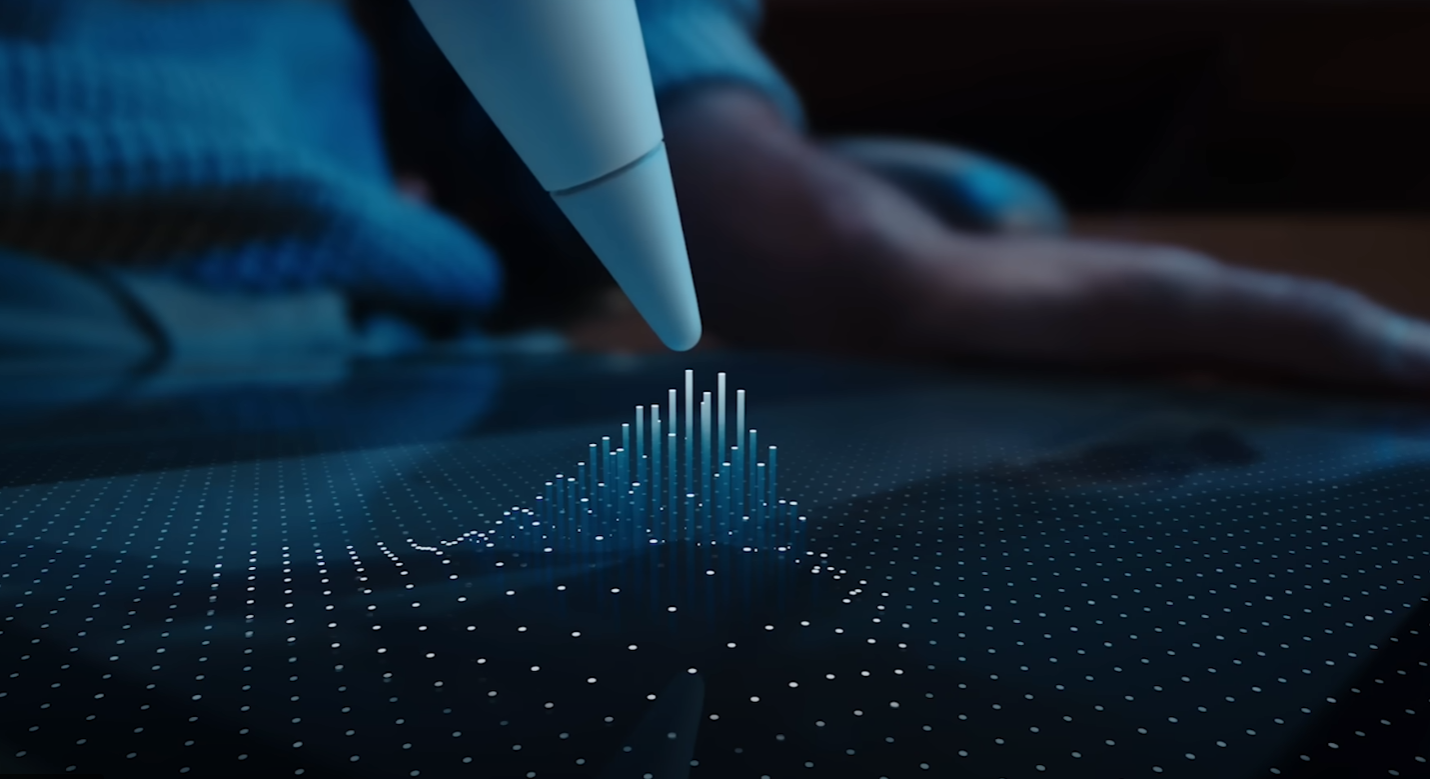 Apple Pencil hover is a feature that allows the Apple Pencil to hover above the screen and perform specific actions, such as accessing tool palettes, increasing and decreasing the brush size and opacity, being able to see the brush shape and preview the color, etc. without actually touching the screen.
This is a game-changer feature for apps like Procreate, where precise control and brush manipulation are essential.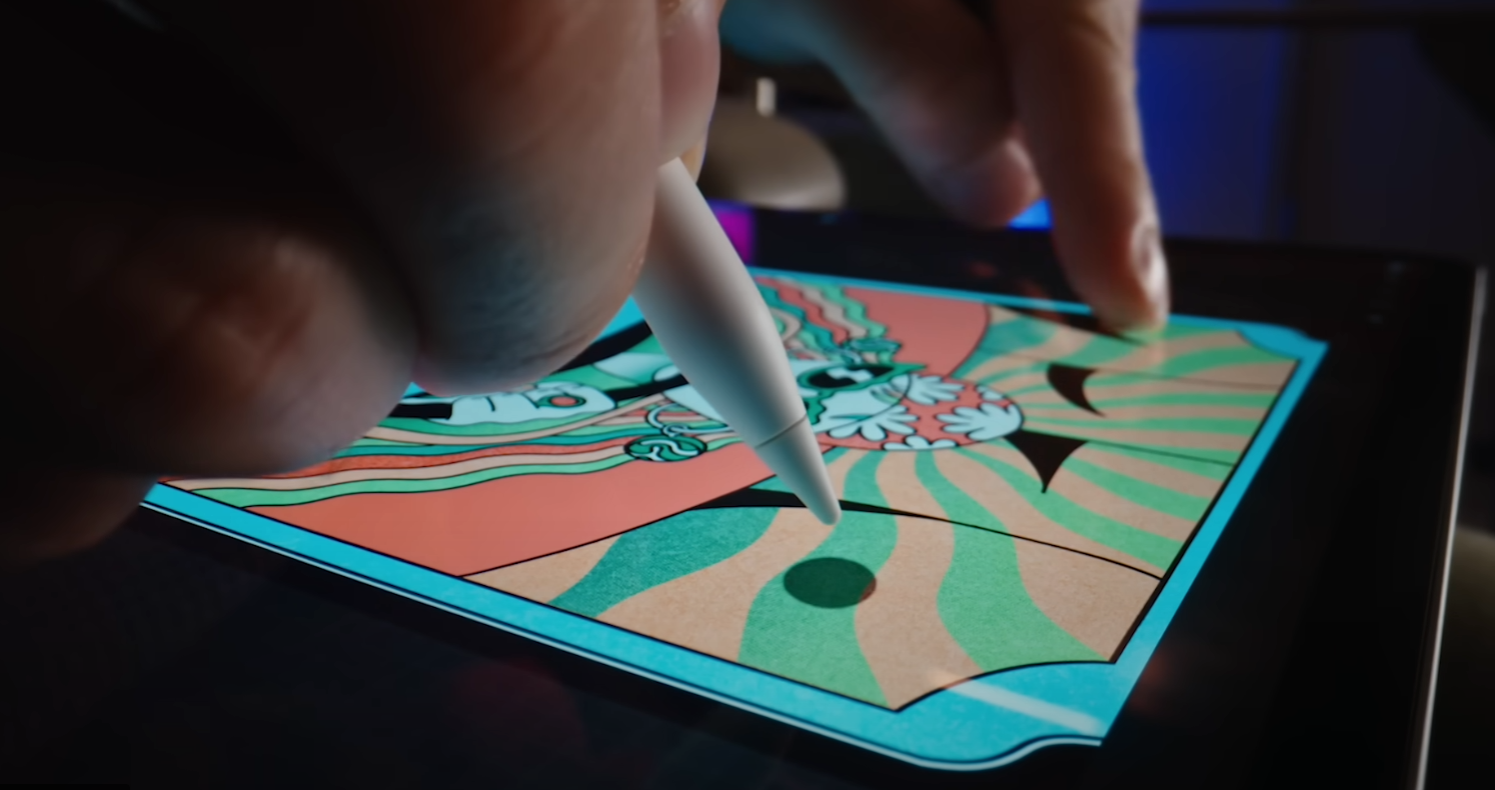 Our Product Recommendations – The Best iPad for Procreate
Overall, the we found best iPad for Procreate is the Apple iPad Pro 12.9″. However, the best choice for you will depend on your specific needs and budget. We've made this recommendation list that will help you choose the Best iPad for you.
1. Best iPad for Procreate Overall — Apple iPad Pro 12.9″ 6th Gen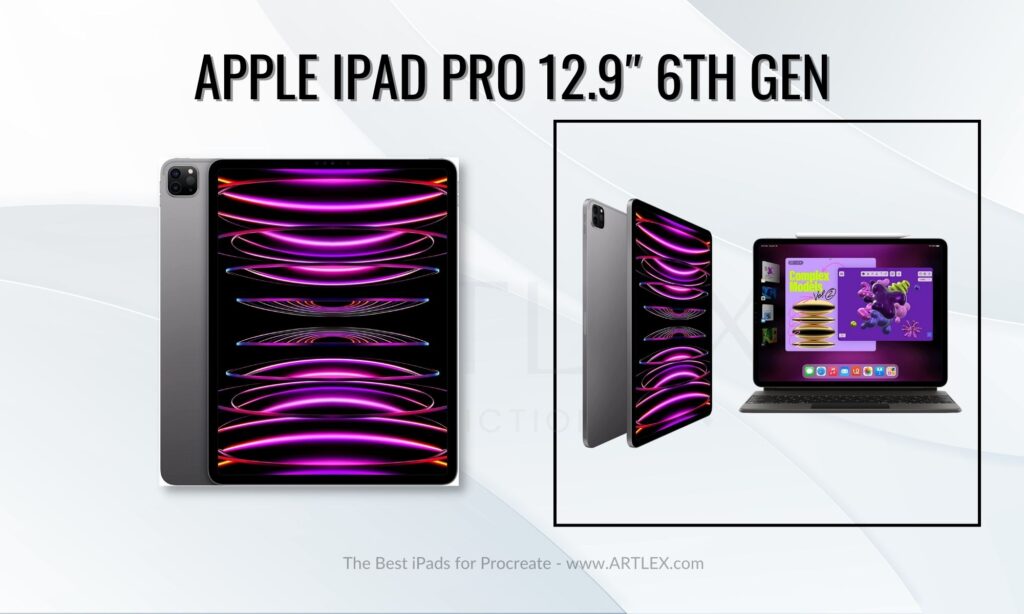 Selection Criteria:
Size: 12.9″, 1.5 lb. Very portable, a bit heavy
Storage: 128GB, 256GB, 512GB, 1TB, 2TB
Processor and RAM: M2 Chip, from 8GB to 16GB of RAM
Display and Resolution: Liquid Retina XDR Display, 2732 x 2048 px
Color Accuracy and Brightness: DCI-P3, 130% sRGB Coverage. From 600 to 1600 nits.
Pen Support: Second Gen Apple Pencil [with Apple Pencil hover] sold apart.
Battery Life: 10 Hours
Price: From $1099 to $2399
About the iPad Pro 12.9 6th Gen
The iPad Pro has a fantastic display, is highly accurate, and has an excellent contrast ratio making the colors more vivid, which is ideal for creating high-quality artwork. It's powered by Apple's M2 Chip, which provides faster and more efficient performance for tasks such as image editing, drawing, and video rendering.
It also has Pro Motion Technology, which automatically adjusts the refresh rate of the display to match the content being displayed, resulting in a smooth and fluid experience. This might go unnoticed until you use another tablet, where you'll be able to see the difference, especially using touch gestures and when moving your canvas around.
The iPad Pro is compatible with the Second Generation Apple Pencil, which provides a precise and natural drawing, writing, and painting experience. This Generation also includes the Apple Pencil Hover feature, which is a fantastic feature for creatives and also the only reason it made it to the top.
Pros:
Apple pencil hover feature
Great size and display
High software compatibility
Cons:
It's quite expensive
Pro features might not be worth the update from the last iPad Pro
2. Second Best iPad for Procreate — iPad Pro 12.9 inch 5th Gen (Renewed)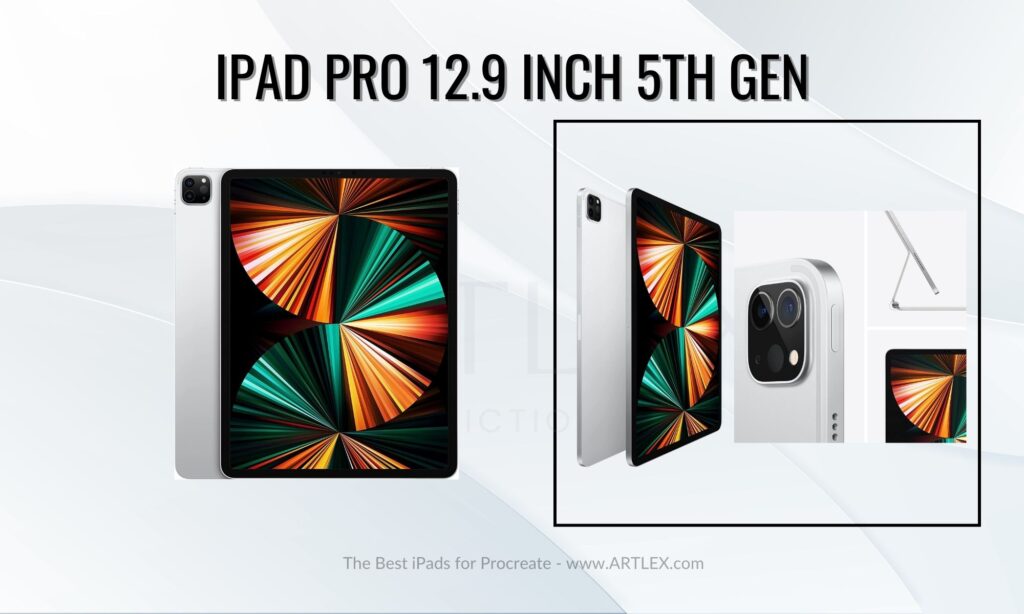 Selection Criteria:
Size: 12.9″, 1.5 lb. Very portable, a bit heavy
Storage: 128GB, 256GB, 512GB, 1TB, 2TB
Processor and RAM: M1 Chip, from 8GB to 16GB of RAM
Display and Resolution: Liquid Retina XDR Display, 2732 x 2048 px
Color Accuracy and Brightness: DCI-P3, 130% sRGB Coverage. From 600 to 1600 nits.
Pen Support: Second Gen Apple Pencil, sold apart.
Battery Life: 10 Hours
Price: From $799 to $1149
About the iPad Pro 12.9 5th Gen [Renewed]
This iPad has basically the same characteristics as the latest iPad Pro. The most noticeable difference would be the performance, which isn't as good, especially regarding GPU-related tasks, the Pro ResVideo Recording feature, and the Apple Pencil Hover feature that is only available for the latest iPad Pro.
What makes it the second-best iPad Pro is the price. The drop in the price after the latest iPad Pro release makes this device way more accessible for professionals and enthusiasts, obtaining almost the same Pro characteristics for way less money.
Pros:
Fantastic tablet with a discounted price
Perfect size
High app compatibility
Cons:
It's still quite expensive
3. Best Budget iPad for Procreate — iPad 10th Gen
Selection Criteria:
Size: 10.9″, 1.05 lb. Very portable
Storage: 64GB, 256GB
Processor and RAM: A14 Bionic Chip, 4GB of RAM
Display and Resolution: Liquid Retina Display, 2360 x 1640 px
Color Accuracy and Brightness: 71.7% DCI-P3, 101% sRGB Coverage. 500 nits.
Pen Support: First Gen Apple Pencil, sold apart.
Battery Life: 10 Hours
Price: From $399 to $749
About the iPad 10th Gen
The new iPad released in October was a surprise for many of us, especially artists and professionals in the creative community since this much more accessible model got several improvements. The jump Apple gave from the iPad 9th gen to the iPad 10th gen in size, design, connectivity, and CPU improvement is quite impressive.
We got more RAM (meaning more layers and heavier files to work on). We got a nice design improvement, getting rid of the home button, Touch ID on the top button, Apple Smart Keyboard Folio compatibility, a larger size, a better iPad screen (from Retina to Liquid Retina Display), and a more powerful processor for demanding apps like procreate, clip studio paint, etc.
It might not be the cheapest iPad, but the rise in the price is not very high considering all the new features and improvements, making it more accessible than newer and "better" iPad models in exchange for a few features that are not indispensable.
The major downside would be the apple pencil since this iPad features a USB-C port for charging, and the apple pencil first generation charges through a lightning port, making the user buy an extra adapter to charge it.
Pros:
Very affordable tablet
Perfect size
Cons:
Apple Pencil needs an extra adapter
RAM might not be enough.
The pen could be better.
4. Best Price-Value iPad for Procreate — iPad Air 5th Gen
Selection Criteria:
Size: 11″, 1.02 lb. Very portable
Storage: 64GB, 256GB
Processor and RAM: M1 Chip, 8GB of RAM
Display and Resolution: Liquid Retina Display, 2360 x 1640 px
Color Accuracy and Brightness: 79.2% DCI-P3, 111% sRGB Coverage. 500 nits.
Pen Support: Second Gen Apple Pencil, sold apart.
Battery Life: 10 Hours
Price: From $599 to $899
About the iPad Air 5th Gen
The iPad Air (5th gen) is a powerful and versatile device that can be an excellent tool for artists and other creative professionals who want the best value for their money. Some of these features include a large, high-resolution, and fully laminated display, a powerful processor (M1 Chip), a wide range of creative apps, 2dn Gen Apple Pencil support, long battery life, and a high-quality camera.
This device is basically an iPad Pro 11″ without the price tag. There are only a few limitations in RAM, Storage Capacity, the camera, which most of us don't use, and the lack of Pro Motion which is not completely necessary unless you want nice dynamic visual effects.
It's compatible with the Apple Pencil 2nd Gen, which can be charged magnetically on the side, and also has Touch ID, that in my personal opinion, is more practical than Face ID (and more secure in some cases).
This device is also very portable, comfortable to draw and paint on, and has the same battery life as any of the Pro Models, making it the best iPad Pro you can get without breaking the bank.
Pros:
Great characteristics for a reasonable price
Perfect size
Apple Pencil 2nd Gen Compatibility
Cons:
It has limited storage capacity.
5. Best Portable iPad for Procreate — Apple iPad Mini 6th Gen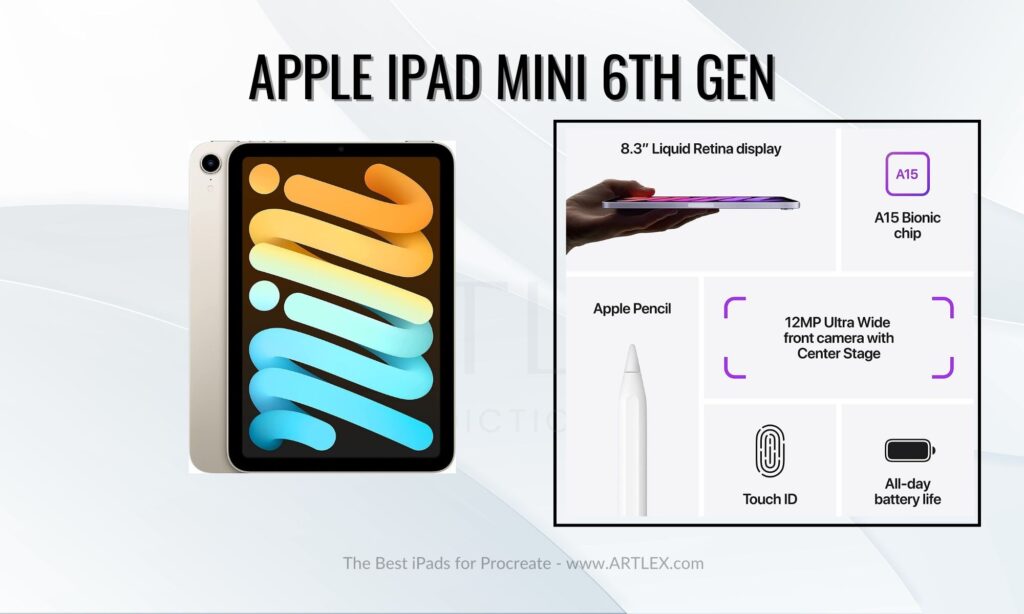 Selection Criteria:
Size: 8.3″, 0.65 lb. Extra portable
Storage: 64GB, 256GB
Processor and RAM: A15 Bionic Chip, 4GB of RAM
Display and Resolution: Liquid Retina Display, 226 x 1488 px
Color Accuracy and Brightness: 101.3% sRGB Coverage. From 500 nits.
Pen Support: Second Gen Apple Pencil, sold apart.
Battery Life: 10 Hours
Price: From $499 to $799
About the iPad Mini 6th Gen
The latest iPad mini is a powerful, portable device that is suitable for both personal and professional use. Its combination of fast performance, high-resolution display, and long battery life make it an excellent choice for anyone looking for a versatile tablet.
The iPad mini, like other iPad models, has a high-resolution Retina display. It's compatible with the Apple Pencil 2nd Gen, which allows you to take notes, draw, and create artwork on the tablet. The A15 Bionic Chip is a fantastic addition that can't be found in older iPad Pro or iPad air models
The size might not be as comfortable to draw on, but its size makes it very portable and a fantastic option for those who love drawing on their phone and don't want to spend too much for a larger screen yet still get very nice features.
Pros:
Very portable
Great Processing power and RAM
Compatible with the Apple Pencil 2nd Gen
Cons:
It's too tiny for gestural drawing
Not compatible with Magic Keyboard/Smart Keyboard Folio
Conclusion
It can be challenging to determine the "best" iPad for Procreate, as the ideal device will depend on an individual's specific needs and preferences. Owning an iPad can be a valuable asset for artists, as it offers a portable yet powerful workstation, easy to take with you wherever you go, making it a convenient option for working and creating art on the go or while traveling.
Remember that the App Store has a wide range of art apps besides Procreate, such as Adobe Photoshop, Lightroom, Autodesk Sketchbook, Medibang Paint, Clip Studio Paint, Ibis Paint, Adobe Fresco, and more, which are also excellent options for art.
Overall, an iPad can be a great investment for artists, as it can provide a range of tools and features to help you create digital artwork with ease and convenience.