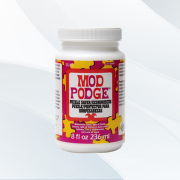 High-strength, non-toxic and quick-drying glue ideal for mounting finished puzzles.
Masterpieces Jigsaw Puzzle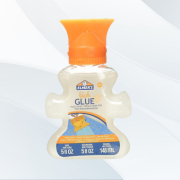 Quick-drying, clear and non-toxic glue with a tool for easy application, perfect for framing jigsaw puzzles.
AGREATLIFE Preserve Sheets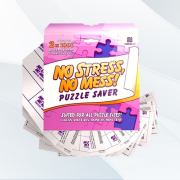 Super adhesive, mess-free sheets suitable for puzzles up to 2,000 pieces, offering an immediate framing solution.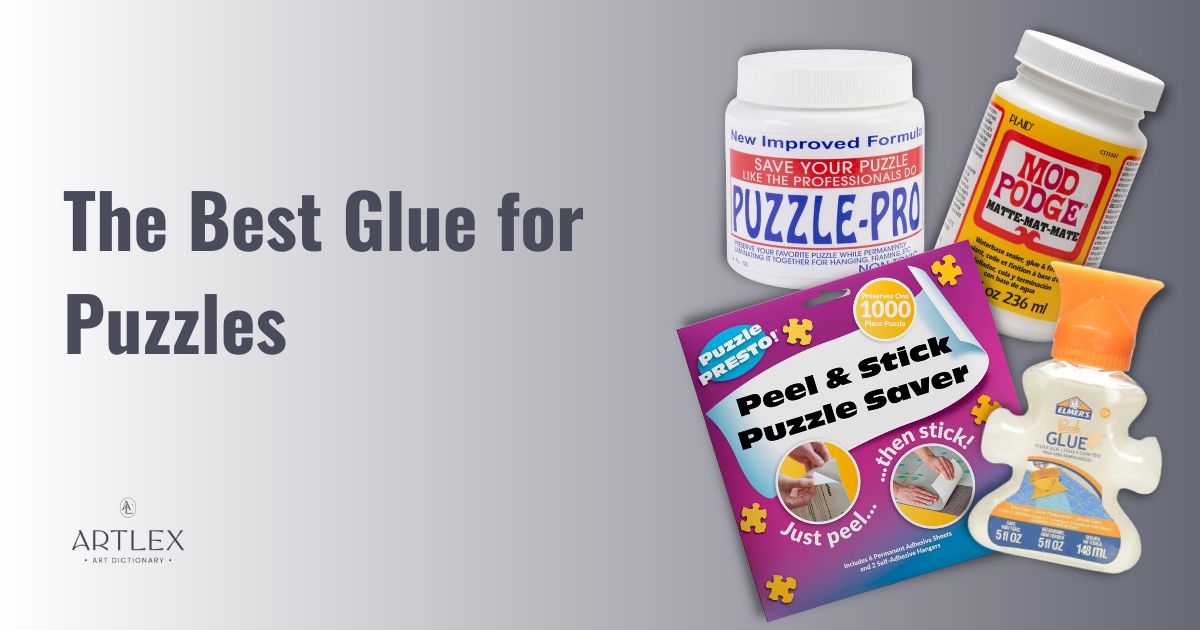 Puzzle enthusiasts that love solving jigsaw puzzles and want to frame each completed puzzle masterpiece will need the proper mounting material and the best glue for the job. Before purchasing jigsaw puzzle glue, keep in mind the following criteria– how strong the glue is, if it's toxic, especially if putting the puzzle together with young family members, how easily it's cleaned up and ease of use, and lastly how quickly it dries.
Fun fact: The first jigsaw puzzle was invented by cartographers in the 18th century to map the countries of the world.
Finished jigsaw puzzles can be works of art in their own right and spruce up a bare wall. Before putting your puzzle pieces together, don't forget to protect your work surface and the back of the puzzle with a thin piece of parchment paper or wax paper. This will also make it easier to move the puzzle without breaking it.
Choosing the Best Puzzle Glue
There are some important considerations to make before purchasing the right puzzle for gluing your puzzles together. Below we have covered the top specs to keep in mind before buying puzzle glue.
Glue Strength
Glue strength is perhaps one of the most important factors to consider. Purchasing weak glue will result in using too much glue and may cause a gooey mess thereby ruining the entire puzzle and making all of your hard work for naught.
The right glue seeps easily into the entire front surface during the gluing process and is strong enough to hold even a large puzzle. One layer of glue is usually enough, depending on the thickness of the puzzle backing. Supporting surfaces can be a piece of cardboard, backer board, or foam board.
Toxicity
Whether working with little ones or not, the best puzzle glue is always non-toxic. Due to the light weight of each piece, stronger glues aren't necessary to glue a puzzle together.
We still suggest using a plastic spreader, sponge brush, or another tool to spread the glue to protect hands and make clean-up easier.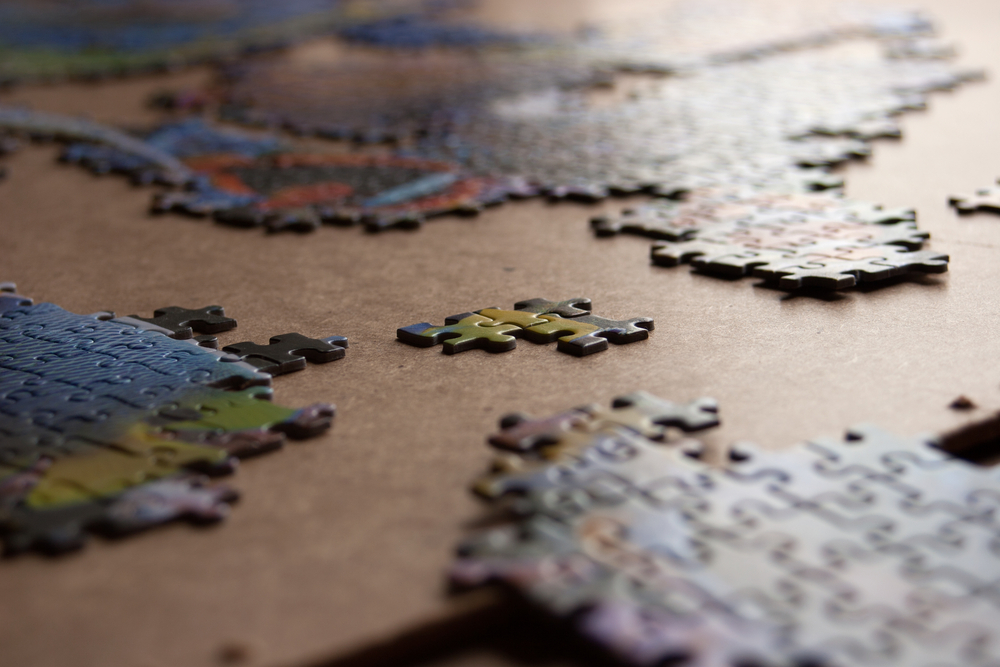 Dries Quickly
Most puzzle glues become completely dry in a few hours. Some offer a glossy finish while others dry clear and matte.
Many users prefer their finished puzzle to dry glossy to offer a nice shine and complement the details in the puzzle, but how the glue dries is strictly a personal preference.
Clean Up
Another important concern for finished jigsaw puzzles is clean-up time. Using a plastic spatula, plastic spreader, or other application methods when gluing will help make cleaning up the finished product less time-consuming.
Many puzzles are glued together with the support of a cardboard backing so using a thin coat of glue and a rolling pin to help each puzzle piece seal together and smooth curled edges may be helpful.
The Best Puzzle Glue on the Market Today
1. Best Puzzle Glue Overall – Mod Podge Puzzle Saver Puzzle Glue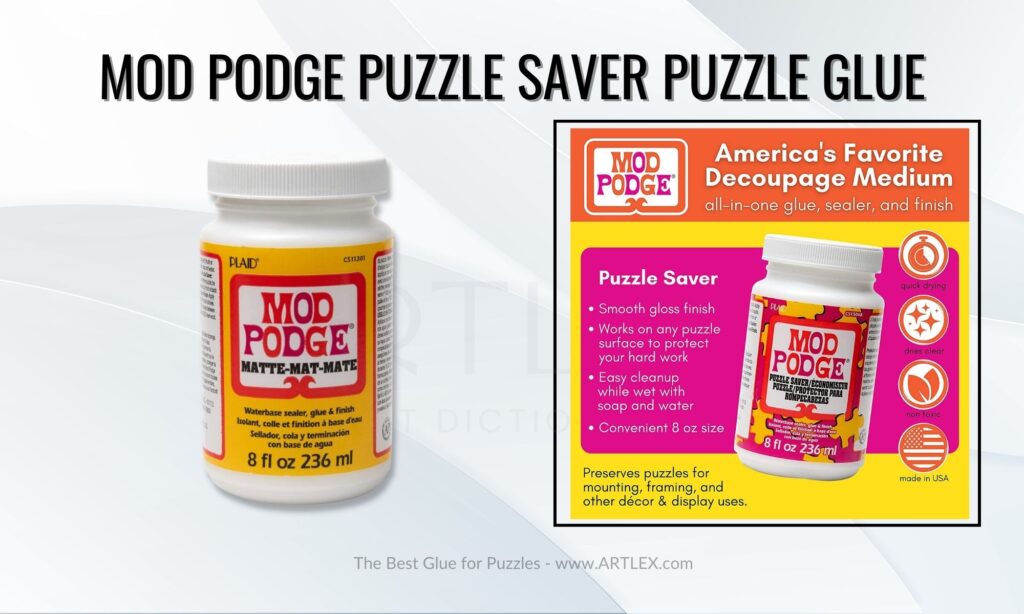 Selection Criteria
Price – ~$8.99 – Our score: 9/10
Strength – High – Our score: 9/10
Toxic – No – Our score: 9/10
Dries Quickly – Yes – Our score: 9/10
Cleans up Easily – Yes – Our score: 9/10
About the Mod Podge Puzzle Saver Puzzle Glue
Other glues don't have the all-in-one glue and finish that this Mod Podge glue sealer has. Specific for puzzles, this is the best glue to mount a finished puzzle and guarantee that the puzzle pieces will stick to cardboard or whatever surface it might be glued to. The quick-drying formula allows users to add more product every few inches to help the glued puzzle stay put.
A brush to coat and spread the glue isn't included but can be purchased from local craft stores or bought together online. Mod Podge sells their own foam brush set here which is ideal to coat and spread glue. What's more, Mod Podge also sells glitter, sparkly, fabric, and antique matte sealers for framing other projects to hang on a wall or give as a gift.
Pros
Available in 4 or 8-ounce bottles
Water-based and non-toxic
The small bottle can glue all the pieces of a 1,000-piece puzzle with a bit left
Mod Podge is one of the best puzzle glues to preserve puzzles for decades
Cons
Mod Podge doesn't include a brush or other applicator
Has a slight odor
2. Runner-Up best Jigsaw Puzzle Glue – Masterpieces Elmers Jigsaw Puzzle Glue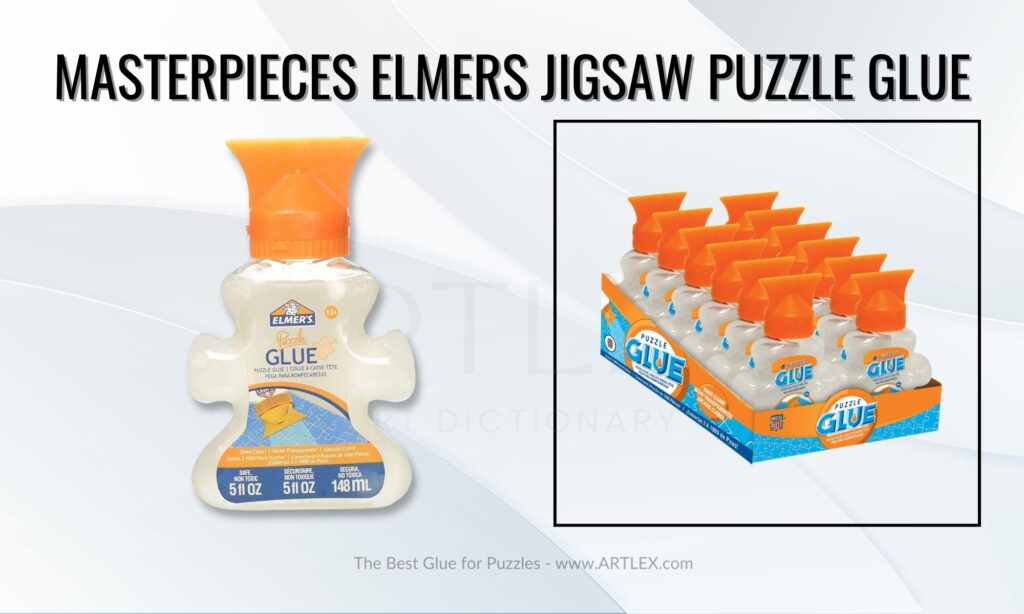 ​​
Price – Our score: 9/10
Strength – Medium – Our score: 8/10
Toxicity – Non-toxic – Our score: 9/10
Dries Quickly – Yes – Our score: 9/10
Cleans up Easily – No – Our score: 8/10
About Masterpieces Elmers Jigsaw Puzzle Glue
This Masterpieces jigsaw puzzle glue from Elmer's received high ratings to glue a completed puzzle to frame or hang. It was rated the best glue for its ability to dry quickly and clearly without leaving a film. The package includes a handy tool to help apply the puzzle glue. The one five-ounce product can glue two 1,000-piece jigsaw puzzles if only applied to one side of the puzzle.
One easy way to flip a puzzle is to use parchment paper on top to help secure it before gluing. This will also help protect the surface of a table from getting glue from the puzzle onto its surface. This puzzle glue is also easy to clean with a damp cloth and can be used on many arts and crafts projects due to its strength and clear drying coat of glue.
Pros
Is applied with the included applicator to the front of the puzzle
Has a beautiful shiny finish
Does not yellow over time
Easy to apply more glue from the center of the puzzle moving outwards
Cons
Will not work on plastic or heavy wood puzzle pieces
​​
3. Best Adhesive Sheets Puzzle Glue – AGREATLIFE Puzzle Preserve Sheets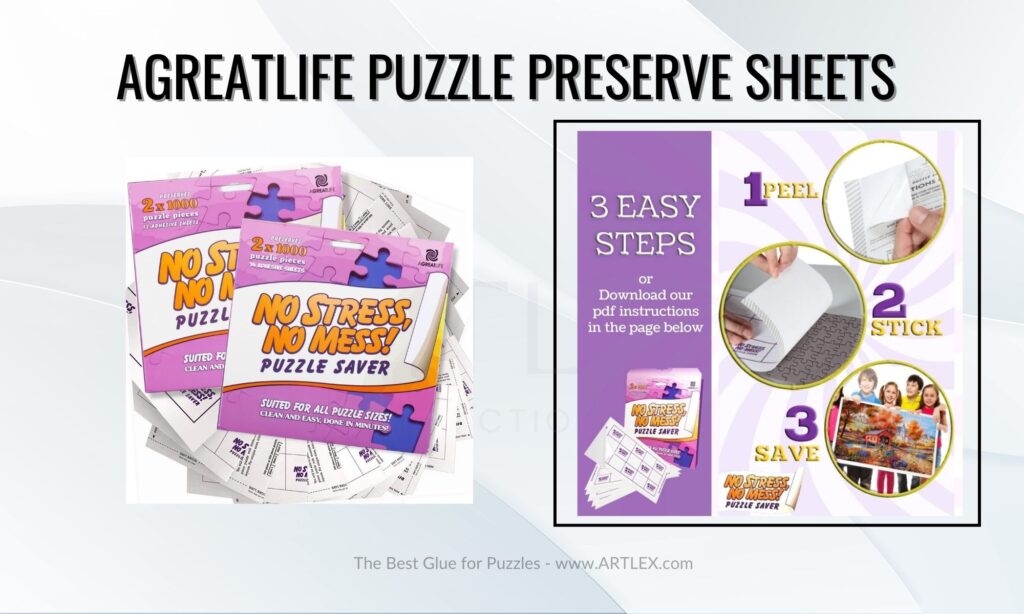 Selection Critera
Price – ~$13.60 (Was $15.99) – Our score: 7/10
Strength – High – Our score: 8/10
Toxicity – Non-Toxic – Our score: 9/10
Dries Quickly – N/A – Our score: 7/10
Cleans up Easily – Yes – Our score: 9/10
About AGREATLIFE Puzzle Preserve Sheets
The super adhesive of this jigsaw puzzle glue from AGreatLife Puzzle Saver is one of the easiest to apply without leaving any mess. Each adhesive sheet can be used to glue a jigsaw puzzle that is up to 2,000 pieces. To apply the adhesive we suggest you flip the jigsaw puzzle over with the image facing away from you and apply the sheets to the back of the puzzle. The puzzle is then ready to be installed in a frame.
Clear instructions are included with the package that explains exactly how to apply the adhesive to different puzzles. The best part about these sheets is that there is zero mess and no need to wipe puzzle glue from different surfaces. This product includes a full warranty to return or replace the item if it doesn't work as expected.
Pros
Comes with 12 adhesive sheets
No clean up required
Very strong adhesive
Can be put in a frame immediately with no drying time required
Some customers suggest using a rolling pin to secure the adhesive to the jigsaw puzzles
Cons
If the edges are sealed properly using a rolling pin or another heavy object, they may furl after some time
4. Best Liquid Glue for Puzzles – Puzzle Pro Liquid Glue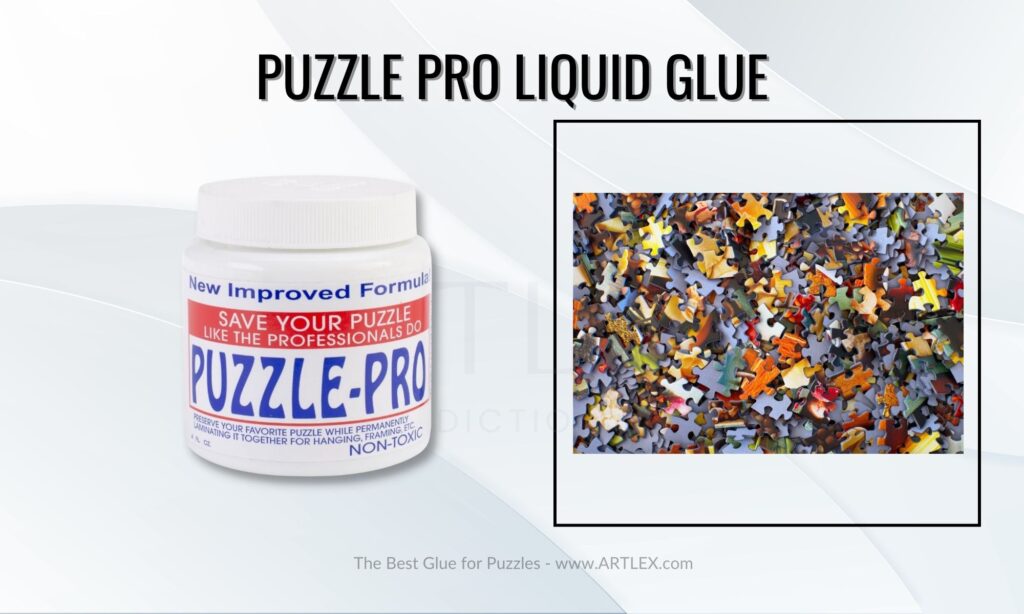 Selection Criteria
Price – ~$10.15 – Our score: 8/10
Strength – High – Our score: 9/10
Toxicity – None – Our score: 9/10
Dries Quickly – No – Our score: 7/10
Cleans up Easily – No – Our score: 7/10
About the Puzzle Pro Liquid Glue
This small jar is one of the better puzzle glues for large puzzles. It works similar to regular white liquid glue except it's extra durable and dries quicker than regular craft glue. Specifically used for puzzles, this four-ounce bottle dries clear and doesn't leave a sticky residue on the jigsaw puzzle's surface.
The new formula dries within four hours of application, requires one or two thin coats of glue, and doesn't have as strong an odor as other puzzle glues. Note that once the glue dries it cannot be wiped off surfaces so it's imperative to protect the area underneath the jigsaw puzzle pieces from glue residue.
Pros
Requires thin layers of glue
One of the stronger puzzle glues
Designed specifically for use with jigsaw puzzles
Cons
Large puzzle might require two bottles
Glue can't be wiped off once dried
5. Best No Mess Jigsaw Puzzle Glue – Puzzle Presto Peel & Stick Puzzle Saver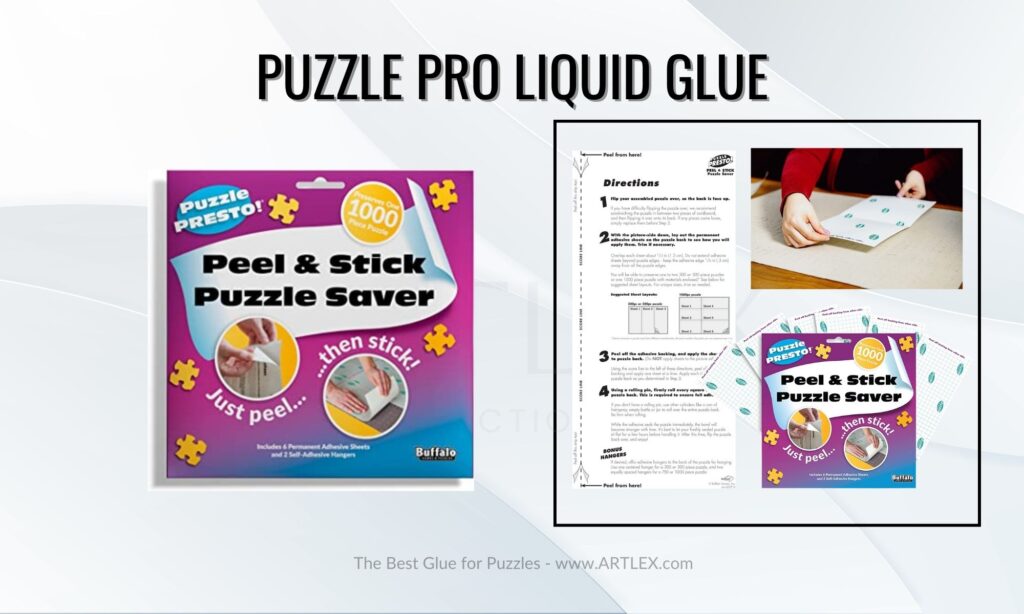 Selection Criteria
Price – ~$9.99 – Our score: 9/10
Strength – High – Our score: 9/10
Toxicity – N/A – Our score: 7/10
Dries Quickly – N/A – Our score: 7/10
Cleans up Easily – Yes – Our score: 9/10
About the Puzzle Presto Peel & Stick Puzzle Saver
Complete jigsaw puzzles can be easily put together with these sheets of adhesive. The sheets also come with the option to hang on the wall without a frame or as an alternative, the sheets are thin enough to frame the puzzle. Each sheet is white and must not be applied to the image of the puzzle, similar to most jigsaw puzzle glues. To help turn the puzzle over we recommend starting the puzzle on parchment paper so it's easy to flip over once complete.
One box should be able to cover one 1,000-piece puzzle if done correctly. Instructions are provided to guarantee the best results. Combining this adhesive with puzzle glue is not suggested as it may reduce the strength. Note, that after several years, the adhesive may lose some of its strength so framing the puzzle will guarantee that it lasts longer than simply hanging on a wall.
Pros
No clean up required
Easy to apply
Enough sheets for one 1,000-piece puzzle
Using a roller will help secure edges for longer-lasting adherence
Cons
Adhesive will start to lose strength after several years
Conclusion
We hope you found our guide to the best glue for jigsaw puzzles helpful. We've covered the different types of puzzle glue available along with our recommendations in various contexts.
We've discussed how you can choose the best puzzles from glue to adhesive that can stick any puzzles together for framing or gift-giving. Lastly, we've combined our recommendations for the best glue or adhesive sheets with no clean-up required, a strong bond, and fast drying times for large or small puzzles. Whether a puzzle pro or a beginner who would like to frame your work, there is something for everyone on our list above.
Thanks for reading; we hope our suggestions help you choose the best puzzle glue for your next puzzle project. Even if completing jigsaw puzzles alone or as a family, puzzle glue will help immortalize those happy memories.