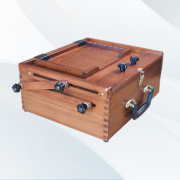 A versatile, all-in-one painting solution, it lacks a glass palette but offers ample storage and excellent ergonomics.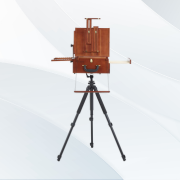 A hefty box with an included tripod and spacious storage, however, its weight may deter some artists.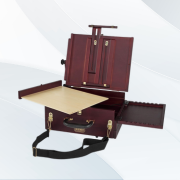 A lightweight, well-organized option with the option to add a glass palette, sold separately.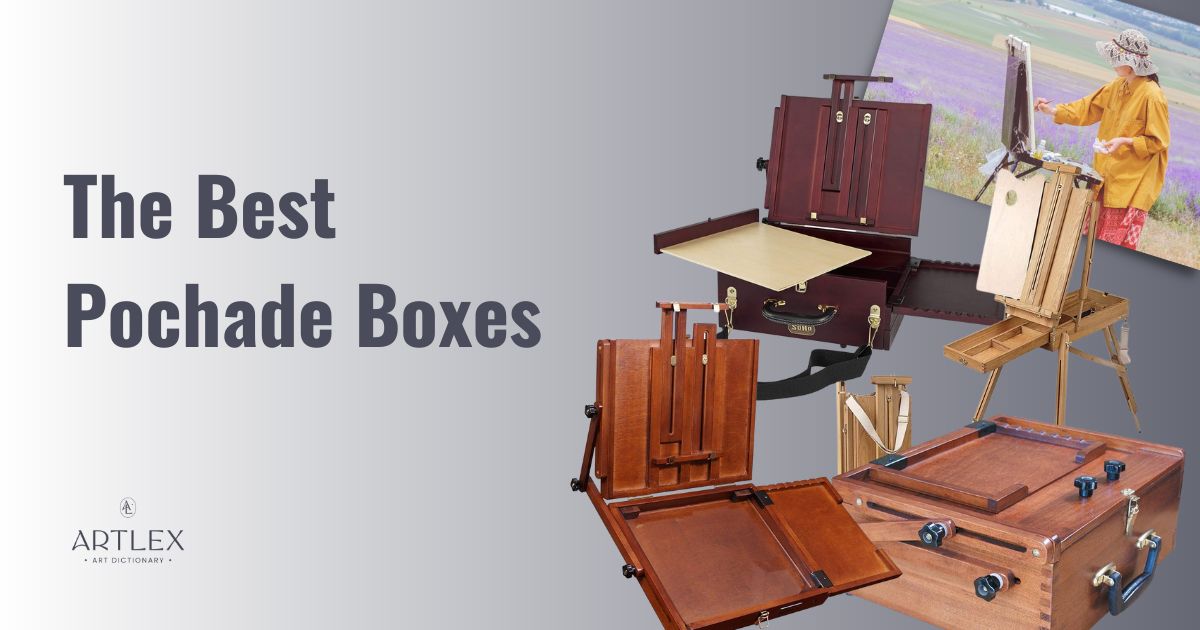 Bring your art studio outdoors with a plein air pochade box. Pochade boxes allow artists to capture color and detail in a natural setting similar to Van Gogh or Monet's famous landscapes. Each box comes with storage space for art materials and a plein air easel.
Pochade boxes are also fitted with the ability to secure a tripod to the bottom of the box, similar to a camera tripod. Without the tripod, it can be placed on your lap.
Outdoor painting, also called en plein air, is the art of capturing detail and colors in nature, whether watercolor painting, oil painting, or any preferred medium.
Before deciding on which pochade box to buy, check out our pochade box buying guide below. In addition, keep these crucial considerations in mind– how many storage compartments the pochade box has, whether it has an area to store wet paintings, the weight of the box, and if it comes with a tripod.
Fun fact: The French word "Pochade" means "pocket" in French. En plein air also comes from French and means "open air or outdoors."
Nature itself inspires many artists such as Rosa Bonheur, Grandma Moses, and others. To make painting outdoors more pleasant, invest in a pochade box for plein air painting and enjoy the ability to capture color, contrast and texture outdoors with all supplies neatly stored and easy to reach.
Read our suggestions below for the best pochade boxes for painting plein air.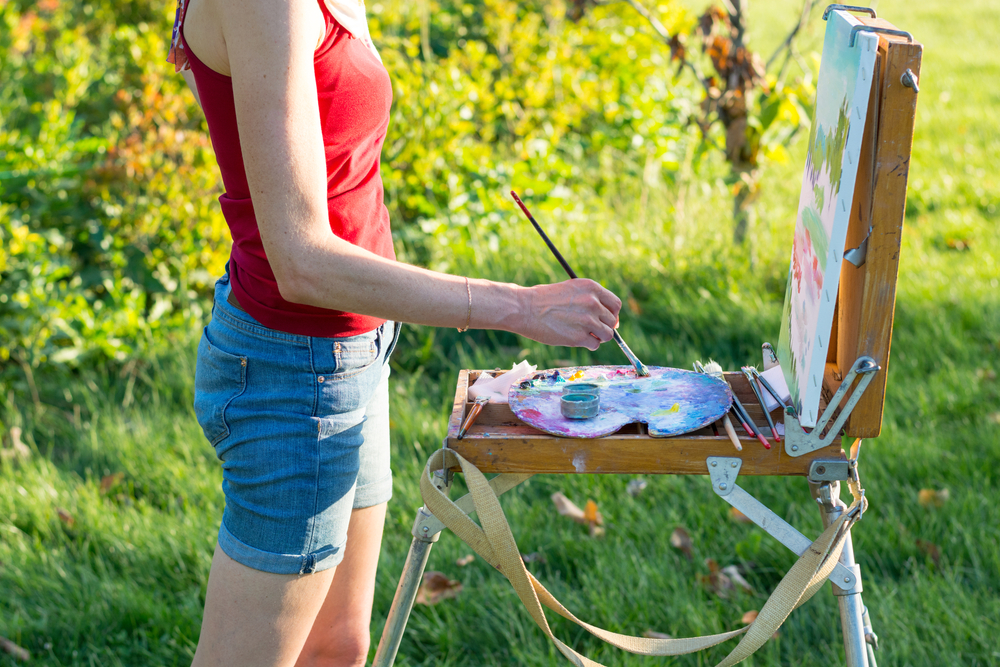 Pochade Boxes Buying Guide
Plein air painters need a compact place to store art supplies, including wet paint and a painting surface that can hold a canvas upright or at an angle, like a French easel. Simply put, a pochade box makes painting outdoors more organized with all art tools within easy reach of the artist.
Plein Air Easels
A French-style easel is the standard painting panel for plein air painting. A French easel holds the stretched canvas in place during a painting session and can be adjusted to be completely flat or at an angle.
The best plein air easels have an easel system that is easy to assemble, sturdy hardware, come with foldable tripod legs, or can be attached to most if not all tripods.
A tripod allows artists to paint standing up, or it can be removed or folded for seated painting.
Note that pochade boxes equipped with a built-in tripod will be heavier than those without. What's more, the hinges on this type of box may not be as sturdy as the hardware found on a metal camera tripod.
Full Box
A full pochade box is larger than a half box. It has more storage space, will most likely have a place to store wet painting panels, and usually includes a wooden palette for either mixing paints, to hold paint cups, or holding paintbrushes.
Half Box
A half-pochade box is smaller than other plein air easels. It's a more compact box and therefore doesn't have as much space to hold painting tools and doesn't have as large a canvas holder as a full box. These boxes are best for sketching or painting with limited colors.
Wet Panels
Carrying wet panels is an important feature to have with a plein air pochade box. Some boxes come with a storage compartment that can hold several small paintings or two large paintings.
A separate wet panel box can also be purchased but is an extra item to carry with you when painting outdoors.
The Best Pochade Boxes on the Market Today
Best Pochade Box Overall: Sienna Pochade Box
Best Plein Air Painting Pochade Box: Meeden Ultimate Pochade Box
Best Box with Plein Air Easel: Soho Urban Artist French Easel Pochade Box
Best Pochade Box for Storage Space: Creative Mark Pochade Box Here
Best Plein Air Pochade Box for Oil Paints: Sienna Plein Air Pochade Box
1. Best Pochade Box Overall – Sienna Pochade Box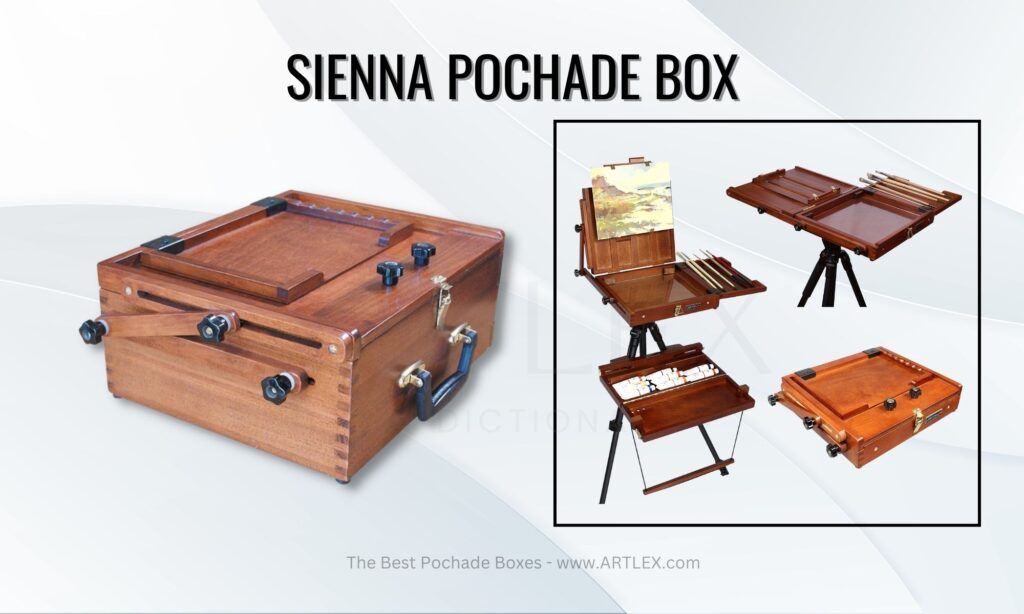 Price – ~$214.89 (Was $253) – Our score: 8/10
Storage compartment – 3 – Our score: 9/10
Store wet canvas panels – Yes – Our score: 9/10
Weight – 8 pounds – Our score: 9/10
Comes with tripod – No
This Sienna plein air pochade box has it all to make painting en plein air more organized. It has enough storage space to hold all art supplies and two wet panel carriers for a 9×12 inch or 8×10 inch painting. Paintings are secured at the bottom to ensure the surface doesn't touch the sides of the box.
Other features include plastic star knobs, rare earth magnets that can hold wet brushes on the back of the lid, and separate wet canvases that keep paint surfaces away from each other.
The tray can store wet brushes, palette knives, or other palettes. A sturdy camera tripod is necessary to hold the heavier weight of this box. Artists painting with oils or acrylic can purchase a glass palette can separately. This box can also be used without a tripod and set up in an indoor artists' studio.
Pros
Ergonomic star knobs for easy adjustments
All in one box to paint outdoors
Maximum height is 17 inches
Finger joints are made of Poplar, Maple, and Baltic Birch
Cons
Does not include a glass palette
2. Best Plein Air Pochade Box – Meeden Pochade Boxes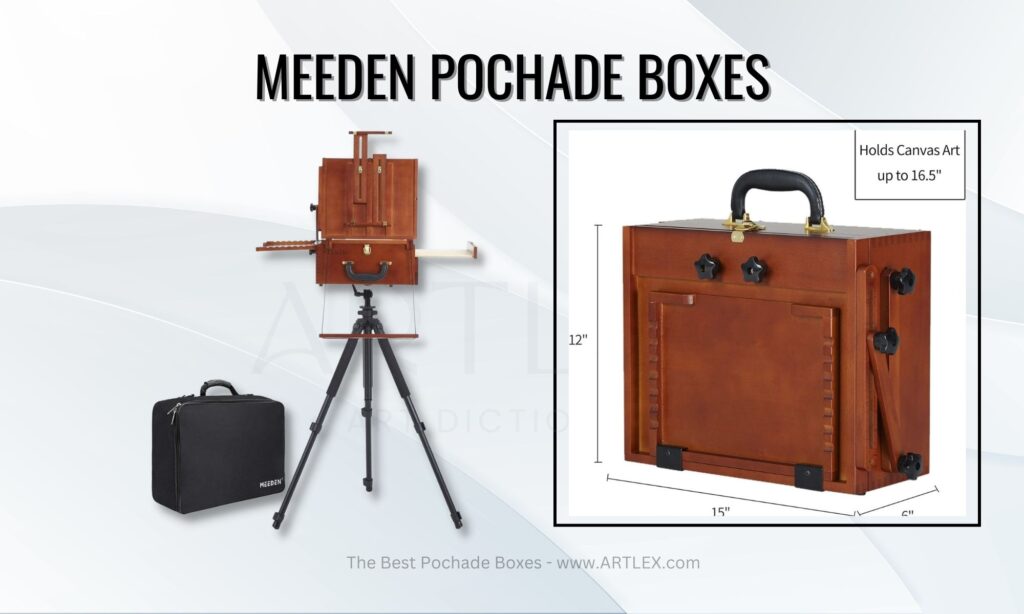 Price – ~$179.95 – Our score: 7/10
Storage compartments – 3–4 – Our score: 9/10
Store wet canvas panels – Yes – Our score: 9/10
Weight – 16 pounds – Our score: 6/10
Comes with tripod – Yes
Bring out your outdoor painter with this large Meeden pochade box. Unlike other pochade boxes, this unit comes with its own easy to set up aluminum tripod that is adjustable up to 60 inches tall and has a quick-release plate.
The tripod can be removed with the rubber feet, providing stability on a flat surface, including a lap. The canvas carrier underneath the box can comfortably secure 3–4 wet panels up to 9×12 inches high.
The large storage compartment can also hold all art tools, including palette cups that can hold solvents or a brush washer. The wood palette is large enough for mixing paints and is recommended mainly for watercolor mixing as they're easier to clean.
Pros
Fashioned out of solid beech wood
Comes with a nylon storage bag for the tripod and box
Includes a compass and level
Has a shoulder strap for more convenient transport
Cons
It's heavy for the average person to carry
Tripod isn't as sturdy as professional models
3. Best Plein Air Box with Easel – Soho Urban Artist Plein Air Painting Easel
Price – ~$145.99 – Our score: 7/10
Storage compartments – 1 – Our score: 9/10
Store wet canvas panels – Yes – Our score: 9/10
Weight – 6.17 pounds – Our score: 7/10
Comes with tripod – No
Painting outdoors is organized and efficient with this stylish and lightweight French easel from Soho Urban Artist.
The large storage space can easily hold all art materials, painting easels, and the wooden palette serves as a tabletop or painting mixing area. It can hold two wet canvases up to 9×11 inches long or six smaller canvases.
Other features include a paper towel holder, a magnetic brush tray, and an easel that reaches up to 17 inches high. The beautiful lacquered wood has a mahogany finish and comes with a shoulder strap to make carrying the box easier.
Pros
Lightweight
Fits most tripods
The wood palette can be replaced with a glass palette for oil and acrylic mixing
Cons
The glass palette is sold separately
4. Best Pochade Box with Tripod – Creative Mark Pochade Boxes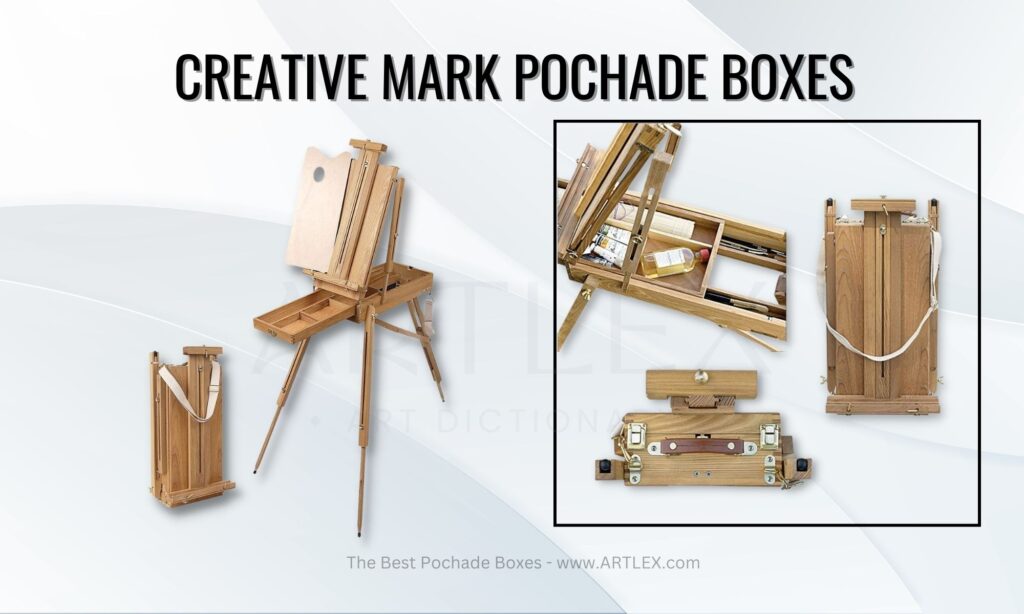 Price – ~$99.99 – Our score: 8/10
Storage compartments – No – Our score: 9/10
Store wet canvas panels – – Our score: 9/10
Weight – 11.25 pounds – Our score: 7/10
Comes with tripod – Yes
Artists that love the Mabef backpacker easel without the high price tag will appreciate the design of this pochade half box from Cezanne Mark. The hinged lid turns into a French-style easel that holds paintings up to 33 inches tall.
A removable wood palette allows artists to mix paints, while the multiple storage compartments can hold paint tubes, palette knives, or other art supplies.
Canvas holders and a glass palette can be purchased separately. Outdoor painting with this all-in-one study pochade box with a tripod and one of the largest easels is versatile and easy.
Pros
Canvas can be adjusted to 90° or almost any angle for maximum flexibility
Brass-plated hardware for a more stable design
The lightweight backpack style makes it easy to transport
Cons
The shortest leg height might still be too tall if the artist is seated
5. Best Plein Air Easel for Oil Paint – Sienna Pochade Boxes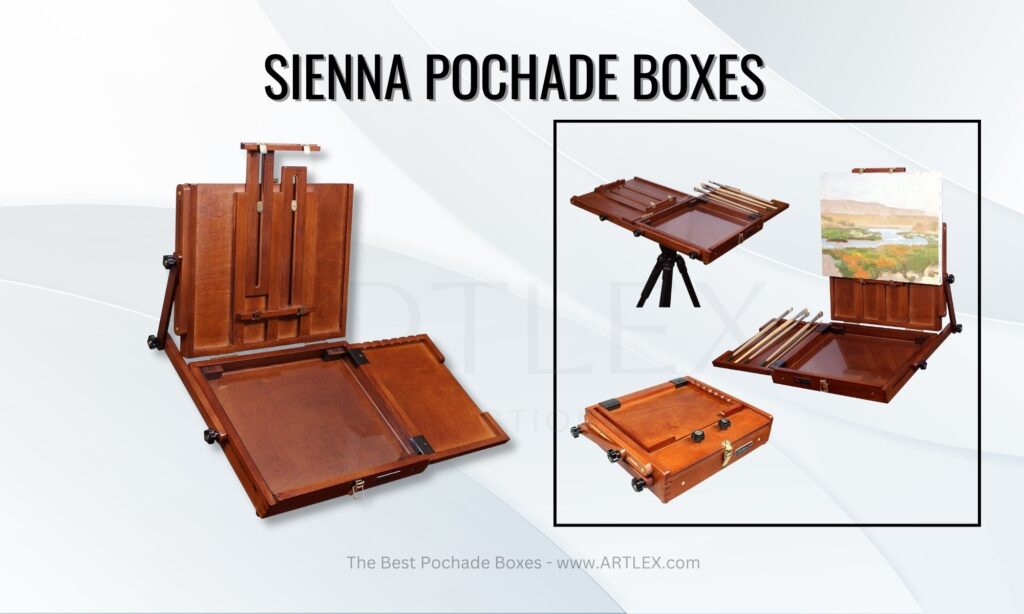 Price – ~$127.48 (Was $172) – Our score: 9/10
Storage compartments – 1 – Our score: 7/10
Store wet canvas panels – No – Our score: 8/10
Weight – 4 pounds – Our score: 9/10
Comes with tripod – No
The Sienna company makes major pochade boxes that are sturdy, versatile, and useful. This box is made specifically with oil and acrylic artists in mind. The glass palette is ideal for mixing oils, while the canvas holder easily holds stretched canvas for sketching or panels.
The height of the M box is 15 inches, while the L box is 17 inches. Brushes, palette cups, or knives are organized nicely in the brush tray, and the storage compartment holds other art supplies like thick impasto paint.
Another useful feature is the glass palette slides easily into the box and is easy to clean. Be sure to read the instructions when setting this pochade box up.
Pros
Includes a glass palette
Is very sturdy and lightweight
Fits most tripods
Cons
The pastel box and watercolor palette are sold separately
Does not come with wet panel storage
Conclusion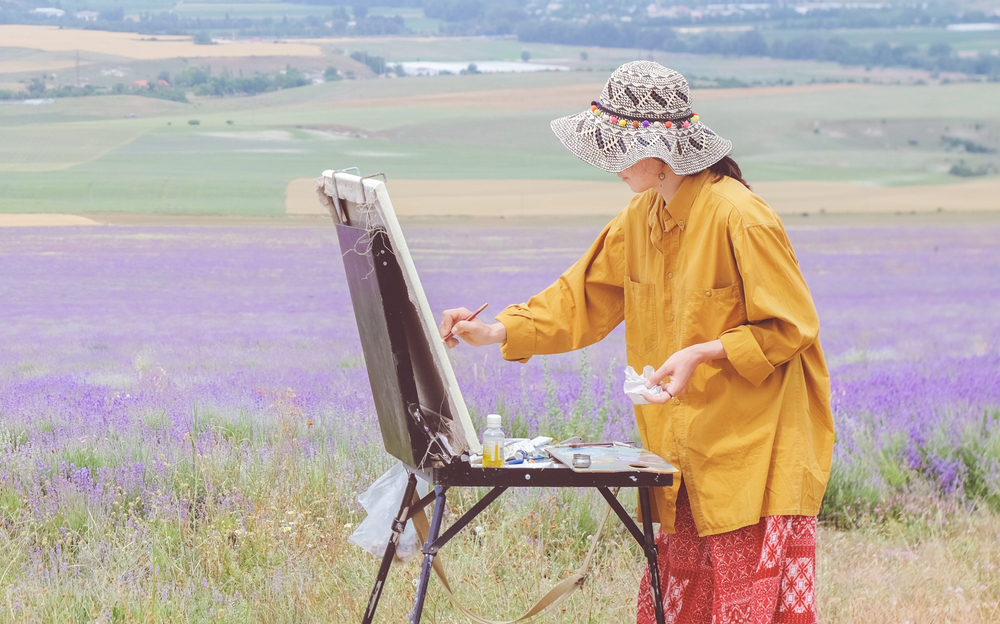 We hope you found our guide to the best pochade boxes helpful. We've covered the different types of pochade boxes available, including full and half boxes, along with our recommendations in various contexts.
We've discussed how you can choose the best pochade boxes and the criteria that can make your next plein air painting experience a breeze. Lastly, we've combined our recommendations for pochade boxes with or without a tripod and boxes designed to be used specifically with oil or acrylic paints and the different factors to consider when choosing one over the other.
Thanks for reading; we hope our suggestions help you choose the best pochade box for your next nature-inspired plein air painting or as an all-in-one art studio on a tabletop or desk.