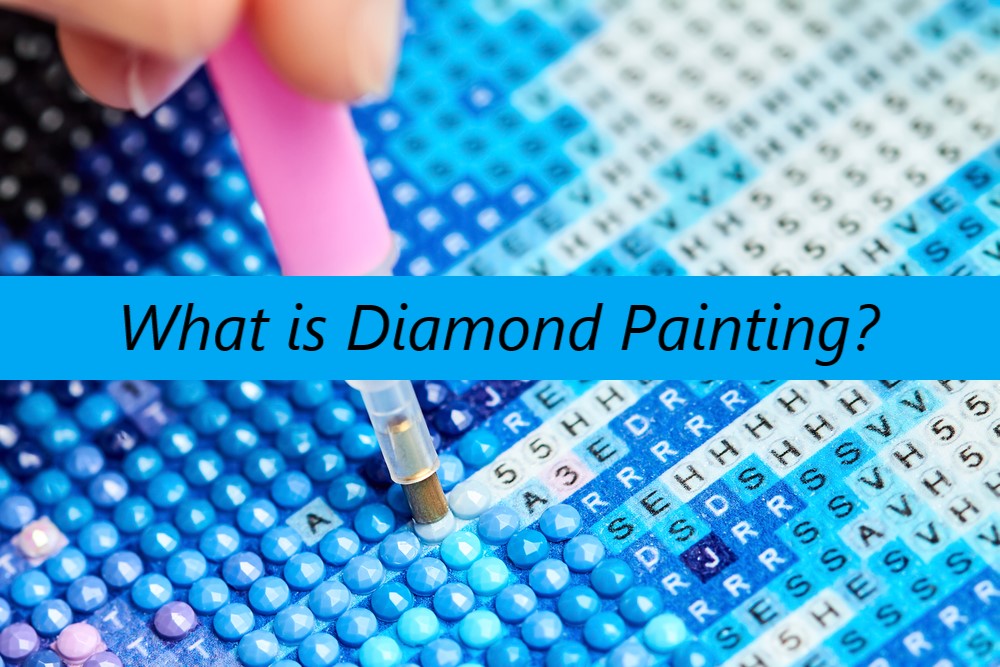 The arts and crafts community might be very familiar with diamond painting, a relatively new art form, but those new to this creative art form might ask, what is diamond painting? Diamond painting is similar to a paint-by-number or embroidered cross-stitch that uses tiny diamonds, also called a diamond drill, to create a finished painting.
Diamond artwork can be created by adults and children alike with simple or complex designs to choose from. Painting with diamonds takes patience and time, but the results of creating your own artwork are worth it.
Fun fact: Diamond painting has been touted to reduce stress and improve focus.
To get started with diamond painting, one must first order a diamond painting kit. Each kit comes with diamond painting supplies like a diamond painting pen, round or square diamonds, a sticky canvas with a corresponding diamond color code, a plastic tray, glue, and a plastic cover. Some companies even provide extra diamonds. These are all the materials needed to start a painting and complete a beautiful finished diamond painting. To get an idea of some excellent quality diamond painting kits, read our article here with companies such as the Diamond Art Club and AIRDEA.
Diamond Painting Kits and Diamond Art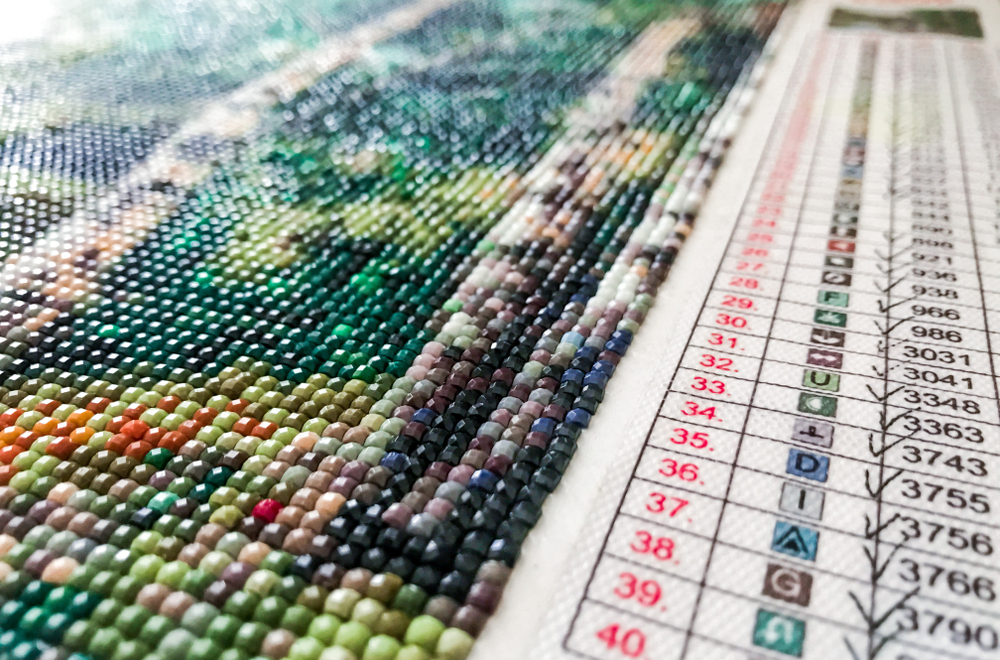 Anyone looking for a new hobby will appreciate the simplicity of painting with diamonds. Get started diamond painting by understanding the difference in each diamond shape, including round and square diamonds. Most diamond painting kits have different diamond-shaped drills. Understanding their differences will help beginners or a professional diamond painter choose the best diamond art kit for their skill level.
Round Drills
For a first diamond painting, round diamonds are ideal. Their shape makes them more forgiving if a few resin diamonds aren't placed perfectly straight onto the canvas.
Square Drills
Diamond painters with more experience would do best to use square drills. The colored diamonds must be placed well to have a decent painting.  Working on a flat surface helps achieve this end. In addition, purchasing a light pad that illuminates the canvas from behind will also help ensure an even application to the pre-glued canvas.
Partial Drills
What is diamond painting with a partial drill? It is simply one diamond painting that is printed on several canvases. Each member can work on one diamond art painting and combine it once completed. This could be a great gift idea for a diamond painting family to work together, especially those new to the crafting world.
Full Drills
Full diamonds can be square and round drills that can be applied to the pre-printed canvas, an entire diamond art painting unto itself. Best for anyone experienced in this craft hobby, canvases with full drills tend to be larger and take more time to complete.
3D Diamond Painting
All 3D diamond art kits come with diamond drills that have three facets or sides for a total of nine sides. These drills are best for beginners or younger hobbyists.
5D Diamond Painting
5D drills have five sides with 15 facets for intermediate diamond crafters, making them considerably more difficult to hold and place. Although, these diamond painting kits do tend to have some of the most beautiful paintings available.
Diamond Painting Kits Varieties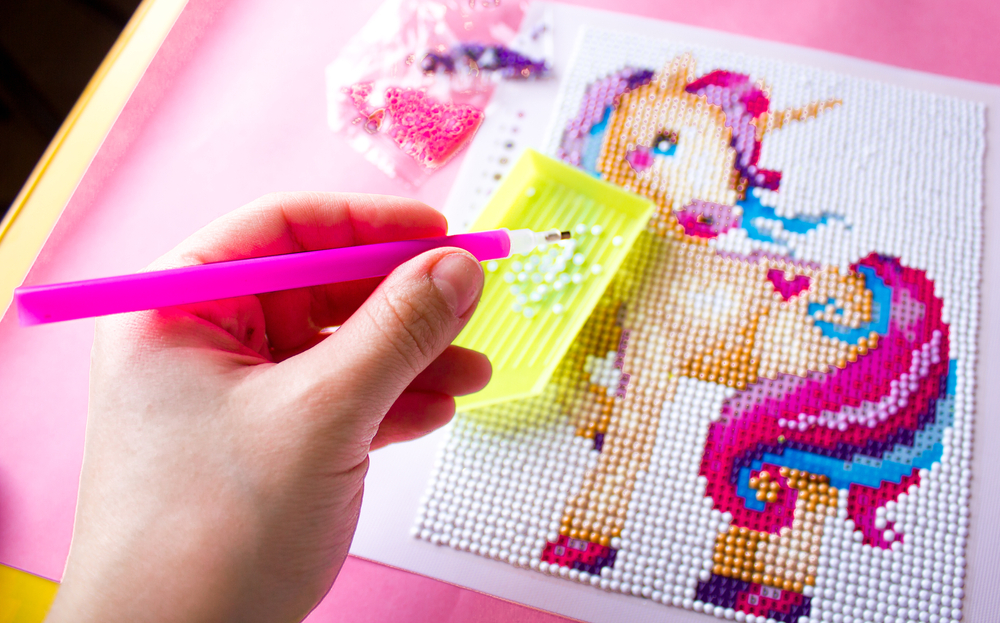 Unlike hobbies that require expensive materials, diamond painting kits have everything needed to complete lovely items of art for any age that are economical. In addition, the diamond painting pen tool can come in a variety of fun colors to apply the shiny resins onto the canvas, and the diamond pen can be used interchangeably with other paintings. Using a plastic film helps protect the finished diamonds until the diamond art is complete.
Each paint with diamonds kit comes in a small or large canvas with colored-coded markings with numbers or letters, so artists know where to place the colored beads. For a more complex diamond painting kit, we suggest using light pads to help light the cross stitch type pattern, so it is more visible.
It's essential to shop around as some companies offer free shipping, a discount code on their site, and leftover diamonds. Some companies even offer free replacement of the same color diamond drills in case some get misplaced. One company that sells excellent beginner or intermediate diamond paintings is the Paint with Diamonds.
Like mosaic art, some diamond paintings are images of animals, nature scenes, or kids' favorite Disney characters. This art form is an excellent way to either gift a diamond painting to a loved one or work as a family to create a beautiful diamond painting together.
Conclusion
We hope this article explaining what diamond painting is was insightful. We also hope you better understand the differences between the different drills and help make purchasing your first or next diamond painting kit easier.