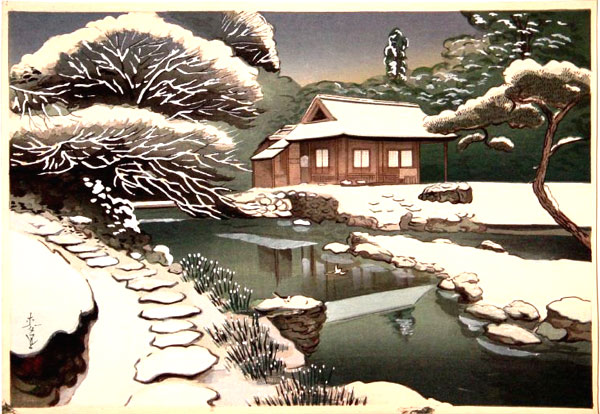 Bakufu Ohno was a Japanese painter and printmaker born in 1888 in Tokyo, Japan. In 1923, after the Great Kanto Earthquake that killed thousands and left the city in ruins, Bakufu moved to Kansai. At the time, he was known for painting landscapes and making fish prints. He showed his oil paintings at the Great Teiten exhibition of 1929.
Bakufu rose to prominence in 1940 after the release of his fish print series – Familiar Fishes of Nippon (Dai Nihon gyorui gashu) – published by Kyoto Hanga-in. Printmaking was a collective effort during the Edo period, requiring an artist, carver, printer, and publisher. Matsuda, Kikuda, Shinagawa, Nagae, and Uchida made up the rest of the team.
Bakufu Ohno created over seventy designs in his career and was recognized nationwide among the public and other printmakers. Three of Ohno's catalogs were published in the 1950s. Bakufu was a member of the Taiheiyogakai school and honorarily a member of the Hyogo Prefecture Academy of Fine Arts. He died in 1976.
What was Bakufu Ohno Known For?
Bakufu Ohno was known for making surreal prints of animals and landscapes. Woodblock printmakers early in the twentieth century belonged to either of two art movements – the shin hanga and the sosaku hanga – but Bakufu's style was different. His prints were dreamy and fanciful, and he used dead animal specimens for fine detailing. He also painted colorful still-lifes and landscapes in oil.
Who was Bakufu Ohno Influenced By?
Bakufu Ohno employed a unique style of printmaking, believed to be original. A close look at his artworks shows the artist's passion for Japanese cultures and traditions. Inspired by a love for nature and animals, Bakufu created unprecedented art.
What Art Movement was Bakufu Ohno Associated With?
Bakufu Ohno was associated with the Surrealism art movement.
Bakufu Ohno Artwork
Below are some of the artworks of Bakufu Ohno
Japanese Catfish

Orchids

Bird and Flower

Crane

Finch and Orchid

Finch and Orchid
Finch and Orchid

Flower in Vase

Flowers in Bamboo Basket

Flowers in Bamboo Basket

Katsura Garden in Kyoto

Kurodani Garden in Kyoto

Long Tail Cock

Night Scene of Water Mill

Plum Blossoms

Red Rose

Rice Weeding

Rock Fish Japanese Sting Fish

Siren in Garden in Kyoto

Singray