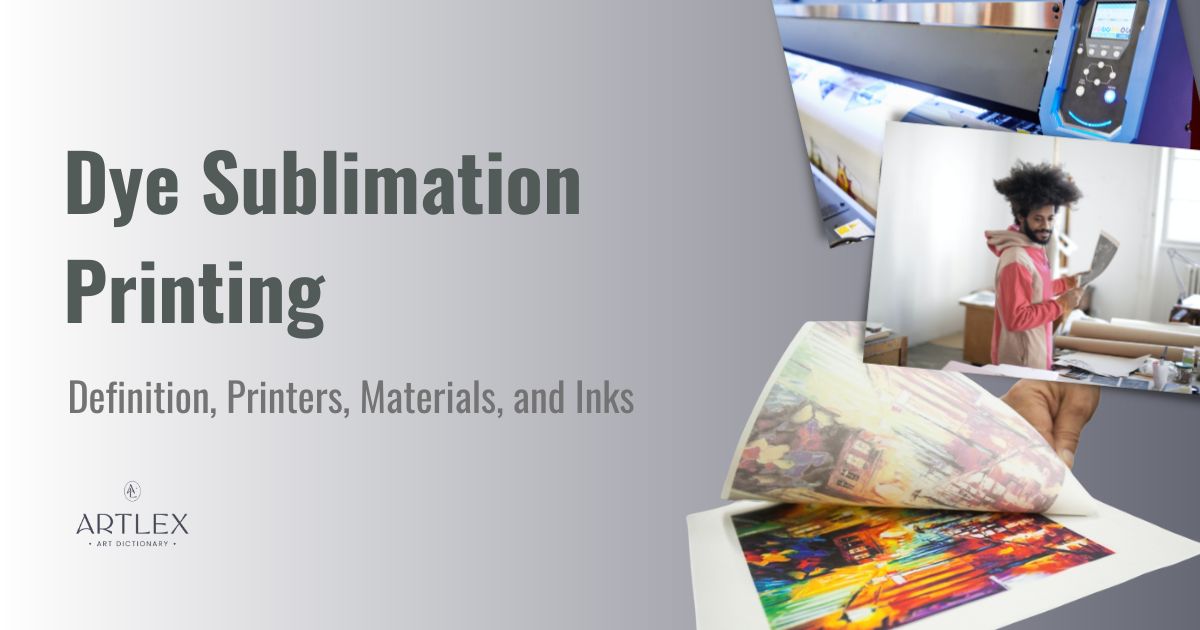 Dye sublimation printing is a method of printing that uses heat to deliver ink to a material. You might also have heard of people referring to the process as sublimation printing, or digital sublimation printing.
There are many different types of printers that can make the sublimation printing process simple, productive, and cost-effective. The three most common types of sublimation printers include: swing away, calendar press, and flatbed press.
The most common materials used with sublimation include: transfer paper, fabric, and metal. In addition, sublimation technology has advanced to the point that allows professional printers and hobbyists to apply specialized sublimation ink to many other materials.
Because sublimation printing produces a high-quality, long-lasting image and is extraordinarily cost-effective, it has become increasingly common to see it used for many different products and applications.
Examples of popular items produced using dye sublimation printing include: drinkware, metal and wood artwork, phone cases, and clothing.
What Is Dye Sublimation Printing?
Dye sublimation printing is a method of printing that uses heat to deliver ink to a material (such as paper, fabric, metal, or ceramic). Other names for dye sublimation printing are: sublimation printing, and digital sublimation printing.
Dye sublimation printing uses computer technology that allows a printer to heat inks until the ink sublimates. Sublimation is a chemical process where matter moves directly from a solid state to a gaseous state, skipping the liquid phase.
A unique aspect of sublimation printing is that the ink moves directly to a gaseous state, skipping over the liquid form as it transfers to a material.
Usually, three or four colors of ink are used and are printed either directly to the medium or to a transfer material such as specially designed transfer paper.
After the ink gets transferred, it returns to a solid form. Most professional printers will also apply a clear protective coating to the image to prevent the ink from smudging and ruining the look of the finished product.
How Does Dye Sublimation Printing Work?
The dye sublimation printing process (when using transfer paper) looks like this:
A graphic designer creates the desired graphics with a computer program such as Photoshop.
The print shop lays out the transfer paper on the sublimation printer, where the dye sublimation inks will print the graphic on the transfer paper.
The print shop then positions the transfer paper on the medium that will eventually carry the graphic. The graphic needs to be facing the medium.
The medium and transfer paper roll through the sublimation printer.
Powerful rollers, heaters, and ink spray heads on the sublimation printer produce intense pressure and heat. The heat and pressure instantly cause the inks to evaporate from a solid to a vapor.
The gaseous inks permeate the medium and will become trapped in the medium after heat dissipates.
The transfer paper is removed and disposed of. If the print shop is going to apply a protective sealant, or if further cutting and finishing is required, they will complete those tasks after they finish the printing.
If a print shop forgoes transfer paper and wants to do direct printing to the material, the process still looks very similar.
The medium, such as a piece of polyester fabric, will be fed directly through a sublimation printer's roller, and the ink will be applied using intense heat and pressure to force it from a solid state to a gas state.
Dye Sublimation Materials
Here is a table of the different heats, time, and pressure used depending on the dye sublimation material (medium). These guidelines are generic and may need alterations depending on the specific printer, heat press, inks, and materials:
Material
Duration
Pressure Level Range
Temperature Range
Important Notes to Consider
100% Polyester
50-60 seconds
Light to Medium
380-400 °F
Applying a sealant after printing will prolong the life of the graphics.
Polyester blends
55-65 seconds
Light to Medium
375-390 °F
Applying a sealant after printing will prolong the life of the graphics.
Polyester coated neoprene
45-55 seconds
Light to Medium
380-400 °F
Gives off a slight odor.
Hardboard
40-80 seconds
Medium
360-400 °F
Larger pieces of hardboard will require more time.
Unisub hard surface materials
60 seconds
Medium
400 °F
Some Unisub products, especially larger items, may require more time.
Unisub metals
60 seconds
Medium
400 °F
Some Unisub products, especially larger items, may require more time.
Chromaluxe metals
60 seconds
Medium
400 °F
Larger pieces of metal will require more time.
Other metals
50-70 seconds
Light to Medium
360-400 °F
The coating on the metal will affect times and pressures. Soft coatings will need less heat and pressure than hard coatings.
Fiberglass reinforced plastics (FRP)
60-75 seconds
Medium
380-400 °F
Ceramic mugs
Mug press: 4-5 minutes

Convection oven: 12-15 minutes

Light to Medium
380-400 °F
Glass pint glasses or mugs
Mug press: N/A

Convection Over: 8-15 minutes

Light to Medium
360-390 °F
Placing glass in a mug press can cause the material to heat up too quickly and crack. Thick-walled glass might be suitable to use in a mug press.
Single-wall metal mugs
Mug press: 2.5-3.5 minutes

Convection Over: 5-6 minutes

Light to Medium
375-400 °F
Too much pressure in a mug press can cause single-wall metal mugs to warp and deform.
Double wall insulated metal mugs
Mug press: 2.5-3.5 minutes

Convection Over: 6-7 minutes

Light to Medium
375-400 °F
What Materials Can You Sublimate Print On?
One of the reasons dye sublimation printing has become so prevalent across many different industries is the wide range of products and materials that work with sublimation. Some of the materials you can sublimate on include: Fabric, glass, metal, mugs, and wood.
Here is a breakdown of the most common categories to materials used for sublimation and the types of inks, printers, and processes used for each.
Dye Sublimation on Fabric
Fabric is one of the most commonly used materials in sublimation printing. Polyester and polyester-blend fabrics are the best choices, while all-natural fabrics such as 100% cotton do not work well.
Fabric is an excellent choice for beginners and a staple material for professionals. Hobbyists and print shops use many different types of printers and inks on fabric. Popular fabric items produced with sublimation include: cut & sew fabric, T-shirts and clothing, blankets, and more.
Dye Sublimation on Glass
Using sublimation printing on glass is possible. Many people use tempered glass, which is more resistant to heat and pressure. Flat glass blanks work well on flatbed presses. For glass cups, a round mug press or convection oven can make the job much easier.
Picture frames, mirrors, and drinkware are just a few examples of the products made through sublimation. Professional print shops can produce great glass products, but glass printing also makes an excellent project for hobbyists.
Dye Sublimation on Metal (Aluminum)
Sublimation printing on metal such as ChromaLuxe aluminum panels has become a popular means of creating unique photos and other artwork. The process usually involves printing the graphics to sublimation paper and then using a heat press to apply the image to the metal.
The same sublimation inks used for fabrics can also work for aluminum but matching the color tones is more challenging. For this reason, using metal can be very difficult for beginners. Professional print shops are capable of creating beautiful metal prints and artwork with aluminum.
Dye Sublimation on Mugs
Mugs are an excellent choice for sublimation printing. Many pro shops and hobbyists have great success with coffee mugs, but it is essential to consider a few factors.
First, using unfinished ceramic will not work for sublimation printing. There must be a coating of polyester or some other suitable substrate to use sublimation on any ceramic item.
Second, it is a good idea to utilize a specialized mug press or a sublimation convection oven for quick, efficient printing.
Dye Sublimation on Wood
Many beautiful wood products feature graphics applied with sublimation printing. Hobbyists and print shops use wood to reproduce photos, artwork, and professional signage.
But, while hobbyists can print on wood, there are a few special considerations to remember if the end product will have the appearance of a professional job.
Wood is porous and can bleed liquids. This characteristic means that although it is possible to do sublimation printing on uncoated wood, the final image will not look as good or last as long as it would on coated wood.
Moisture and color tone are also issues. The drier and lighter in color the wood is, the better the printed image will look.
What Materials Cannot Be Sublimate Printed On?
You should not use some materials with sublimation, including:
100% Cotton
The most common material that you should not use with dye sublimation printing, and perhaps the most surprising, is all-natural fibers such as 100% cotton. This issue has to do with the atomic makeup of cotton and similar fibers, which does not allow ink to permeate its structure in the required way to create a crisp, long-lasting image.
Some individuals try to work around this issue by using polyester-cotton blends, but this inevitably leads to premature cracking, fading, or bleeding over time.
Dark/Black Fabrics
Other materials that you should not use are dark materials such as black fabrics and non-coated items. You can print dark materials on, but the images will not look good.
One solution for sublimation printing on dark materials is to use a light-colored under-base such as white vinyl to print the image. The white vinyl then gets applied to the material to produce a satisfactory result.
Non-Coated Items
Non-coated items, like cotton, will not allow the ink to permeate the surface and will lead to poor results.
The only solution for printing on uncoated items is to apply a coating. Doing this will allow the sublimated inks to permeate the layer. For products such as ceramic mugs, you should use a polyester coating before attempting to print anything.
Dye Sublimation Printers: Types, Applications, and Prices
There are many kinds of sublimation printers and presses, including clam press printers, swing away printers, calendar press printers (electric or oil drum), and flatbed presses (pneumatic or manual).
Clam press printers are the most popular type of dye sublimation style printer. The main reason is that a clam press printer is one of the best options for printing on T-shirts and other fabrics. The clam press printer is also known as a "T-shirt clam printer."
Clam press printers come in various sizes, prices, and performance levels, making them an excellent option for casual hobbyists and high-volume professionals.
Swing away printers come in small and large format sizes. Small swing away printers like the Epson SureColor F570 only require as much space as a typical inkjet printer and are an affordable choice for sublimation beginners, with prices starting between $100-$200.
At the same time, high-production printing houses can use a large format swing away printer like the Epson SureColor F7200 to complete large jobs quickly. These printers require considerably more floor space and are self-standing. Large format swing away printers also cost substantially more, often several thousand dollars, for a high-quality model.
Swing away printers are helpful for printing on denser products such as mouse pads, photo frames, or hardboards.
Depending on the model, users operate a flatbed press using either manual pressing or pneumatic power. Beginners can use flatbed presses, but more often, they are for professional print shops that require a large, more powerful press that can allow more printing in less time.
Some professional flatbed presses even feature heaters on both sides, which allows for double-sided printing on items such as T-shirts and signage. Flatbed presses are suited for Chromaluxe metal, Unisub metals, fabrics, and other materials.
Calendar presses come in two versions: electric and an oil drum. The electric version tends to cost less and be easier to operate. An electric calendar press will heat up and cool down faster than an oil drum calendar press. However, oil drum calendar presses produce richer colors and a better end product than electric versions.
Calendar presses are perfect for shops requiring high-volume printing because they offer continuous printing and many different sizes of calendar presses. The calendar press is ideal for materials like cut & sew fabric and soft signage. The very best commercial calendar press can cost upwards of $30,000, but that depends on the size and brand of the press.
There are other tools for sublimation, such as sublimation convection ovens, 3D vacuum heat presses, and mug presses. For hobbyists or small shops, an intelligent choice can be purchasing a small swing away printer and a single-mug mug press which provides plenty of options for printing but keeps costs low.
Best Commercial Dye Sublimation Printer
The best sublimation printer for businesses is the Epson F7200 which costs $16,995.00 on Epson's website.
This printer provides industrial-level production with 634 square feet per hour of printing. It can print up to 64″ wide images. The printer features a PrecisionCore TFP print head and works with Epson's cutting-edge ink technology – UltraChrome® DS with high density black.
Best Dye Sublimation Printer for Beginners
For beginners who need a printer that is affordable, easy to use, and versatile, the best choice is the Sawgrass SG500 which is available on some sites for around $700.
The SG500 is easy to operate and comes with a collection of software, including the graphic design software CreativeStudio Online Designer. The printer uses the impressive SubliJet UHD sublimation inks to produce ultra-pristine images. The SG500 will print media that's up to 51″ long.
Best Dye Sublimation Printer for T-Shirts
For printing T-shirts, the best dye sublimation printer is the Sawgrass SG1000 which costs about $1,700.
The SG1000 can print media up to 13˝ x 51˝ if using a separately purchased bypass tray or 11″ x 17″ media on its own. This printer uses the SubliJet UHD sublimation inks. The SG1000 is fast, printing up to 240 prints per hour.
Dye Sublimation Inks
There is quite a bit of variance in what types of inks and mediums a printer can use in the sublimation process. We provide more details about different inks below, but here is a quick summary of commonly used sublimation inks.
The dye inks are color compounds dissolved in liquid and offer many options for color tones.
Dye sublimation inks are almost entirely water insoluble. These unique sublimation dyes are also highly heat and pressure resistant, making them well-suited to the sublimation printing process.
Information on the types of dye sublimation inks can be found below:
Aqueous dye sublimation ink
Aqueous dye sublimation inks were the first inks ever used for sublimation printing. Aqueous dye sublimation inks have ink dyes suspended in water. These inks are odorless, non-harmful, and remain popular in the industry.
Print shops use multiple types of inks in the sublimation process, but the two main categories are aqueous dye sublimation ink and solvent dye sublimation ink.
Manufacturers design aqueous dye sublimation inks that polyester or solid objects can absorb. The printing process for aqueous dye sublimation ink often involves using transfer paper as a temporary carrier of the inks.
Popular applications for aqueous dye sublimation inks include:
Textiles
Soft signage
Phone cases
Tablet covers
Wood
Plastic
Metal
Glass
Ceramics
Many professional printers utilize piezoelectric printers when using aqueous dye sublimation inks or liquid gel ink.
Solvent dye sublimation ink
Solvent dye sublimation ink uses an oil base to suspend ink pigments. Because the chemicals in solvent dye sublimation inks create an odor, they are usually only used for outdoor applications.
Solvent dye sublimation inks use a volatile solvent as a carrier for the color compounds. The solvents are durable, making them a popular choice for products people will use outside.
Solvent dyes contain VOCs (volatile organic compounds), which produce a powerful, unpleasant smell that can take a long time to diminish. Because of the VOCs, solvent dye printing requires air ventilation and is not a good choice for items that anyone will keep indoors.
Popular applications for solvent dye sublimation inks include:
Outdoor signage
Billboards
Vehicle wraps
Banners
Mesh
Print houses tend to use large format printers such as Spectra, XAAR, and Konica when printing with solvent dye sublimation inks.
Prices for any brand of sublimated ink will vary greatly. There are many options available from brand name manufacturers and generic alternatives.
You can find some small sets of off-brand sublimation inks for tens of dollars, while large bulk orders from name brands such as Sawgrass, Epson, or EcoTank can cost hundreds or even thousands of dollars.
Eco-solvent inks
The continued development of ink technology has led to the implementation of more eco-friendly solvent inks. Eco-solvent inks use color pigments suspended in a biodegradable solvent. Eco-solvent inks have only a mild odor, so commercial shops will use them for products used and kept indoors.
Latex ink
Latex dye sublimation inks were developed by Hewlett-Packard (HP). Latex inks use dyes suspended in water and microscopic polymer particles. Latex inks are odorless and useful in indoor and outdoor applications. HP developed this ink around the same time that eco-solvent inks hit the market.
Ultraviolet (UV) inks
Ultraviolet (UV) ink is the newest ink version for sublimation printing. UV inks are still in their early days of implementation but are considered a possible replacement for aqueous and solvent inks since they work for most applications. Manufacturers make these inks using monomers, oligomers, pigments, and photoinitiators.
Dye Sublimation Ink Composition
Chemical compositions differ between ink types, with the most notable difference between aqueous and solvent dye sublimation inks being the water content. Aqueous dye sublimation ink typically contain 30%-95% water, and solvent dye sublimation inks typically contain 0% water.
See more details on the ink compositions below:
Aqueous Dye Sublimation Ink Composition
The chemical composition of aqueous dye sublimation ink typically looks like something similar to this:
30%-95% water
1%-10% dye particles
5%-40% solutes such as propylene glycol, dipropylene glycol, or glycerol.
1%-5% surfactants
1%-5% biocides
Manufacturers make aqueous dye sublimation ink with water which can constitute anywhere from 30%-95% of the total weight of the ink. The dye particles are the actual color in the ink and have a melting point of at least 200 degrees Celsius.
The solutes, or co-solvents, are included to increase solvency and to help the other ingredients mix better than they otherwise would.
Manufacturers include the surfactants in aqueous dye sublimation ink to act as an emulsifier and help reduce stress on the active ingredients in the ink. The surfactants also help to preserve the active ingredients from breaking down inside the printing machine.
Some manufacturers have also been including biocides such as Proxel® GXL. The biocides help reduce harmful organisms that may be left behind after printing. The biocides also act as a kind of preservative that extends the condition of the printed image's appearance.
Solvent Dye Sublimation Ink Composition
Solvent dye sublimation inks are very different from aqueous dye sublimation inks. The most crucial difference is the solvent dye sublimation inks contain no water. Instead, this type of ink uses an oil base to carry the ink pigments and other ingredients.
The chemical composition of solvent dye sublimation ink typically looks similar to this formula:
78%-95% acetate solution
25%-9% subliminal disperse dye
2%-6% chloride-vinyl acetate copolymer
0%-4% polymeric amide
0%-4% ethyl acetate
0-3% various distillates
0%-2% propylene glycol
0%-2.5% N-butyl acetate
0%-1.25% 2-methoxy-1-methyl ethyl
0-0.5% butan-2-OL
The amount of acetate solution found in the composition of solvent dye sublimation ink is directly related to the amount of ferulic acid used. If the manufacturer used ferulic acid in the ink, then the amount of acetate solution will exceed 80%.
The amount of subliminal dispersed dye will vary but will always be insoluble in either the ether or acetate solution.
The other listed ingredients mainly include surfactants and stabilizers, which help preserve the dye, increase mixability, and enhance the final image's overall appearance.
Dye Sublimation vs. Screen Printing
Unlike the sublimation printing process, which allows inks in a gaseous state to permeate a material such as textiles or plastic, screen printing relies on a different technique.
Like it sounds, screen printing involves transferring an image through a screen. Screen printing works for multiple materials, but one of the most popular applications is printing graphics on T-shirts and other clothing items.
Screen printing transfers liquid ink to the top layer of fabric, unlike sublimation printing which makes the ink a permanent part of the fabric or other material.
Because of the application method used in screen printing, colors are more limited than when using dye sublimation. Graphics applied through screen printing are also less durable and may crack or fall off over time.
Dye sublimation printing and screen printing are both popular methods for producing various products. Beginners can perform both procedures with relatively little equipment or experience. It is also easy to scale either printing method up, making sublimation printing and screen printing widespread methods for high-volume printing companies.
Screen printing does offer some advantages over sublimation. Screen printing is high-speed. Some professional shops may screen print up to 900 items per hour, while sublimation printing might only produce 60 items at the same time.
For more information see our full guide on Dye Sublimation vs. Screen Printing.
Dye Sublimation vs. Inkjet Printing
Inkjet printing applies liquid ink to a material such as paper. Unlike the sublimation process that causes the ink to permeate a material, inkjet printing uses ink to only print the top layer of the material. The inkjet printing process relies on an ink cartridge that delivers a series of liquid ink droplets through a nozzle.
Dye sublimation printing and inkjet transfer printing are popular for printing photos and graphic designs. There are many options at different price levels and with varying capabilities in both categories of printers.
Dye sublimation can create fade-resistant, water-resistant images that will last much longer than inkjet-printed images. Additionally, sublimation printers make a continuous color tone, unlike inkjet printers which deliver a series of ink dots in a series of bands.
Inkjet printing can create a higher quality image than dye sublimation, albeit with fewer options for printing mediums. Because inkjet printing can produce high-quality prints on an extensive range of papers, it is often the preferred choice for photography and wall art.
Inkjet printing also has the advantage over sublimation printing when it comes to price and ink efficiency. With a more extensive selection of ink manufacturers, including affordable generic options, inkjet printing can be cheaper than sublimation. Inkjet printers are also better at preserving ink within their cartridges, which means replacing the cartridges less frequently.
Sublimation printing is the better choice for printing on non-paper mediums such as fabric, glass, and wood. Sublimation printing also does not require drying time, unlike inkjet printing which needs to dry before being handled.
Dye Sublimation vs. Heat Transfer Printing
It is easy to confuse dye sublimation printing and heat transfer printing. Both methods involve the use of heat to transfer ink to a medium. However, while dye sublimation causes the ink to permeate through the medium, heat transfer printing only applies ink to the top layer of the medium.
Print shops or hobbyists can use heat transfer printing to create an image on special heat transfer paper. A print shop or hobbyist will place the paper on a chosen material like a cotton T-shirt. Using a heat press, the ink transitions to the material through a combination of heat and pressure.
Heat transfer printing is commonly used by beginners or hobbyists because it is one of the easiest printing methods and often requires the lowest financial investment. Sublimation has become considerably cheaper in recent years, but it still costs more to get into that heat transfer printing in most cases.
On the other hand, heat transfer paper is less durable and feels lower quality than items manufactured using sublimation printing. Because the heat transfer printing method only applies the image to the top layer of a material, the image can fade or crack over time.
Another critical difference between dye sublimation printing and heat transfer printing is which method works best on 100% cotton material. For natural cotton, heat transfer printing is the best choice. Dye sublimation inks are unable to chemically bond to all-natural cotton. The inks require a unique, synthetic layer applied to the medium.