Decollage is a term coming from the French word for 'unstick' and refers to an artistic process that involves tearing and scraping old posters from the walls and their later application on canvas. This technique is associated with artists who belonged to the Nouveau Realisme (New Realism). The artists who have worked in this technique are Francois Dufrene, Jacques Villeglé, Raymond Hains, Mimmo Rotella.
Notable Decollage Artwork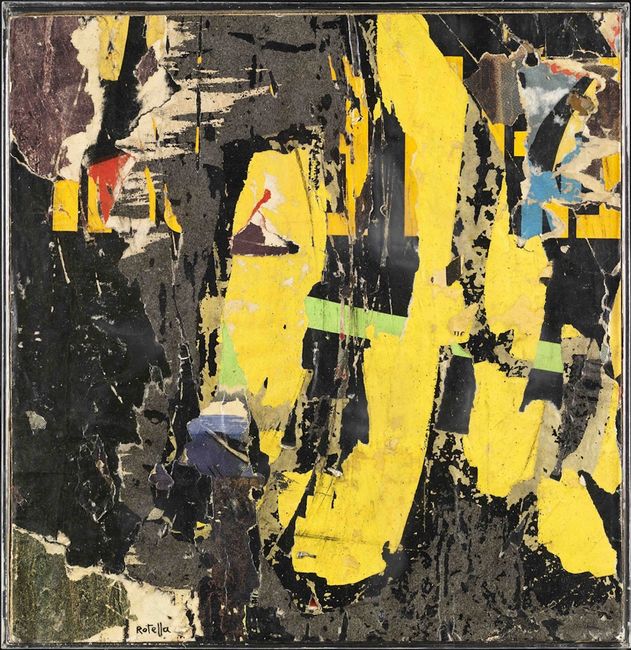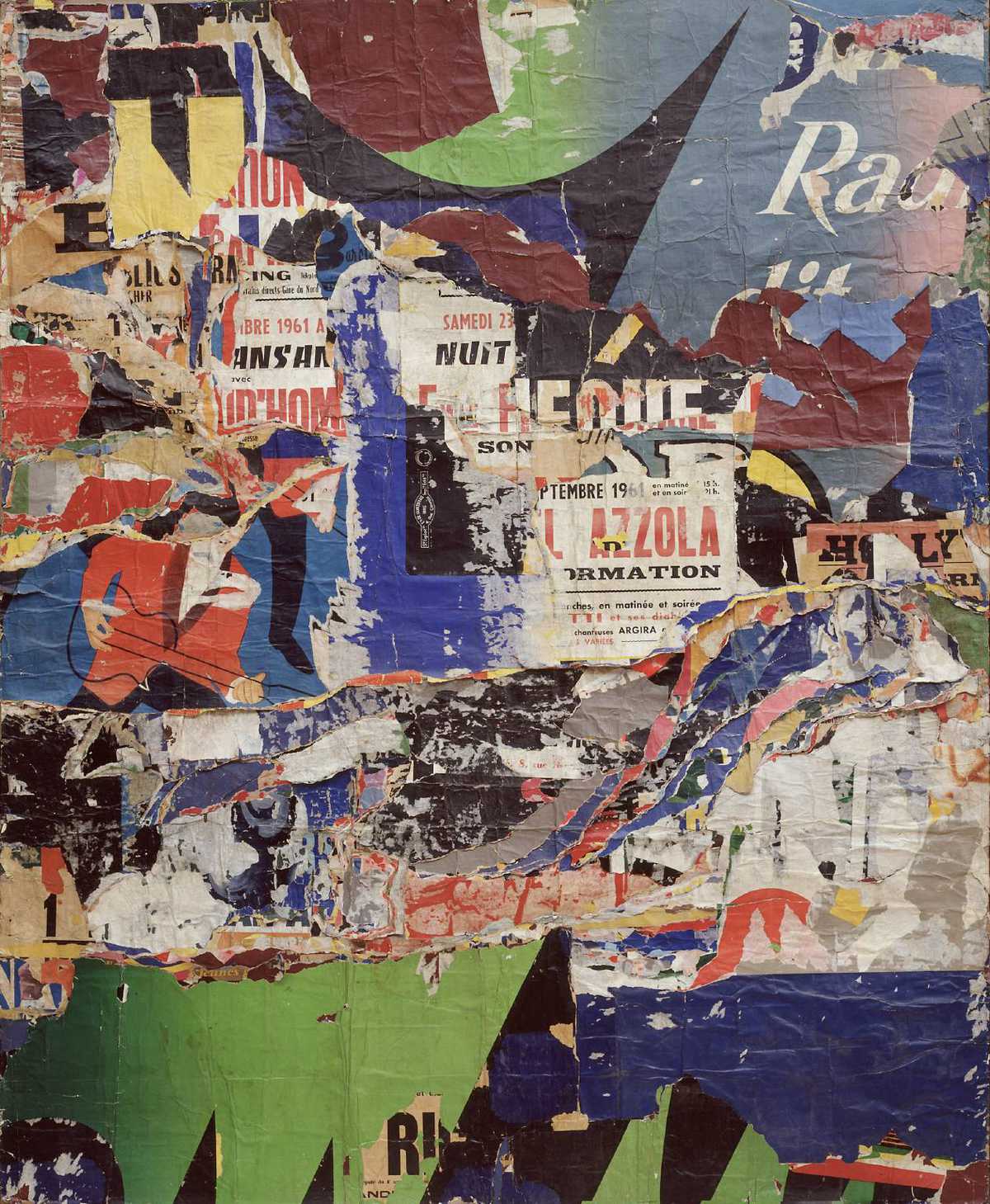 The Dictionnaire Abrege du Surrealisme and the Beginnings of Decollage
The term decollage first appears in the Dictionnaire Abrege du Surrealisme in 1938. An explanation of this technique is given through the example of the work of Leo Malet. With his works, which he called Thorne Posters, Malet introduces a new artistic procedure that is based on intervening in public space with elements of vandalism. This procedure involved tearing up advertising posters in such a way as to reveal hidden overlaid layers of old advertisements so that their fragments could then be transferred and fixed to a canvas or other surface.
From Collage to Decollage
The decollage technique can be seen as an inverted collage procedure. Although both techniques are based on the incorporation of fragments of artistic and non-artistic materials, their initial ideas differ significantly. In the collage process, the artist relies on the principles of adding or building scenes. The collage is thus interpreted as a construction of an individual artist who has full control over the material at his disposal in the development of the work of art. On the other hand, the process of making decollage implies the artist's relocation to a public space in which he deconstructs the existing visual material, which gradually opens up to him with its content. The principle of subtraction is therefore crucial in this technique. The material obtained in this way is an authentic sample of the popular culture of a certain environment. The layers that the artist discovers during the sampling are a kind of testimony to the public life of the community, which is then transformed into artwork.
Nouveau Realisme (New Realism)
During the 1960s, the art movement Nouveau Realisme developed in Paris as a kind of counterpart to Pop Art. Although critically subversive approaches were common to both movements, the notion of aesthetics and the nature of the artist's social role differed. Nouveau Realistes were Francois Dufrene, Raymond Hains and Jaques Villegle, Mimmo Rotella, Wolf Vostell, Yves Klein, Cesar Baldaccini, Arman, Jean Tinguely. Reliance on Dadaist Avant-garde experiences and the anti-aesthetic, as well as unequivocally critical component of that art , paved the way for Nouveau Realistes for various models of public scandal. Like Pop Art artists, Nouveau Realists often took motifs from popular culture. The process of decollage is an explicit example of intervening in public space with the aim of isolating certain segments of mass consumerist culture.
François Dufrene, Raymond Hains and Jacques Villeglé
Dufrene, Hains and Villegle, as archaeologists of popular culture, advertising and propaganda, explored city topos on which posters were repeatedly pasted on top of each other.
Such spaces provided them with a wide choice of motives for constituting decollage. It is the work of these three artists that is recognized as the anti-aesthetic formula of the art of Nouveau realisme. Dufrene, Hains and Villegle transformed the idealized visuals of advertisements and the glamor of film posters through torn fragments into an expressive portrait of cruel social reality. Decollage techniques have allowed Nouveau Realists to re-examine the impact of mass media and advertising on a social fabric that is rapidly changing under the pressure of increasingly dominant values ​​of consumerism.
Wolf Vostell's De-coll/age
Wolf Vostell used the term decollage as a collective term that united various forms of his artistic practice. In relation to the plane crash phenomenon, he transforms this word and formulates it as Dé-coll / age.
The first Vostell's decollage was made in 1954. He was one of the pioneers of video art and installation, and he often combined the concept of decollage with happening. In 1962 he founded the theoretical magazine called De-coll / age: Bulletin Aktueller Ideen. This magazine has published numerous articles on experimental artistic practices related to movements such as Nouveau Realism and Fluxus.
Notable Decollage Artists
Francois Dufrene (1930 – 1982)
Jacques Villeglé (1926 -)
Mimmo Rotella (1918 – 2006)
Raymond Hains (1926 – 2005)
Romare Bearden (1911 – 1988)
Tom Phillips (1937 -)
Louise Hopkins (1965 -)
Tony Swain (1967 -)
Related Art terms