Rembrandt van Rijn is undoubtedly one of the most celebrated artists in history. His masterpieces have captivated art enthusiasts for centuries, and his influence on the art world is immeasurable. His paintings are renowned for their intricate details, stunning use of light and shadow, and their ability to convey powerful emotions.
In this article, we will take a closer look at some of Rembrandt's most famous paintings, analyzing their composition, technique, and symbolism. From the biblical stories depicted in "The Supper at Emmaus" and "The Raising of Lazarus" to the intimate portraits of "Self-portrait with Gold Chain" and "Bust of Saskia Smiling," we will explore the themes and meanings behind these iconic works of art. Whether you're an art lover or simply curious about Rembrandt's legacy, this article will provide a deeper understanding and appreciation of his extraordinary talent.
1. The Spectacles-pedlar (Sight) By Rembrandt – C. 1624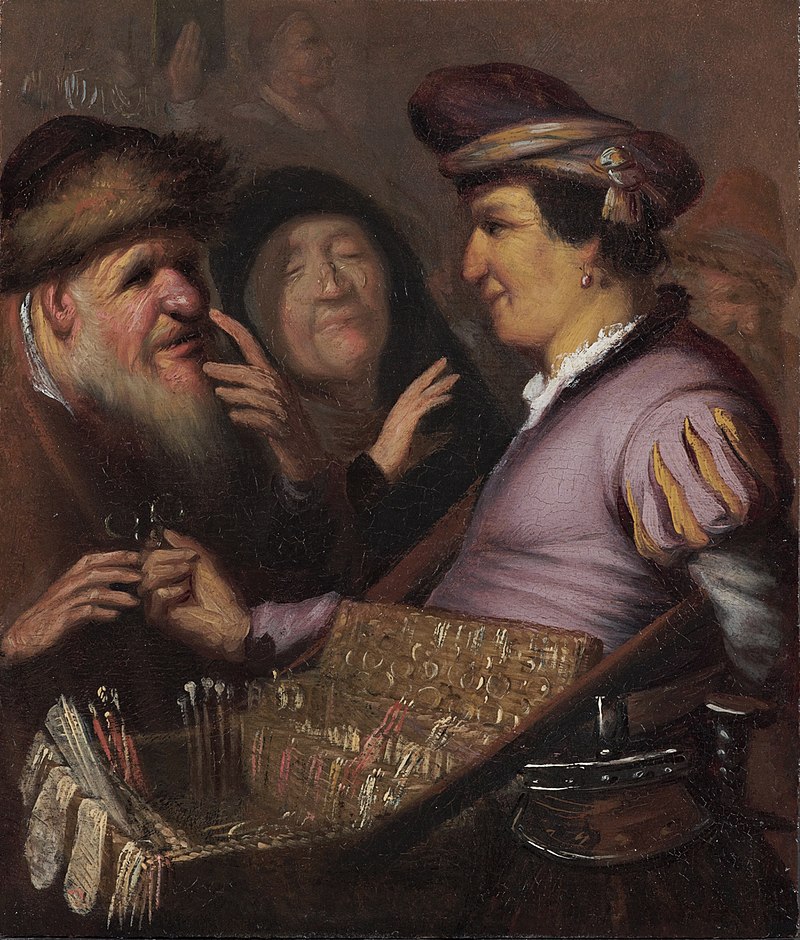 The Spectacles-pedlar (Sight) is a painting by the Dutch artist Rembrandt, created around 1624. It depicts an elderly man selling spectacles while holding a pair up to his eye to demonstrate their effectiveness. The painting is one of the earliest known works by Rembrandt, and it showcases his skill in capturing human emotion and character.
The use of lighting in this piece is particularly noteworthy. The peddler's face is illuminated from the left, highlighting his weathered skin and deeply lined face. This contrast between light and shadow draws attention to the wrinkles around the eyes which furrow in concentration as he focuses on examining the glasses.
It's also interesting how Rembrandt was able to convey a sense of movement through stillness in this painting. The peddler appears frozen mid-action, as if he has been caught in a momentary pause during his busy day of hawking goods on street corners. Yet there are small details that suggest life is going on all around him – objects scattered across a step beside him or people walking past without stopping.
2. The Three Singers (Hearing) By Rembrandt – C. 1624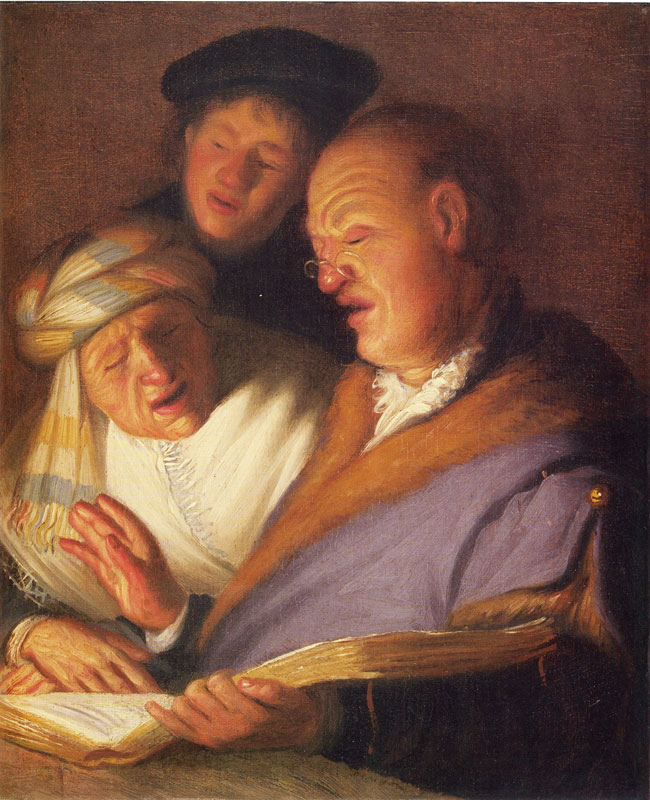 The Three Singers (Hearing) by Rembrandt is an oil painting that depicts three figures engaged in singing. The painting was created in 1624 and is considered one of Rembrandt's early works. The figures are illuminated by a single light source, which creates a dramatic effect and highlights the contrasting textures of their clothing.
The central figure, who is holding a sheet of music, is thought to be a representation of the artist himself. He wears an extravagant costume that features a fur-trimmed cape and tall hat, which were popular among Dutch artists at the time. The two other figures are also dressed in elaborate costumes and appear to be caught up in the act of singing.
The painting provides insight into the musical culture of Rembrandt's time and demonstrates his skill at creating intricate compositions with dynamic lighting effects. The use of chiaroscuro technique, where strong contrasts between light and dark are used to create depth and drama, adds richness to the scene.
3. The Operation (Touch) By Rembrandt – C. 1624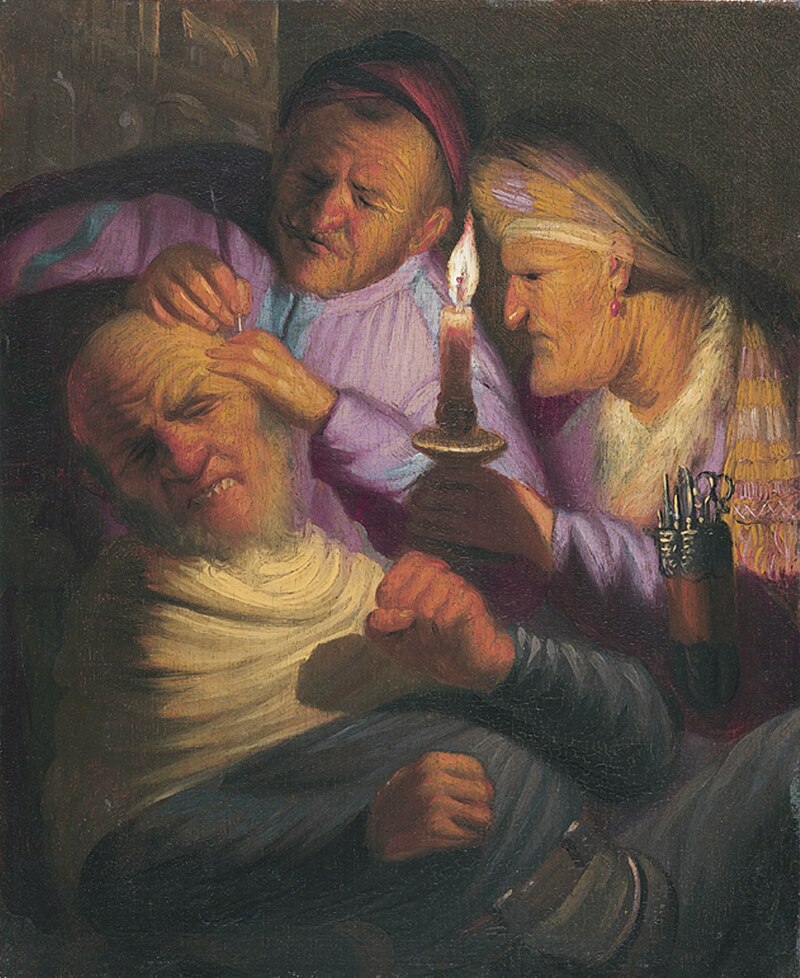 Rembrandt's painting titled "The Operation (Touch)" is a portrayal of an anatomical dissection, created around 1624. The artwork was likely commissioned by a medical guild or was intended as an illustration for a medical publication. It showcases the technological innovations of the time and reflects Rembrandt's fascination with the scientific study of the human body.
One striking element of the painting is Rembrandt's mastery of chiaroscuro, which is evident in his use of light and shadow. The subject matter itself speaks to his detailed knowledge and interest in anatomy as well. Notably, it deviates from conventional depictions of dissections at that time since it portrays surgeons touching rather than cutting into flesh.
Furthermore, art historians also believe that this particular painting reveals social attitudes towards both science and religion in seventeenth-century Dutch culture.
4. The Unconscious Patient (Smell) By Rembrandt – C. 1624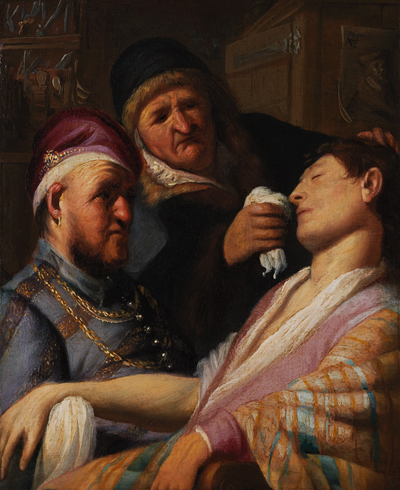 Rembrandt's painting, The Unconscious Patient (Smell) was created around 1624 and features a scene of a man lying on a bed surrounded by four other figures. One figure appears to be holding a small bottle under the patient's nose while others observe the situation.
While not much is known about this specific work, it is thought to be part of a series of paintings that depict medical scenes from the time period. Rembrandt was known for his attention to detail in his works, and this painting shows intricate textures and lighting effects that create a sense of drama.
Additionally, during the 17th century in Holland, medicine became an increasingly important area of study as universities added departments specifically for it. It's possible that Rembrandt was trying to capture this cultural shift in his art by depicting medical scenes such as The Unconscious Patient (Smell).
5. Christ Driving The Money-changers From The Temple By Rembrandt – 1626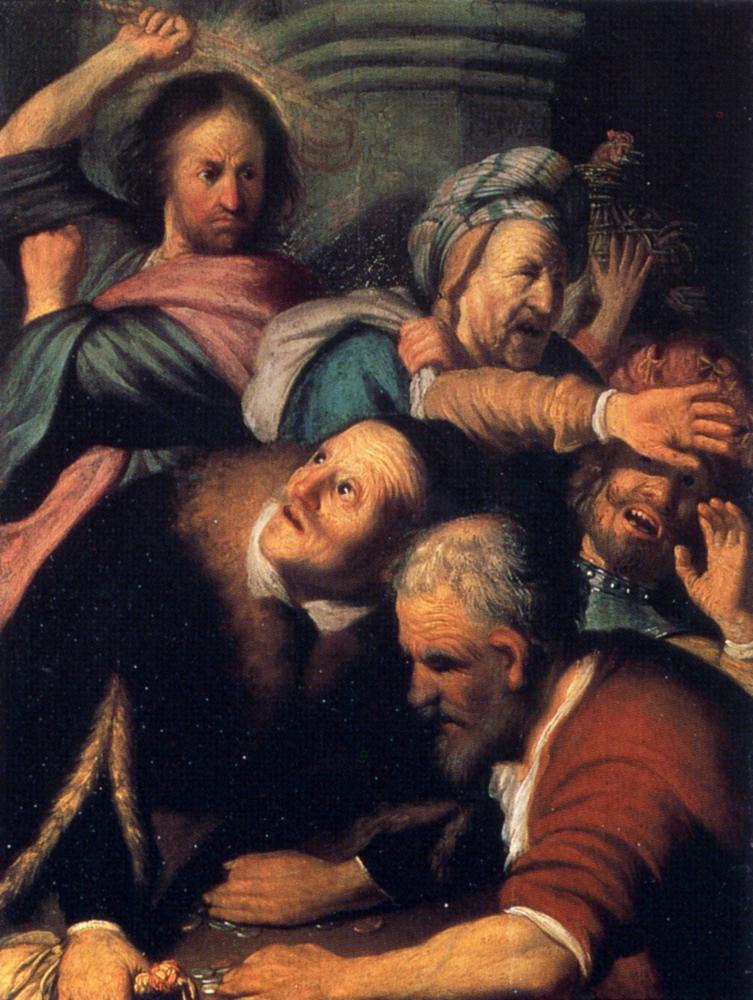 In Rembrandt's painting "Christ Driving the Money-changers from the Temple," he depicts a chaotic scene in which Jesus, surrounded by a group of people, is overturning tables and driving out merchants and animals from the temple. The work was completed in 1626 when Rembrandt was just 20 years old and highlights his impressive talent as an artist even at such a young age.
The painting is significant for several reasons. First, it illustrates one of the most dramatic stories from the Bible. Second, it showcases Rembrandt's technical skill as a painter. The use of light and shadow creates depth and atmosphere in the scene, adding to its dramatic impact. Moreover, the dynamic composition captures the intensity of this event.
6. The Stoning Of St. Stephen By Rembrandt – 1625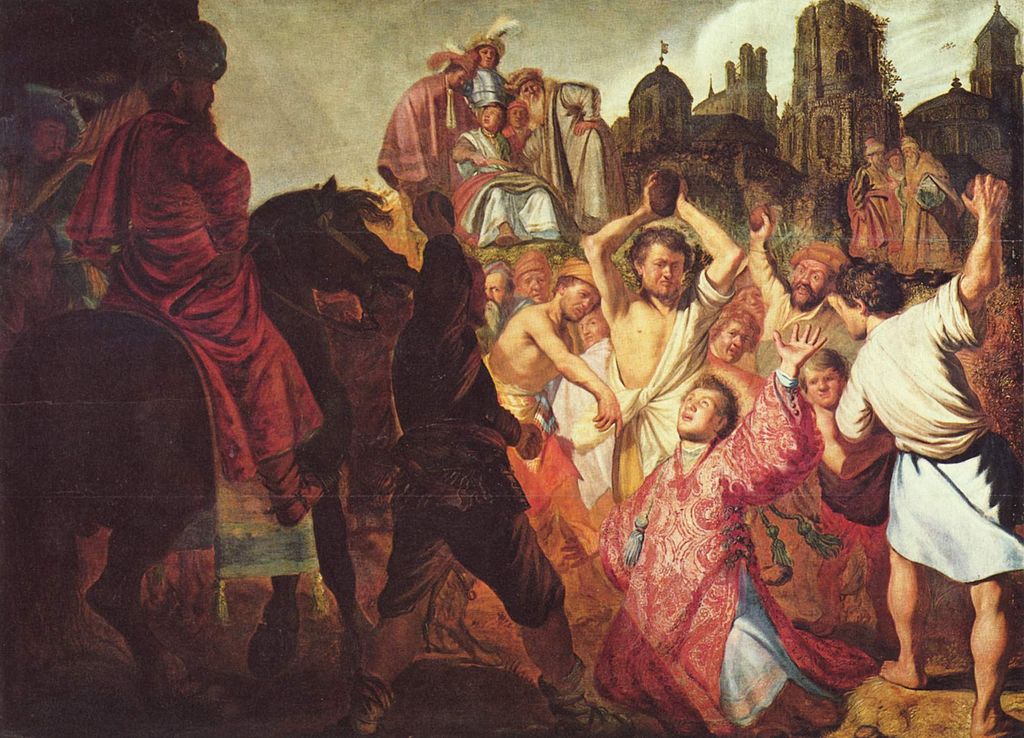 The Stoning of St. Stephen is a painting by Dutch artist Rembrandt van Rijn, completed in 1625. It depicts the moment when St. Stephen, the first Christian martyr, was stoned to death by a group of angry Jews. The painting measures 89 x 123 cm and is currently housed at the Musée des Beaux-Arts de Lyon in France.
Rembrandt was known for his dramatic use of light and shadow, and this painting is no exception. The bright light that illuminates St. Stephen's face contrasts sharply with the darkness of the surrounding crowd. This technique draws attention to the central figure and emphasizes his faith and righteousness.
The composition of the painting is also noteworthy. Rembrandt creates a sense of movement and chaos with his use of diagonals, especially in the positioning of St. Stephen's body as he falls to his knees under a hailstorm of rocks. Meanwhile, onlookers jostle for position around him, creating a sense of frenzied violence.
7. Bust Of A Man Wearing A Gorget And Plumed Beret By Rembrandt – 1626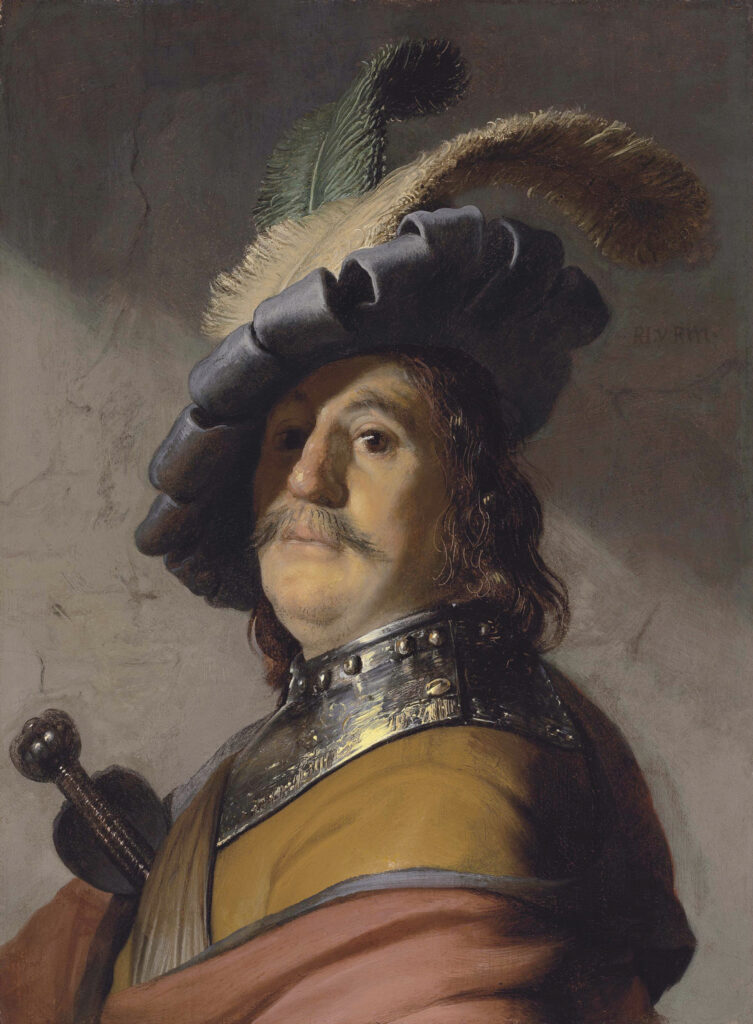 Bust of a Man Wearing a Gorget and Plumed Beret is an oil on panel artwork created by the Dutch master painter Rembrandt in 1626. This portrait features a half-length image of a wealthy man wearing an ornate gorget and plumed beret. The painting is notable for its excellent use of light, shadow, and color that creates a realistic portrayal.
In this painting, Rembrandt uses his signature impasto technique to create realistic textures that give depth to the picture. The subject's face is well illuminated with highlights that reflect intricate details on the gorget while casting shadows onto his skin. Although there is no clear indication of who this subject represents, it's believed that this man belongs to the military because of his dress code.
The bust of a Man Wearing a Gorget and Plumed Beret exemplifies Rembrandt's artistic genius as he captures not only subtle facial expressions but also intricate details such as clothing and accessories worn during the time. This artwork serves as evidence for Rembrandt's exceptional ability to create portraits that captured both the personality and fashion sense of his subjects – thus making him one of the most famous portrait painters in European history.
8. David With The Head Of Goliath Before Saul By Rembrandt – 1626-1627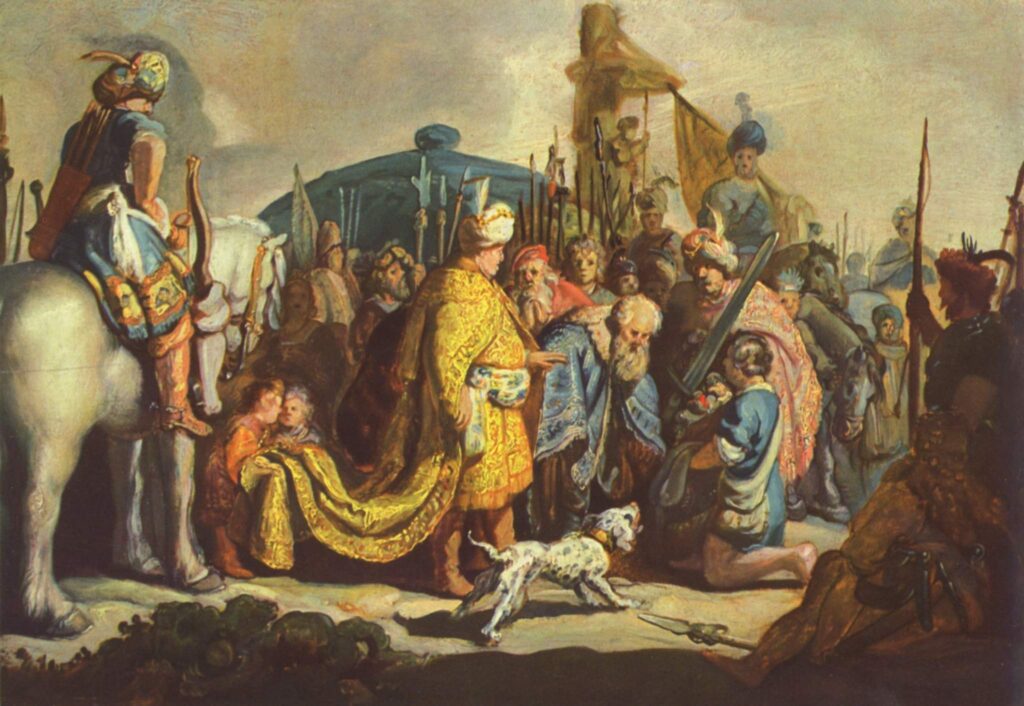 David with the Head of Goliath before Saul is a painting by renowned Dutch painter Rembrandt. The painting depicts a scene from the Old Testament where David presents the head of the giant Goliath to King Saul after defeating him in battle.
Rembrandt's use of light and shadow, known as chiaroscuro, is evident in this painting, with the light falling on David's face and body while leaving Saul in partial darkness. The dark background also helps to bring out the figures in the foreground, adding depth and drama to the scene.
The subject matter of this painting was popular during Rembrandt's time, but he adds his own unique style by focusing on emotion and expression rather than just depicting a biblical story. The facial expressions of both David and Saul are carefully crafted to show their conflicting emotions – David triumphant yet humble, while Saul is simultaneously repulsed by Goliath's severed head but secretly impressed by David's bravery.
9. The Baptism Of The Eunuch By Rembrandt – 1626
In 1626, Rembrandt painted The Baptism of the Eunuch, a religious painting depicting the scene from Acts 8:26-40 in which an Ethiopian eunuch is baptized. The painting shows the eunuch kneeling in a pool of water while being embraced by a minister. The background is filled with onlookers, horses, and landscape.
Rembrandt's use of lighting is particularly noteworthy in this painting. A beam of light falls on the center of the composition, illuminating the minister and eunuch while casting dramatic shadows throughout the rest of the scene. This technique draws attention to the baptism and adds an ethereal quality to the moment.
The faces in The Baptism of the Eunuch are highly expressive and emotive, capturing both reverence and personal connection among those involved in the baptism. This emotive quality is characteristic of Rembrandt's work during this era.
Overall, The Baptism of the Eunuch showcases Rembrandt's masterful use of lighting to create drama and emphasis within a larger scene. Its emotive content highlights his skill at capturing human emotion through portraiture.
10. Balaam And The Ass By Rembrandt – 1626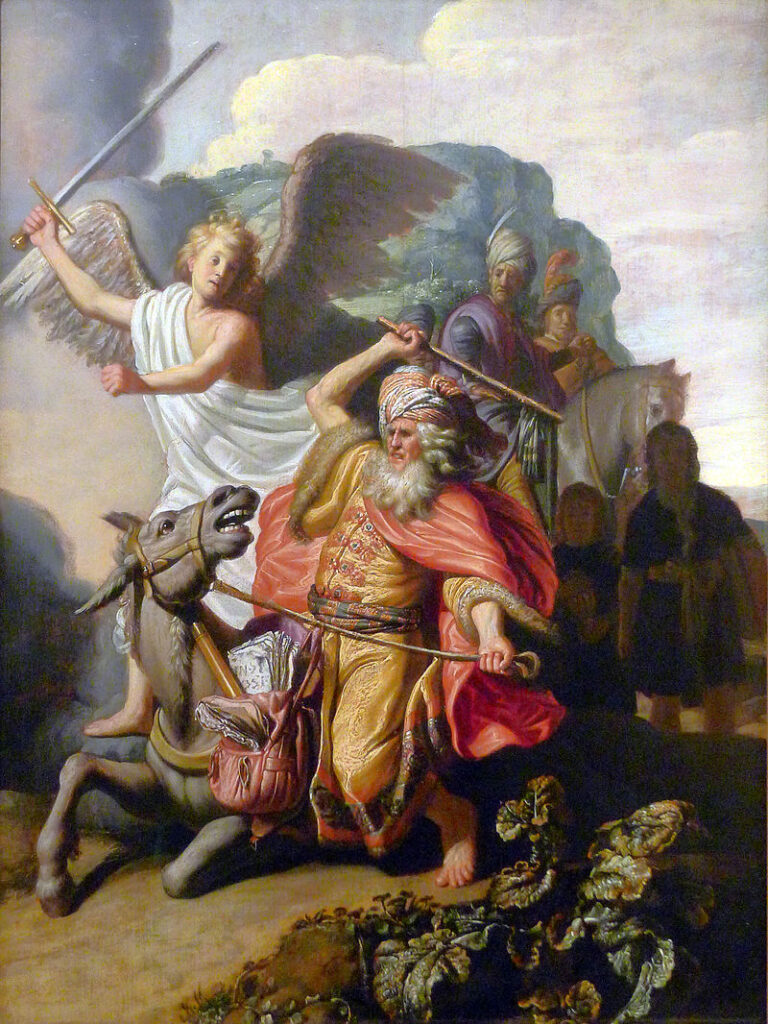 The painting "Balaam and the Ass by Rembrandt – 1626" portrays the Biblical character Balaam talking to his donkey. The painting is known for its dark tones, dramatic lighting, and detailed depiction of the donkey, which appears more intelligent and expressive than Balaam.
Rembrandt's portrayal of the interaction between Balaam and his ass has been interpreted in various ways. Some see it as a warning against pride, as Balaam's insistence on going his own way despite warnings from the animal leads to disastrous consequences. Others view it as a commentary on human-animal relationships and our tendency to underestimate animals' intelligence.
In analyzing this painting, it's important to note Rembrandt's use of light and shadow to create depth and drama in the scene. He also pays close attention to detail in depicting both characters' facial expressions and body language. Overall, "Balaam and the Ass" is a powerful example of Rembrandt's skill at capturing complex emotions and interactions in his artwork.
11. Musical Allegory By Rembrandt – 1626
Musical Allegory is a 1626 oil painting created by Rembrandt Harmenszoon van Rijn. The painting depicts three figures with musical instruments, surrounded by animals and mythological creatures. The central figure is a woman holding a viola da gamba, an instrument popular during the Dutch Golden Age. Her dress and hairstyle suggest she is a goddess or muse of music.
To her left, there is a man playing the recorder, while on her right side there is another man playing the lute. Both men are dressed in oriental attire, indicative of the 17th-century fascination with exoticism and faraway lands.
The animals surrounding the figures include dogs, lions, and peacocks, each symbolizing different qualities such as loyalty, courage and beauty respectively. The presence of these animals suggest that music can transcend barriers of nature and species.
Musical Allegory showcases Rembrandt's mastery in chiaroscuro technique which emphasizes light sources to add depth and dimensionality to his subjects – particularly well-suited for portraying dramatic scenes found in history paintings. This artwork is significant not just as an example of 17th-century Dutch genre painting but also for its exploration of classical mythology themes through musical allegory in art form.
12. Tobit Accusing Anna Of Stealing The Kid By Rembrandt – 1626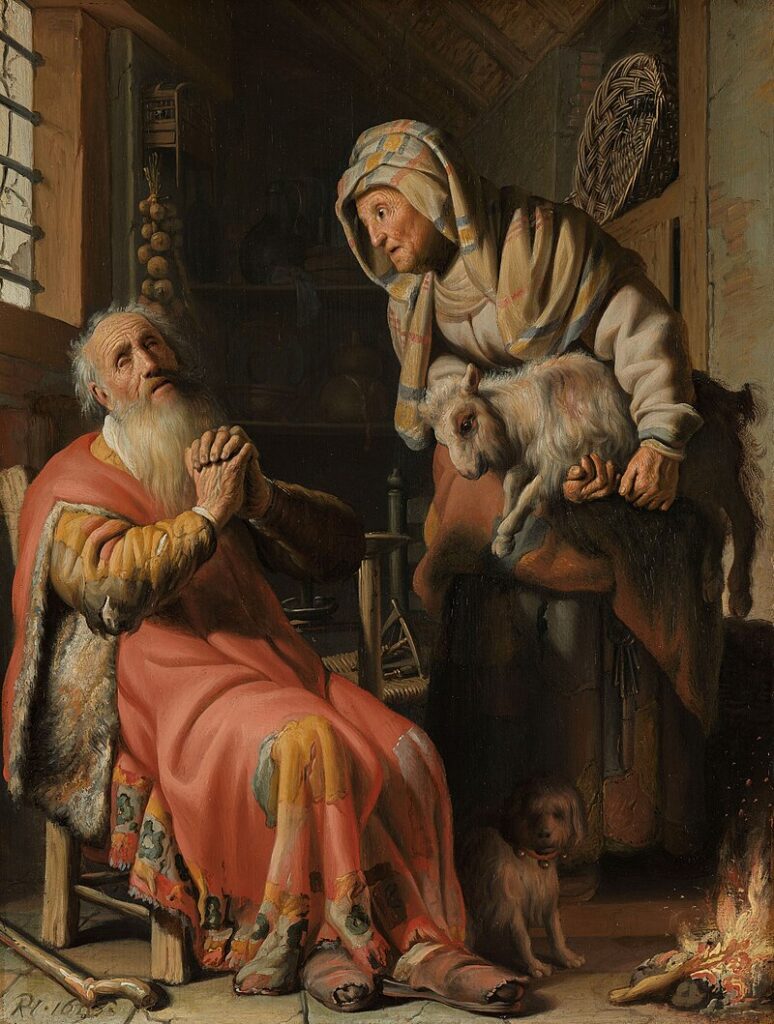 In Rembrandt's painting, "Tobit Accusing Anna of Stealing the Kid," we see a dramatic moment in the biblical story of Tobit. Tobit accuses Anna, his wife, of stealing a young goat. Despite her pleas of innocence, Tobit becomes angry and refuses to believe her. It is in this moment that Anna prays for God's help, and the angel Raphael comes to her aid.
Raphael guides Tobit to catch the real thief and proves that Anna is innocent of any wrongdoing. This incident highlights the themes of justice, trust, and faith found throughout the biblical story of Tobit. Rembrandt masterfully captures this tense encounter between husband and wife through his use of color, lighting, and composition.
13. The Flight Into Egypt By Rembrandt – 1627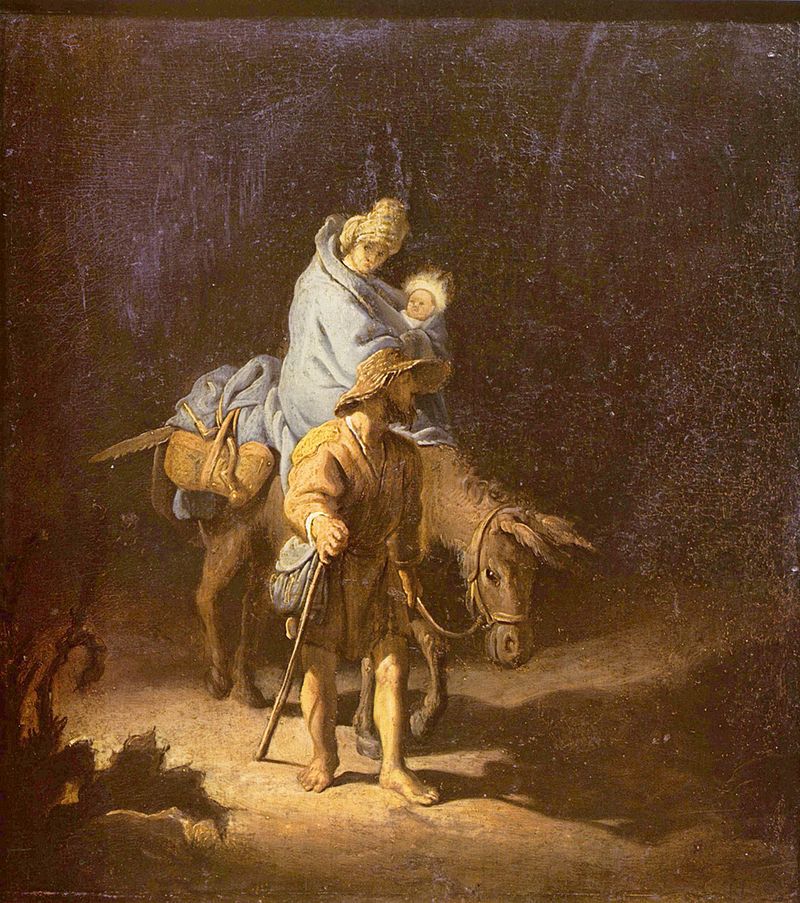 The Flight into Egypt by Rembrandt, painted in 1627, is a beautiful example of his unique style. Rembrandt's use of light and shadow in this painting creates an intense emotional impact that captures the viewer's attention. The painting tells the story of Mary and Joseph escaping with baby Jesus to Egypt after being warned about King Herod's plan to kill all male infants.
In this piece, Rembrandt uses bold contrasts between light and dark to create a sense of depth and atmosphere. The bright light on Mary's face signifies her purity while also acting as a beacon for salvation amidst the darkness surrounding them. Additionally, the heavily shadowed areas add a feeling of danger and uncertainty to the painting.
One unique feature of this composition is how Rembrandt focuses less on Joseph or even Jesus than he does on Mary's figure almost enveloping the canvas. By using strong diagonal lines in her body language, she seems weary but determined as she carries her infant son while looking back at Joseph with concern.
14. The Apostle Paul In Prison By Rembrandt – 1627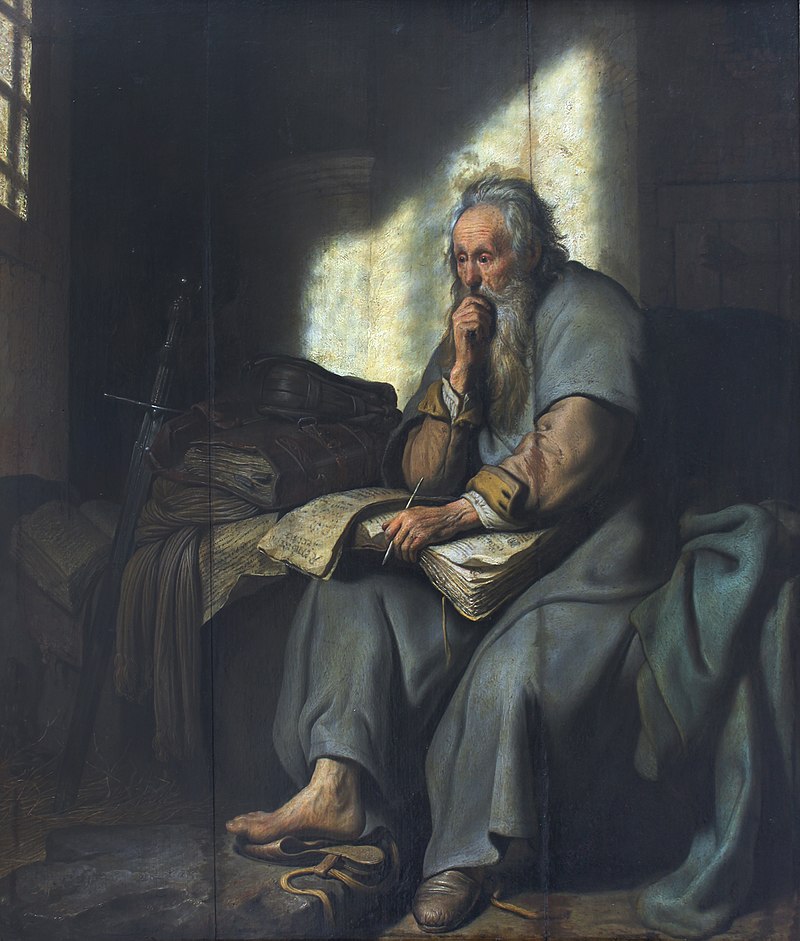 Rembrandt's painting, Apostle Paul in Prison, is a masterpiece of religious artwork that captures the emotional and spiritual struggle of Paul during his imprisonment. The painting depicts Paul in a modest setting, surrounded by darkness, with nothing but a Bible and quill to keep him company. Rembrandt expertly used light and shadow to depict depth and contrast in this piece.
Rembrandt painted historical figures like Paul with attention to detail and authenticity that made them look realistic. In this painting, one can see how his technique brings out the humanity of these biblical figures as he uses expressive brushwork to make them come alive.
The Apostle Paul in Prison by Rembrandt is widely considered an exceptional example of Dutch Baroque art. The painting conveys profound emotion; it shows how difficult it was for someone who had once been so powerful to be reduced to such a state of loneliness and isolation. Even though there are only two simple objects aside from Paul in this piece, Rembrandt was able to create an authentic atmosphere where the pressure from life's challenges becomes palpable.
15. Simeon In The Temple By Rembrandt – C. 1628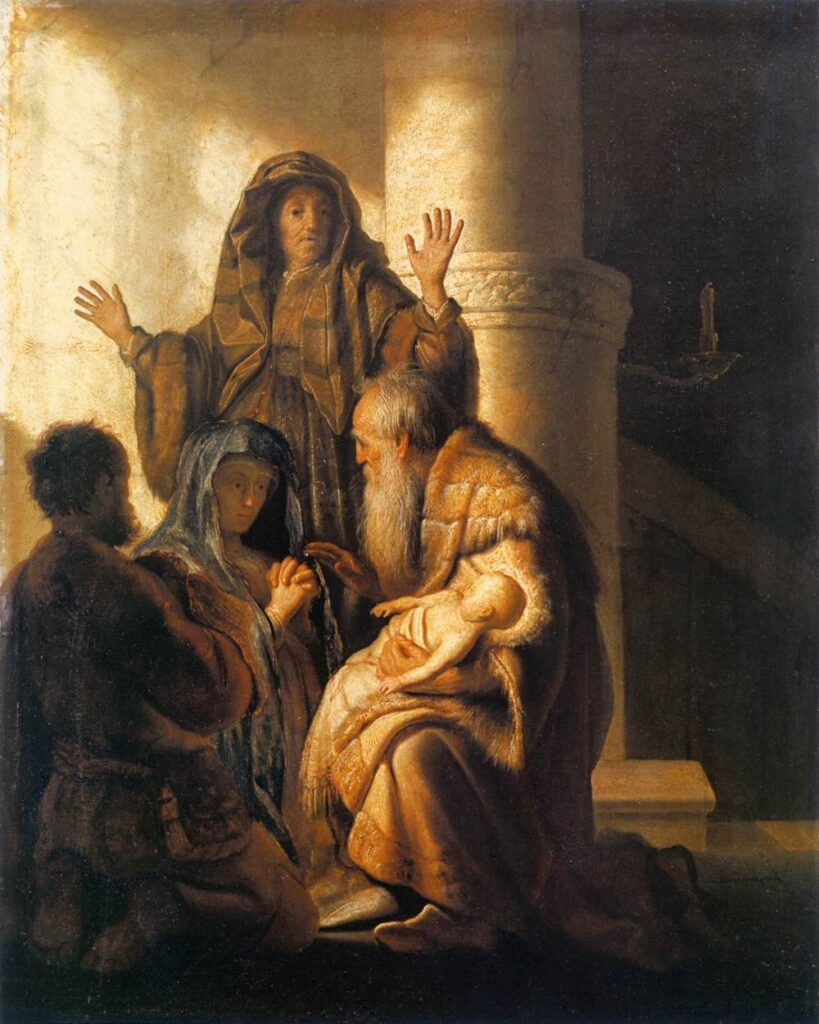 Simeon in the Temple is a painting created by the Dutch artist, Rembrandt, around 1628. The painting depicts Simeon holding infant Jesus in his arms, recognizing him as the Messiah. This recognition is based on a prophecy from the book of Isaiah and is expressed by Simeon's words in the painting: "Now let your servant depart in peace, for my eyes have seen your salvation."
What makes this painting remarkable is Rembrandt's use of dramatic lighting to emphasize the emotional intensity of the scene. He creates a contrast between areas of light and dark that draws attention to Simeon's face and hands as he holds Jesus. This technique highlights both the joy and sorrow present in this moment – joy at seeing his savior, but also sadness at knowing what Jesus' future holds.
Rembrandt's skillful execution shows why he is considered one of history's greatest painters. He captures not just a moment in time but an entire experience through his use of shadow and light. If you're lucky enough to see Simeon in the Temple up close, take time to appreciate its beauty and complexity – it truly is a masterpiece of Dutch art history.
16. The Foot Operation By Rembrandt – 1628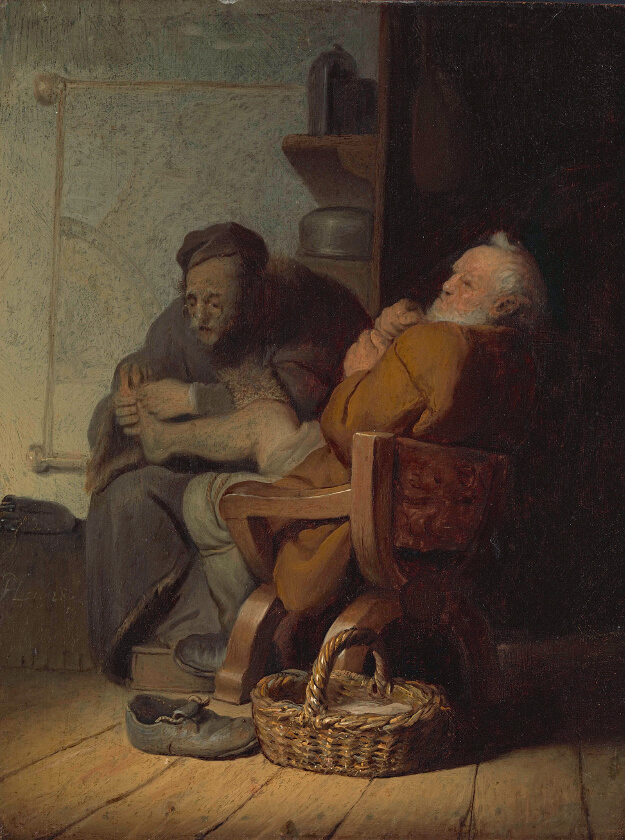 In 1628, Rembrandt painted "The Foot Operation," depicting a surgical procedure from the 17th century. The painting shows the role of surgeons during this time and is believed to be an accurate representation of the surgical procedure.
"The Foot Operation" highlights the use of anesthetics during surgery, which was a significant advancement in medical practices during this period. It also showcases the importance of skilled assistants in surgeries and procedures.
Looking closely at the painting, one can see that Rembrandt paid close attention to details such as the tools used by surgeons, lighting and shadows, and clothing worn by those present during the operation. This attention to detail adds to the realism of the painting and gives us insight into what surgery looked like in Europe in 1628.
17. Rembrandt Laughing By Rembrandt – C. 1628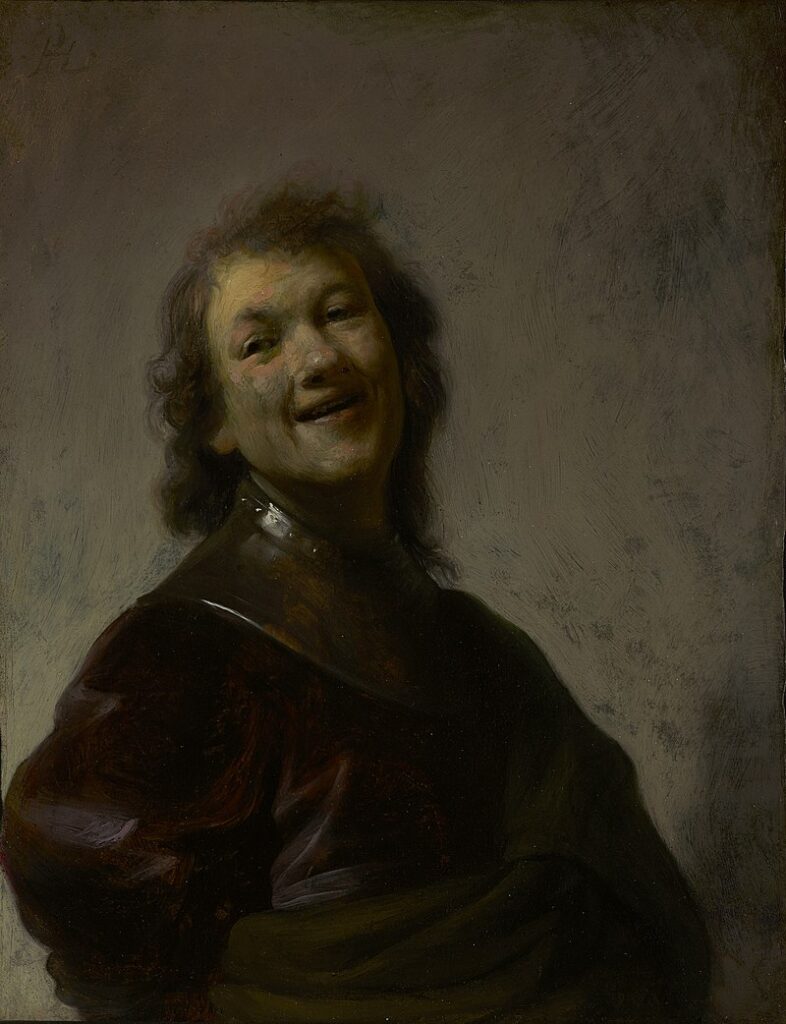 Rembrandt Laughing is a painting by Rembrandt created in 1628. It depicts a young man laughing and looking towards the viewer. The subject's expression and body language suggest that he is genuinely amused, and his eyes appear to be crinkled with laughter.
The painting is believed to be one of Rembrandt's earliest works, completed when he was just 22 years old. Despite its age, it exhibits many of the qualities that would become hallmarks of Rembrandt's later work, including skillful use of light and shadow to create depth and texture.
While the identity of the young man depicted in the painting remains unknown, scholars have speculated that he may have been a friend or acquaintance of Rembrandt's. Some have even suggested that the painting may be a self-portrait, though this has not been definitively proven.
Rembrandt Laughing is now housed in the J. Paul Getty Museum, Los Angeles. It is considered to be one of Rembrandt's most charming early works and provides insight into his development as an artist.
18. Self-Portrait Study In The Mirror (the Human Skin) By Rembrandt – C. 1627-1628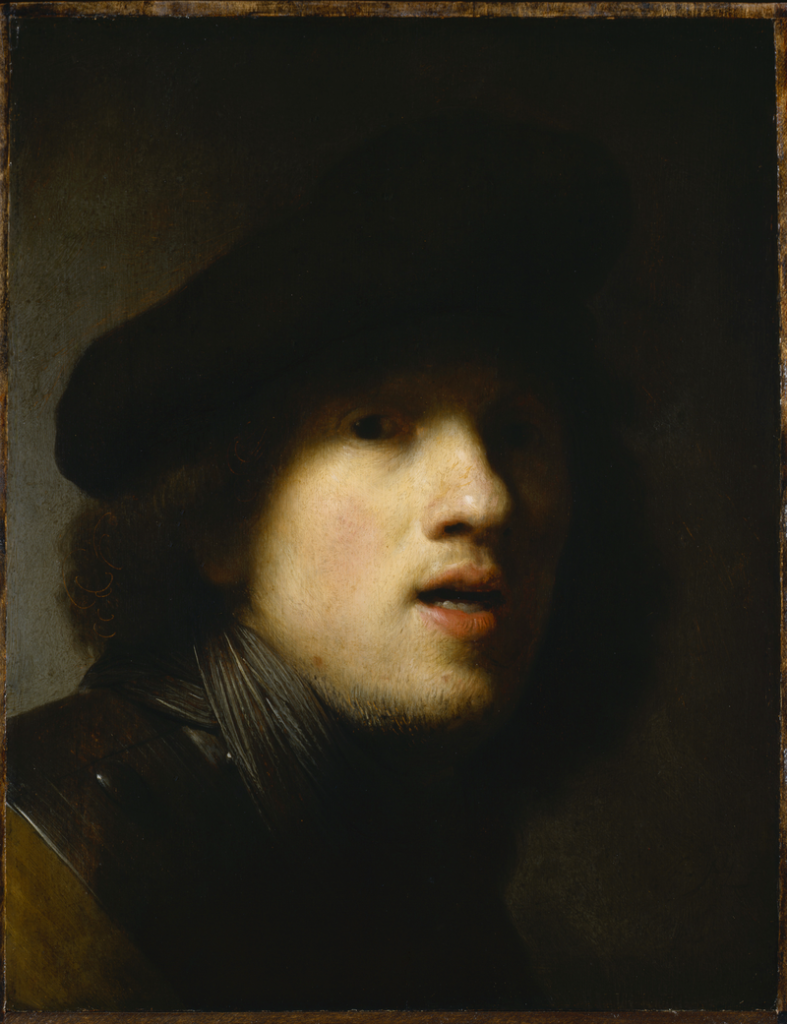 Rembrandt's Self-Portrait Study in the Mirror is an exquisite example of his mastery of chiaroscuro. The painting, created in 1627-1628, depicts the artist looking directly at the viewer. The primary subject matter here is the human skin, depicted with great attention to detail and realism.
It's important to note that this self-portrait was created during a transitional phase for Rembrandt as he was moving away from traditional Flemish technique towards his unique style which would later be known as "Dutch Realism." While still following some traditional methods like the use of mirrors to paint himself without obstruction — he shows off unparalleled skill with brush strokes highlighting each element's texture showing mastery over painting human flesh.
19. Lighting Study In The Mirror By Rembrandt – C. 1628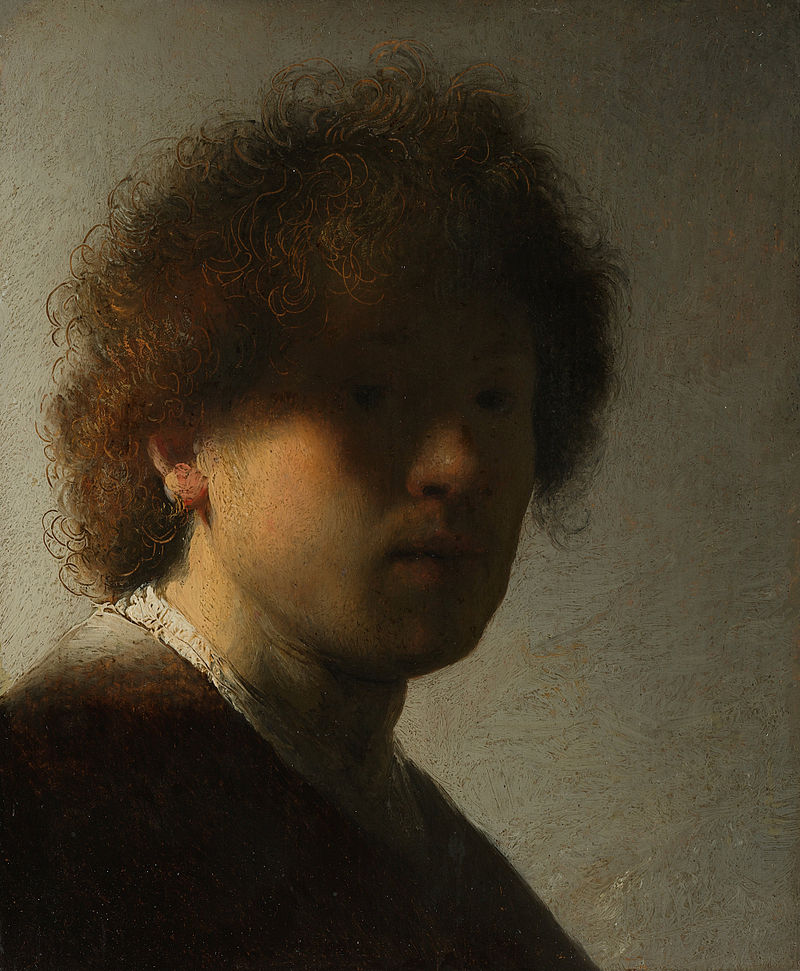 Rembrandt's painting, "Lighting Study in the Mirror," is a well-crafted masterpiece that draws attention to specific areas through lighting. The lighting in the painting has been carefully crafted to create a dramatic effect, which adds to its emotional impact.
The use of chiaroscuro is apparent throughout the painting, creating contrasts between light and dark areas. Rembrandt's expert use of shadow adds depth to the scene and enhances its realism. Although there is no visible light source in the painting, Rembrandt has managed to create an illusion that makes it seem as if the light comes from behind or above.
20. Bust Of A Man Wearing A Turban By Rembrandt – C. 1628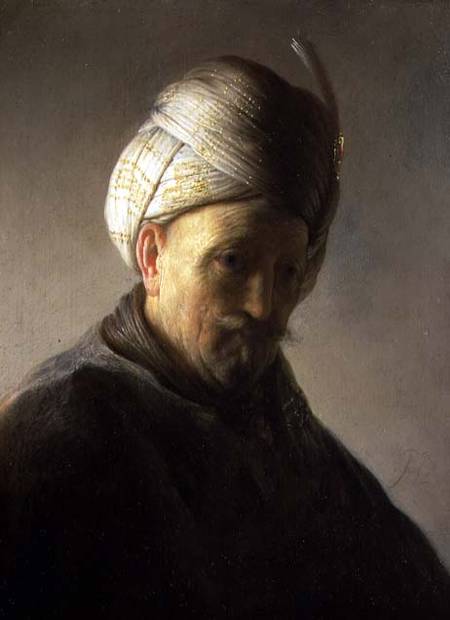 Rembrandt's Bust of a Man Wearing a Turban is an oil painting created in 1628. The portrait depicts an unknown man wearing a turban, set against a dark background. Rembrandt used chiaroscuro technique to create contrast and depth, emphasizing the sitter's facial features and bringing attention to his gaze.
At the time of its creation, the use of a turban in portraiture was associated with exoticism and eastern luxury. However, Rembrandt's decision to use this type of headwear may have more to do with his fascination with light and shadow play than any cultural significance.
The painting is part of Rembrandt's early oeuvre when he was experimenting with style and technique. The brushwork is loose but precise, highlighting his masterful ability to capture subtle nuances in expression and emotion.
21. Judas Repentant, Returning The Pieces Of Silver By Rembrandt – 1629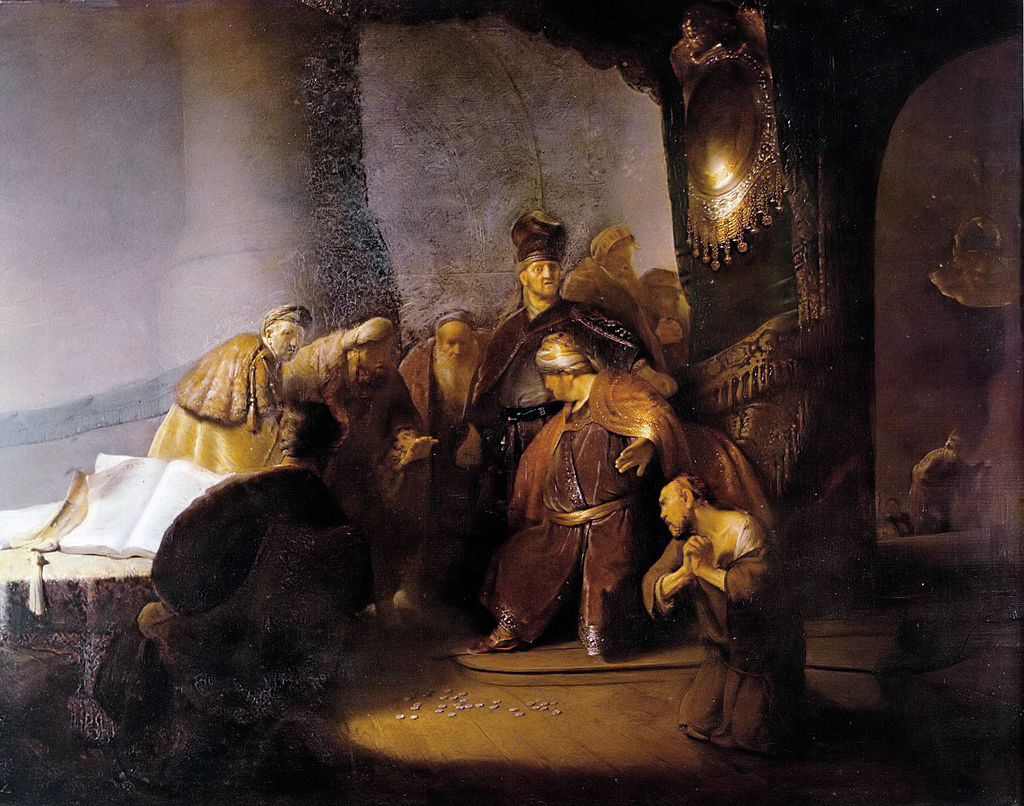 Rembrandt's painting, Judas Repentant, Returning the Pieces of Silver, created in 1629, depicts a remorseful Judas returning the money he received for betraying Jesus. The painting shows Judas in a dark and somber setting, emphasizing his sorrow. His posture and facial expression convey a sense of guilt and regret for his actions.
The dramatic lighting used in the painting further adds to its emotional intensity. The light source highlights Judas' face while casting shadows on the rest of his body. Symbolic elements such as the moneybag representing greed and materialism contrast with the candle flame representing hope and salvation from sin. This contrast creates depth within the composition.
Rembrandt's use of contrasting colors also helps convey emotion; warm yellows from the candle flame contrast with cool blue tones in other parts of the painting to create an overall mood of sadness. Overall, Rembrandt's depiction captures a poignant moment that highlights repentance and atonement for one's sins.
22. The Painter In His Studio ('Idea') By Rembrandt – C. 1628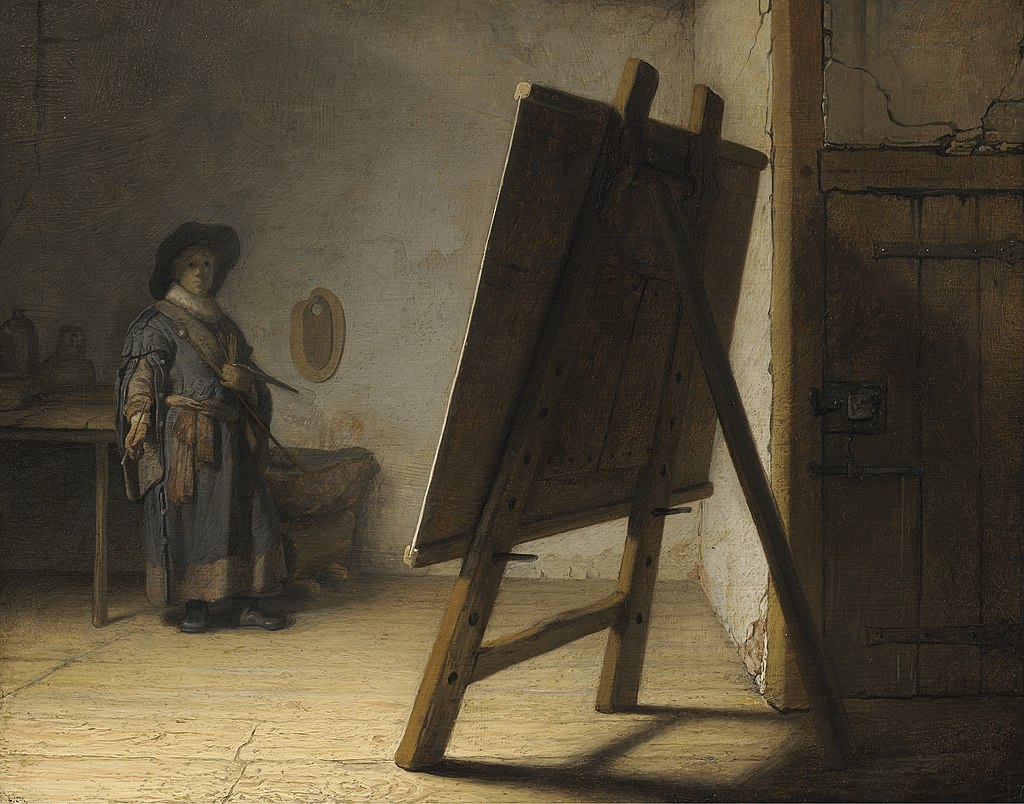 The Painter in his Studio ('Idea') by Rembrandt is a painting of the artist in his studio. It was created around 1628 and can be found in the Museum Boijmans Van Beuningen in Rotterdam, Netherlands.
In this painting, Rembrandt portrays himself as an accomplished artist who is deeply engaged in his work. He is shown sitting at an easel, holding a brush and palette, while looking intently at the canvas he is working on. The studio is filled with various tools of the trade such as paint brushes, pigments, and canvasses.
One striking feature of this painting is its use of light and shadow to create depth and drama. Rembrandt expertly uses chiaroscuro techniques to highlight certain elements of the composition such as the artist's face or his hands holding onto a maulstick to steady his hand.
Rembrant's Painting in His Studio showcases not only an artist but also provides insight into how artists worked during that era. This piece highlights Rembrant's use of shadows and lighting while providing insight into a day-to-day scene found within the art world from centuries ago which still resonates today.
23. The Supper At Emmaus By Rembrandt – 1629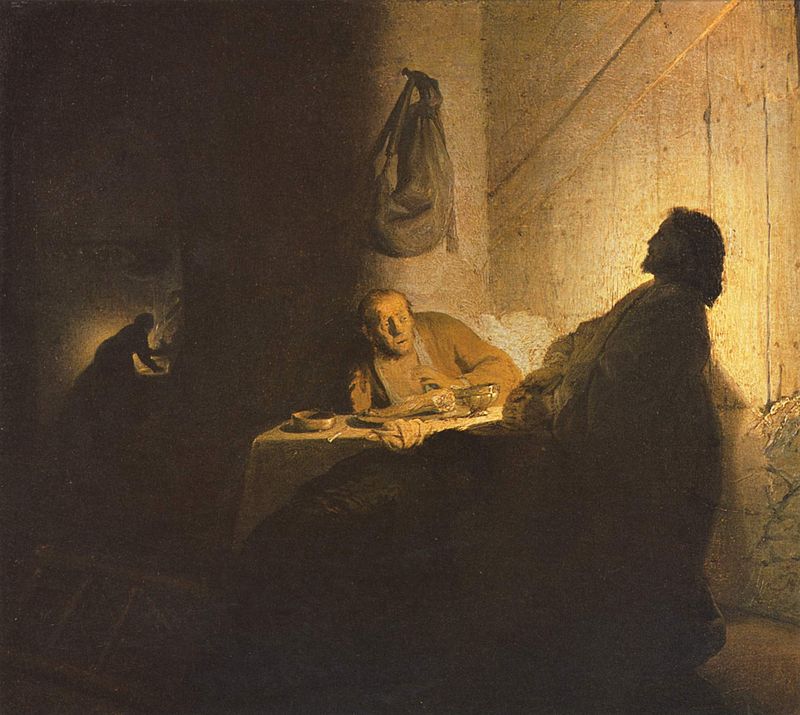 Rembrandt painted The Supper at Emmaus in 1629. This oil on canvas painting depicts a scene from the Bible where two men are having supper with Jesus after His crucifixion.
The composition of the painting is captivating, with the figures standing out against a dark background and illuminated by candlelight. Rembrandt uses chiaroscuro techniques to create shadows and highlights that bring depth and dimension to each character.
One of the notable aspects of this painting is how Rembrandt captures life-like expressions on the faces of his subjects. The shock and amazement on the faces of the two disciples as they realize they are dining with Jesus add emotion and drama to the piece.
24. An Old Man Asleep By The Fire (perhaps Typifying 'Sloth') By Rembrandt – 1629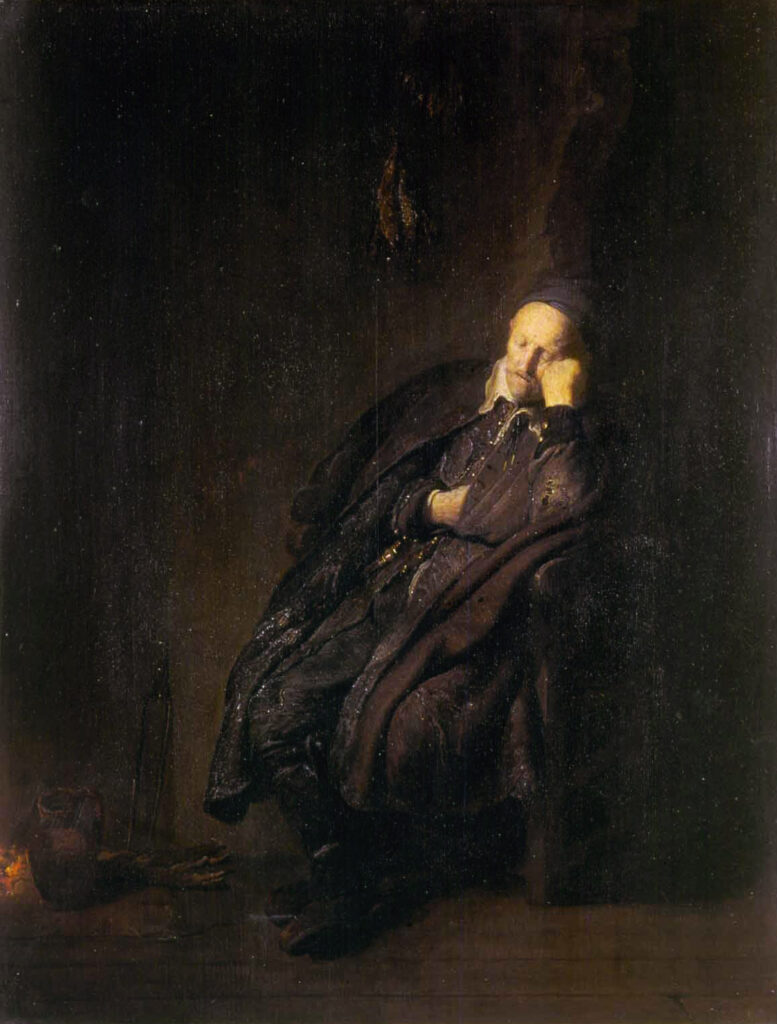 "An Old Man Asleep by the Fire" is a painting created by Rembrandt in 1629. The painting depicts an old man who appears to be dozing off while sitting on a chair next to a fireplace. The warm glow from the fire illuminates the scene, creating a cozy and peaceful atmosphere.
The painting is believed to typify the sin of sloth, which refers to indolence or laziness. This interpretation is supported by the old man's relaxed posture and closed eyes, which suggest that he has no motivation or desire to do anything productive.
25. Two Old Men Disputing (St. Peter And St. Paul) By Rembrandt – 1628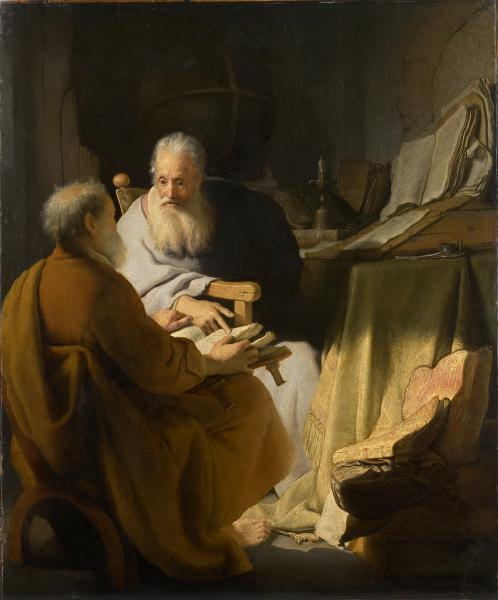 "Two Old Men Disputing (St. Peter and St. Paul)" is a painting by the Dutch artist Rembrandt, created in 1628. The main subjects of the painting are St. Peter and St. Paul, two important figures in Christianity. In the painting, the two saints are depicted engaged in a dispute or conversation, with St. Peter gesturing emphatically while St. Paul listens attentively.
Rembrandt is known for his use of light and shadow to create depth and drama in his paintings, and this work is no exception. The background is dark and shadowy, with the figures of St. Peter and St. Paul illuminated by a beam of light that falls across their faces.
The painting is an example of Rembrandt's early work, before he became known for his portraits and other religious subjects. It showcases his mastery of light and shade as well as his ability to convey emotion through gesture and expression.
26. The Apostle Paul At His Writing Desk By Rembrandt – C. 1629-1630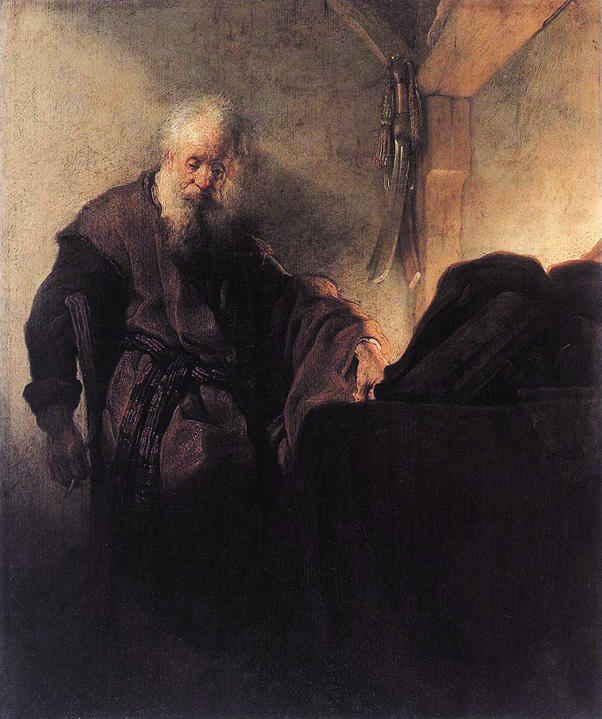 With its attention to detail and use of chiaroscuro, The apostle Paul at his Writing Desk by Rembrandt is a masterpiece that captures the essence of this biblical figure. Created around 1629-1630, this painting features the Apostle Paul in deep concentration as he writes on a piece of parchment laid over an open book.
Rembrandt expertly uses light and shadow to create depth and give the painting a sense of drama. The light source comes from above and behind Paul, casting strong shadows across his face, hands, and robes. Despite the darkness surrounding him, Paul's face is illuminated by his own inner light as he focuses intently on his work.
It is said that Rembrandt had an affinity for capturing intense emotions in his subjects' faces, which is evident in this painting. As we look closely at Paul's expression, we can see how Rembrandt conveys a sense of concentration mixed with longing for divine guidance. This gives us insight into the artist's understanding of not only the subject but also spirituality.
27. Self-portrait With Plumed Beret By Rembrandt – 1629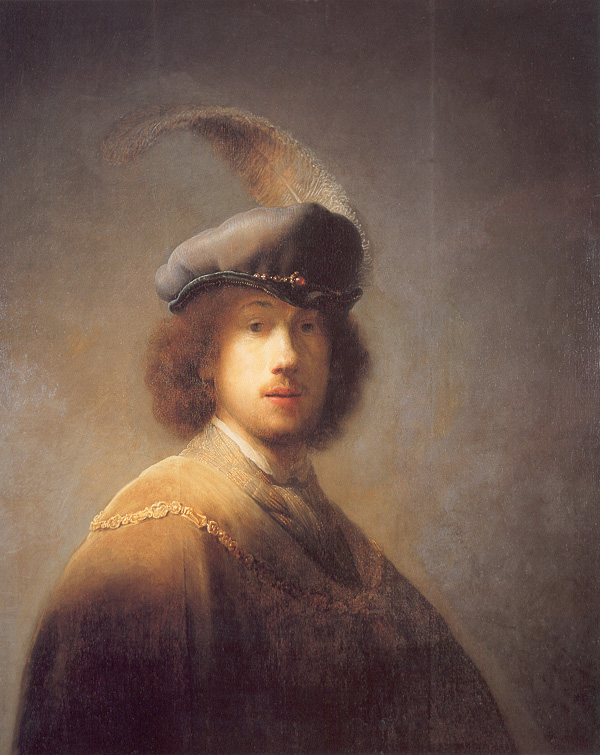 Rembrandt painted Self-portrait with Plumed Beret in 1629. It is a self-portrait that shows Rembrandt wearing a beret with a plume, a popular fashion accessory at the time. The painting is an excellent example of Rembrandt's exceptional use of chiaroscuro to enhance the play of light and shadow across his face and clothes.
This painting was created during Rembrandt's early years as an artist when he experimented with different techniques and styles. He was confident in his abilities, as evidenced by the self-portrait's creation, which displayed his signature approach to painting.
The Self-portrait with Plumed Beret showcases Rembrandt's vast talent for capturing his likeness while simultaneously experimenting with lighting and angles. Even though other painters would paint themselves more positively, Rembrandt portrays himself unflinchingly and realistically, highlighting little blemishes on his face without concern for vanity.
Overall, the Self-portrait with Plumed Beret represents one of the finest works from Rembrandt's early years as an artist repurposing nuanced techniques that characterize several other famous Dutch painting portraits from around this time period.
28. Self-portrait With A Gorget By Rembrandt – C. 1629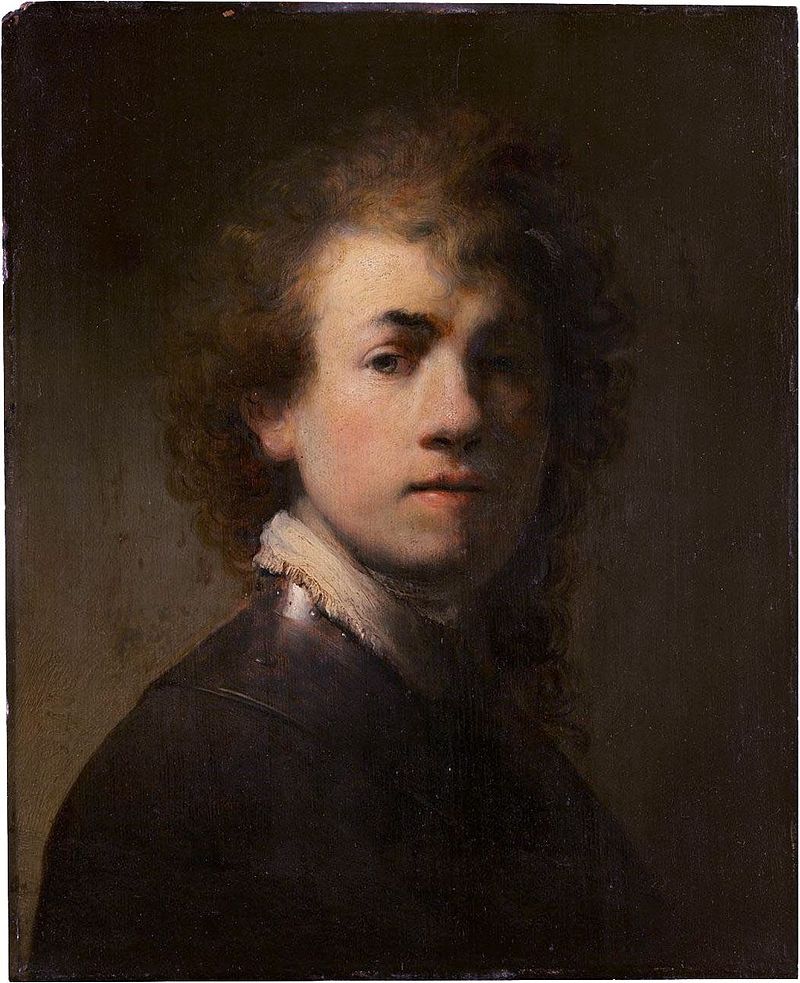 Self-portrait with a Gorget is a painting by the Dutch artist Rembrandt, created in 1629. The painting depicts the artist dressed in professional military attire and holding a metal gorget, which was commonly worn to protect the throat during battles. The painting is significant as it is one of Rembrandt's earliest known self-portraits and showcases his mastery of chiaroscuro, or the use of light and shadow to create depth and dimensionality.
Rembrandt's Self-portrait with a Gorget is notable for its intricate detail and attention to realism. The artist uses subdued hues such as black, brown, grey and white to create an atmosphere of gravitas. Rembrandt uses shading masterfully to create light that falls on his face from an imaginary source on the left while creating shadows under his right eye that evoke mystery.
29. Self-portrait With Beret And Gathered Shirt ('stilus Mediocris') By Rembrandt – 1630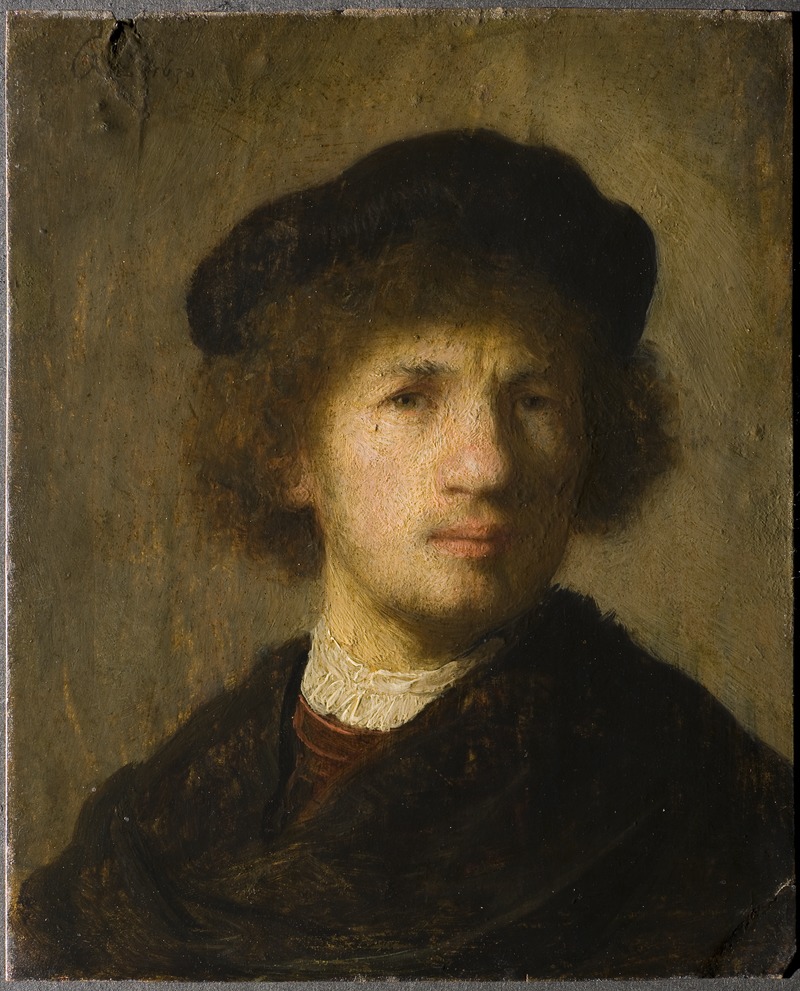 Rembrandt, a successful Dutch artist in the 17th century, created a self-portrait known as 'Self-portrait with Beret and Gathered Shirt ('stilus mediocris')'. The painting is significant as it reflects Rembrandt's early stage of his career. In this portrait, he is dressed in a beret and gathered shirt – which present him modestly.
The style of the painting is called 'stilus mediocris,' meaning a modest or average style. This style is evident in Rembrandt's choice of clothing for the self-portrait – particularly the simple beret and plain shirt that he wears. It highlights Rembrandt's preference for authenticity over pretentiousness.
As an accomplished painter who had developed his signature chiaroscuro technique by this point in his career, 'Self-portrait with Beret and Gathered Shirt' showcases one of Rembrandt's earliest examples of using himself as inspiration. By capturing himself on canvas, he allowed us to see an image not only as we are used to viewing him within historical works but instead someone who was still trial-and-erroring their craft like many other artists did centuries later.
30. Bust Of An Old Woman At Prayer ('stilus Gravis') By Rembrandt – C. 1630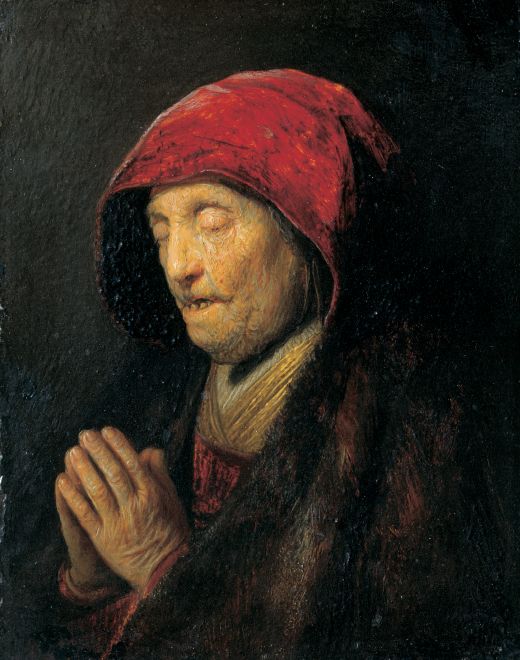 One of the most striking features of Rembrandt's Bust of an Old Woman at Prayer ('stilus gravis') is the level of detail on the old woman's face. The wrinkles are so fine and delicate that they seem almost real, giving the painting a sense of life and authenticity. The painting also showcases Rembrandt's skillful use of light and shadow to create depth and texture.
As with many of Rembrandt's paintings, there is a sense of emotion captured in this piece. The woman appears deep in thought as she prays, her hands clasped tightly together. This creates a powerful image that conveys not just what she looks like but also what she feels.