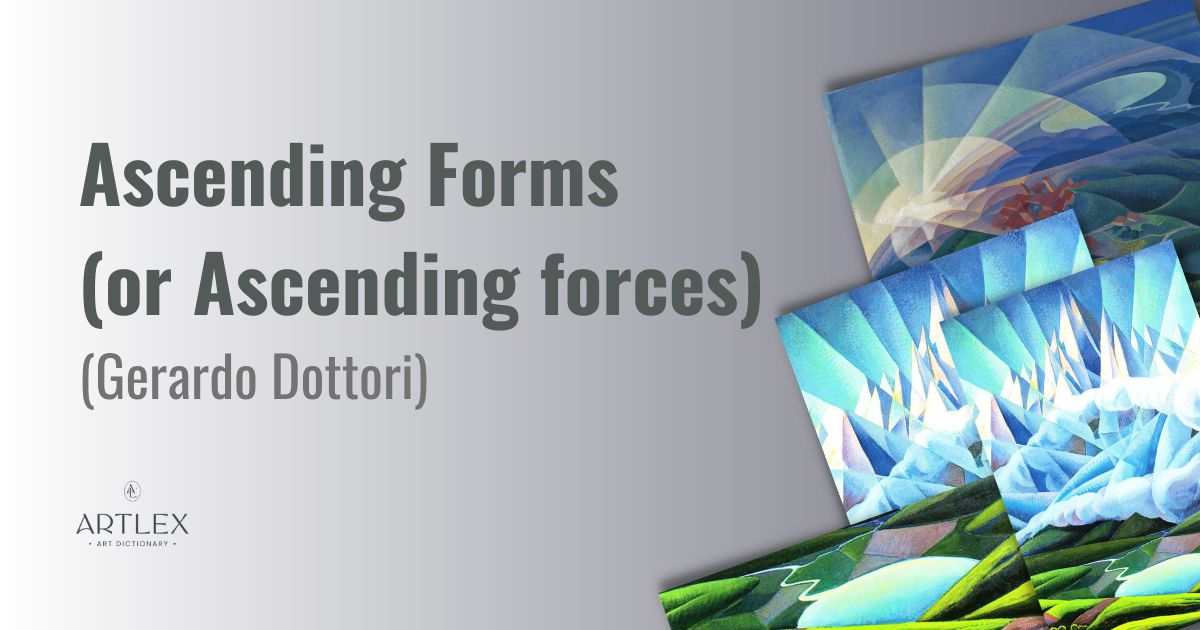 Gerardo Dottori painted Ascending Forms (or Ascending Forces) in oil on canvas in 1930. This painting is currently in the Civic Museum of Palazzo della Penna in Perugia.
What is Depicted in the Ascending forms (or Ascending forces)?
The painting Ascending Forms or Ascending Forces represents a dynamic aerial landscape. In the lower part of the composition, a small lake surrounded by harmonious wooded hills is presented. The upper part of the composition represents strong vertical structures that merge with the clouds like snowy mountain peaks.
Artwork Analysis
Gerardo Dottori was one of the most important painters who worked in the Aeropainting technique. Along with Filippo Tommaso Marinetti, Fortunato Depero, Benedetta Cappa, and others, Dottori was the author of the Manifesto of Aeropainting published in 1929. The painting Ascending Forms or Ascending Forces is a well-known example of the futurist aerial landscape. This painting is created in the context of the Futurists' fascination with observing nature from a moving airplane. The static pastoral characteristic of landscape painting was replaced by a new futurist dynamic. That dynamic is characterized by the idea of ​​a double movement, the movement of the plane itself, which opens the scene in a different way every moment, and the movement of the brush with which the painter modifies the scene while creating it. The painting Ascending Forms or Ascending Forces is one of Dottori's many paintings inspired by the nature of Umbria. The dynamism of the Ascending Forms or Ascending Forces composition is based on the relation between horizontal and vertical fields. The horizontal lines follow the concave forms of the hills surrounding the lake in the lower part of the composition. In contrast to the rounded forms of the lower segment, Dottori formed pyramidal structures that extend vertically. Prominent geometrization is especially present in the upper segment of the composition, whose dramatic character is further enhanced by beams of light that merge with the peaks of the mountains.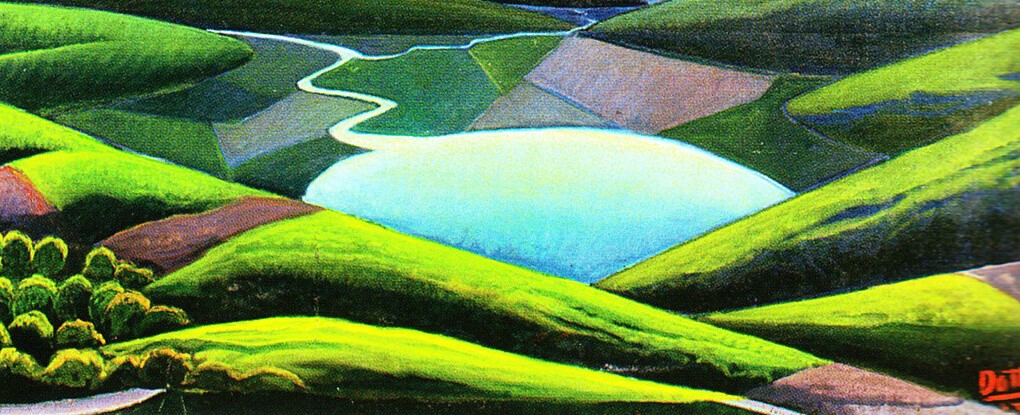 Related Artworks
Gerardo Dottori left a rich oeuvre when it comes to aerial landscapes. Dottori's 1933 painting The Dawn in Flight is also a study of the relationship between horizontal and vertical fields. In both paintings, the role of light takes an important place, the beams of which additionally transform the landscape viewed from the airplane.